EU, G7 take no action on banning restarts of disrupted Russian gas pipelines
EUROPEAN UNION
EU, G7 take no action on banning restarts of disrupted Russian gas pipelines
The European Union and the G7 took no action banning the restart of gas flows on routes where Russia has cut supplies to Europe since the start of its war with Ukraine.
The Financial Times reported in mid-May, citing officials involved with negotiations, that the decision was due to be finalised by G7 leaders at the May 19-21 summit in Japan. However, the decision would have had to be accepted by G7 members including Germany and Italy, which still receive some Russian gas, and there was reportedly no consensus in support of the ban in the run-up to the summit. In a subsequent article on May 25, the Financial Times said that EU delegates ultimately blocked the proposed ban.
Since the start of the war in Ukraine, Russia has cut supplies to countries including Germany, while flows to Poland and Bulgaria have been stopped altogether. Suspected sabotage has also hit the Nord Stream 1 and 2 pipelines, making it even less likely that these will be used to supply Russian gas to Europe in the future.
BULGARIA
Bulgartransgaz launches Chiren gas storage expansion
Bulgarian transmission system operator Bulgartransgaz said in April that it had launched an expansion of the Chiren underground gas storage (UGS) facility, which is the only one in the country.
Bulgartransgaz said it had signed a contract with UGS Drilling Chiren for the development of 10 new exploitation and three observation wells at the facility. According to the announcement, the project will also include 10 gathering pipelines connecting the new exploitation wells to the compressor station at Chiren.
Upon completion of the expansion, the Chiren facility's storage capacity will almost double to 35.3 Bcf (1 × 109 m3) of natural gas, which equates to around one-third of Bulgaria's consumption. Currently, the facility has a storage capacity of 19.4 Bcf (5.5× 108 m3) and consists of 24 exploitation wells and a compressor station with a capacity of 9 MW, among other infrastructure.
The expansion project is seen as strategically important to Bulgaria's energy security, coming around a year after Russia halted gas exports to the country amid the war in Ukraine and the resulting upheaval in European markets.
Bulgartransgaz is also building new above-ground and underground infrastructure as part of the Chiren expansion, and connecting the UGS facility to its existing gas transmission system. In January, a consortium led by construction firm Glavbolgarstroy won a tender to build above-ground facilities.
The expansion is expected to be completed by the end of 2024 and is one of a number of initiatives Bulgartransgaz is pursuing. In late April, the company unveiled its draft 10-year network development plan, under which it intends to modernize and expand existing infrastructure, as well as building new interconnections with neighboring countries.
The 10-year plan also includes the development of new infrastructure for transporting hydrogen across Bulgaria. Bulgartransgaz intends to invest EUR860mn ($931mn) in a pipeline capable of transporting 100% hydrogen, as well as two new compressor stations to support that pipeline. The project is in its early stages and would be commissioned in 2029 under current plans.
BULGARIA, GREECE
ICGB to test market for capacity expansion this year
ICGB, the operator of the Interconnector Greece-Bulgaria (IGB) gas pipeline, is preparing to launch market tests in the second half of 2023 to gauge demand ahead of a planned capacity expansion.
The pipeline, which connects the Greek and Bulgarian gas transmission networks at Komotini and Stara Zagora respectively, enables Bulgaria to receive gas arriving in Europe from Azerbaijan via the Trans-Adriatic Pipeline (TAP). It entered service in October 2022, with an initial capacity of 105.9 Bcf/y (3 × 109 m3/y). ICGB had previously said that there was potential to upgrade the pipeline's capacity to 176.6 Bcf/y (5 × 109 m3/y) by installing an additional compressor station along its route. Now, it is starting to take steps towards realizing this expansion plan.
According to comments made to media by ICGB's executive officer, Teodora Georgieva, in recent weeks, the company had not been planning to pursue the expansion this soon after the pipeline's launch. However, the war in Ukraine has shaken up the European natural gas market, with countries across the region seeking to diversify their sources of supply with greater urgency than before. Indeed, expanding the IGB's capacity will enable the pipeline to transport more volumes arriving in Greece in the form of LNG. These LNG volumes could come from exporters around the world, further diversifying supply sources across Southern Europe.
ICGB also said earlier this year that it was exploring the possibilities of opening up the IGB pipeline to hydrogen transmission in the future as Europe works to meet its energy transition goals.
NETHERLANDS
Gasunie to convert pipeline to green gas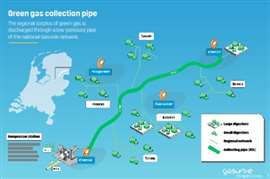 The Netherlands' Gasunie said in late April that it had decided to convert a 60-km (37-mile) section of natural gas pipeline to green gas – biogas that has been reprocessed to the same quality as natural gas.
This comes as more green gas is being produced in the Netherlands, in line with a government target for the country to be producing 70.6 Bcf (2 × 109 m3) by 2030. Gasunie said that growing green gas production was increasingly causing congestion on regional pipelines and that it intended to alleviate this by dedicating one central pipeline to green gas transport.
The pipeline section in question runs from Emmen to the compressor station at Ommen. There, the pressure of the gas will be raised to 66 bar in order to bring it in line with Gasunie's network. The company said that only a "small number" of modifications would be required at its existing valve locations and at connections to regional grids in order to convert the pipeline section to green gas service.
Work on the conversion is due to begin in early 2024, with first green gas expected to flow on the pipeline by August 2025.
NORWAY
Hammerfest LNG offline after compressor failure
The Equinor-operated Hammerfest LNG export terminal in Norway has suffered an outage following a compressor failure. According to Norwegian gas infrastructure operator Gassco, which took over reporting of outages at the LNG plant in 2021, the outage started on May 4. The plant was initially expected to return to service on May 19, but this was subsequently pushed back to May 27.
Media reported that the compressor failure occurred as a result of a technical problem with a heat exchanger while the plant was being restarted following a one-day maintenance outage.
This represents a new setback for Hammerfest LNG following a prolonged outage between September 2020 and June 2022 as a result of a fire that caused major damage at the plant. Equinor said in June 2022 that it had carried out "extensive" repairs and improvement work in order to return the facility to service, including repairs of "sophisticated equipment and compressors have been performed, in addition to a scheduled turnaround and ordinary maintenance". The company said more than 22 000 components had been checked and 180 km (112 miles) of electric cables replaced during this process.
Equinor is also currently in the process of upgrading Hammerfest LNG with onshore compression and electrification under the Snøhvit Future project. The project is designed to cut carbon dioxide (CO2) emissions from Hammerfest while extending the life of the Snøhvit gas field, which feeds the LNG plant.
As part of the Snøhvit Future project, Equinor awarded an engineering, procurement, construction and installation (EPCI) contract to Aibel in February. The contract covers EPCI work on two new processing modules related to the onshore compression and electrification of the Hammerfest plant.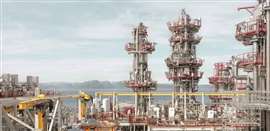 NEWSLETTER
Delivered directly to your inbox, CompressorTech² News features the pick of the breaking news stories, product launches, show reports and more from KHL's world-class editorial team.