Regional Report: Uncertain outlook for Russian gas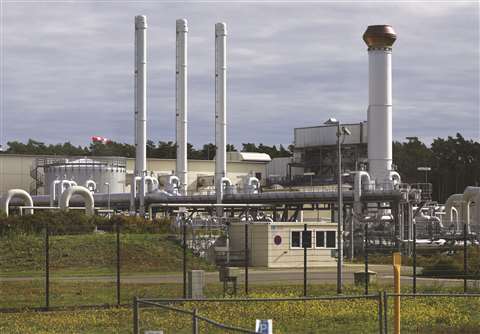 It has been around a year since Russia launched its war in Ukraine, resulting in upheaval in energy markets and disruptions to oil and gas trade flows. With no end to the war in sight, the outlook for Russia's natural gas industry also remains uncertain, representing a blow to the country, which was previously the world's largest gas exporter. Several factors will come into play, though, including over the longer term, once the war is brought to an end one way or another.
Supply disruption
Over the past year, Russia's gas production and exports have experienced extensive disruption, and infrastructure has also suffered.
Almost immediately following the start of the war, the German government stopped the process of certifying the Nord Stream 2 pipeline from Russia. In the weeks that followed, the European Union unveiled a plan to phase out imports of Russian gas over the next few years. However, while EU countries have voiced these intentions – and have started looking for alternative sources of energy in the short and long term – it is the Russian side that has actually disrupted supplies.
"It's Vladimir Putin that has decided to cut Russian flows to Europe," Thierry Bros, an energy expert and professor at the Paris Institute of Political Studies (Sciences Po), told COMPRESSORtech2.
Russia's Gazprom started cutting flows on the Nord Stream 1 pipeline to Germany in the summer of 2022, saying it needed to repair equipment at the Portovaya compressor station, which serves the pipeline. In late August, the company halted supplies via Nord Stream 1 altogether, initially saying it was for maintenance, but subsequently announcing it had found a fault in the only turbine still operating at the compressor station that meant flows could not resume.
This exacerbated tensions between Gazprom and Siemens Energy, which supplies and maintains equipment at the compressor station. Siemens Energy had already been disputing some of Gazprom's claims about the turbines and what was required to restore the pipeline to service. When Nord Stream 1 went offline altogether, Siemens Energy questioned Gazprom's findings as a reason for suspending operations, though it did also add that it was ready to carry out maintenance work as necessary.
Nothing came of this, however, as both Nord Stream pipelines subsequently suffered explosions that have been widely seen as acts of sabotage, with speculation ongoing over who was responsible. Given the current state of relations between Russia and the EU, it already seemed unlikely that Nord Stream 1 would have started flowing again anytime soon. Now, the costs involved in repairing both Nord Stream 1 and 2 increasingly make it look like the pipeline projects are dead.
"I think Nord Stream 1 after being bombed, being sabotaged is never going to come back and Nord Stream 2 is never going to be certified anyway," Bros said.
Analysis firm Rapidan Energy Group's director of global gas, Alex Munton, is also pessimistic over Nord Stream's prospects.
"You can't say never, but it's just very difficult to see things getting back to how they were, which would mean Nord Stream being repaired and then Nord Stream 2 being brought into service," Munton told COMPRESSORtech2. He added that in the meantime, Germany was working to build new LNG import and regasification capacity in an effort to diversify its sources of supply, at least in the medium term.
"Once that infrastructure is all in place, it will be able to source the gas that it needs from other sources," he said. "That puts Nord Stream out of the question."
While the Nord Stream saga has played out, Russia has also cut gas flows on other routes to Europe. The Yamal-Europe pipeline, which usually flows westward, flowed in reverse, from Germany to Poland, for much of 2022. Russian Deputy Prime Minister Alexander Novak was quoted in December as saying Moscow was prepared to resume gas supplies via Yamal-Europe, but the pipeline has continued flowing eastward.
Meanwhile, Russian gas supplies to Europe via Ukraine rose in February, incentivized by more favorable price spreads. On February 15, Gazprom said it would send 1.2 Bcf (3.5 × 107 m3) to Europe via Ukraine, but while this was the highest amount since January 16, it remained below levels seen in the second half of 2022 and early January.
LNG outlook
It is worth noting, however, that not only have Russian LNG shipments to Europe continued, they have actually risen.
"We are receiving record levels of Russian LNG," Bros said. "I would say Vladimir Putin is in charge of deciding how much piped gas we receive in Europe and the market is in in charge of deciding how much LNG we are receiving from Russia." By contrast, the European Commission has been powerless on this issue, he added.
"It's interesting, because the focus has been on Russian pipeline supplies," Munton said. "Mostly Russia has cut those supplies, strategically, but the LNG has continued to flow. It's not as visible in terms of that part of Europe's supply mix, it just gets lumped in with all the other LNG that that Europe's buying, but it is still Russian gas," he added.
"There's no doubt about it that Europe right now doesn't want to be buying Russian gas, or that's at least the public position, but they don't want to risk their own security of supply, so they haven't, for example, imposed any sanctions on Russian gas," Munton continued.
In the longer term, European buyers are keen to lock in alternative sources of supply. Since November, companies including France's Engie, Portugal's Galp Energia and Germany's RWE have struck long-term agreements to buy US LNG. More such deals could be unveiled in the coming weeks and months, offering at least some opportunity to turn away from Russian spot LNG cargoes – though some long-term contracts are still in place for Russian LNG with European buyers.
A further setback to Russia's LNG industry as a result of the war has come about because various international players have pulled back or fully exited from their operations in the country. Novatek's Arctic LNG-2 project, which is currently under development, has been hit by the withdrawal of equipment and services suppliers and financiers. The Russian company maintains that it is on track to place the first train at Arctic LNG-2 into service in December 2023, but there is skepticism over how realistic this goal is now.
"With a project like Arctic LNG 2, it was all designed to work with specific parts – it's just how the different parts actually interact with each other, which is the difficult bit to replicate," said Munton. "It's just not easy to build things to the same spec in precisely the same way. It means that Arctic LNG-2 is going to struggle, because at some point, Novatek would be able to complete it in-house with Russian-manufactured parts. But right now, it just doesn't have the capability to be able to do that," he added.
Munton noted, however, that if enough time passes that the war ends, Western companies may return to Russia and resume their participation in Arctic LNG-2. For now, though, there are still a lot of uncertainties involved.
Looking ahead
For now, Russian natural gas production is down as a result of the hit exports to Europe have taken. Novak told media in late December that the country's gas production would fall by 12% in 2022, while exports would decline by about 25%.
However, Rapidan said in a report in August that shut-ins of Gazprom's gas wells would not reduce their long-term production capacity.
"If anything, potentially it can be to the benefit of reservoirs, because you actually rest reservoirs, so you can actually bring that production back on without too much difficulty and you could actually get better reservoir performance in some places," Munton said. "We're going to see this trough in Russian gas supply, but if and when the market opens up for it, I don't think Russia will have any problem ramping back up."
This bodes well for Russia at least from a technical perspective, though debate continues over whether Russia may have lost the European market for good. Bros is not convinced, though, and expects Russian supplies to return to Europe, not least to offset rising coal consumption in countries including Germany.
"We could have a European agreement stating that we will have Russian piped gas for the reconstruction of Ukraine," Bros proposed. This proposal could include a limit on how much Russian gas can be imported, and a price formula, with the gas flowing via Ukraine and Kyiv collecting the transit fees towards reconstruction.
The war would need to be brought to an end first, though, and if such an agreement is possible it is unknown currently how easy it would be to reach it.
For now, Russia's production and exports look set to continue taking a hit until there is more certainty about what comes next.
NEWSLETTER
Delivered directly to your inbox, CompressorTech² News features the pick of the breaking news stories, product launches, show reports and more from KHL's world-class editorial team.