Euro Gas Report: Eni CEO sets sights on gas infrastructure boost
By Anna Kachkova28 February 2023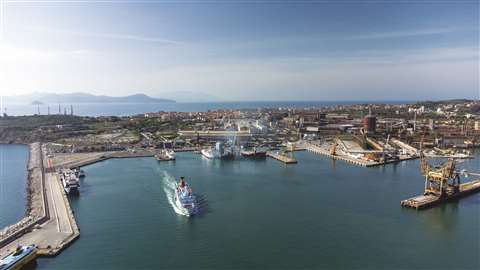 Italy's Eni is seeking to boost natural gas supplies to Italy, and is calling for the expansion of infrastructure over the coming years in order to facilitate this. Eni's CEO, Claudio Descalzi, told local media that Italy could significantly increase its gas imports from Africa in particular if it bolstered its infrastructure in the next few years. According to Descalzi, this would also allow the country to send excess gas supplies on to Northern Europe.
Such a push would build on existing links, such as the TransMed pipeline that connects Algeria to the Italian island of Sicily.
"We are the only ones to have a connection with Algeria ... which has a capacity of about 36 billion cubic metres [1.3 Tcf or 3.6 × 1010 m3] of gas and is still under-utilized. There are still more than 10 bcm [353 Bcf or 1 × 1010 m3] that can reach Italy," Descalzi told the Il Messaggero newspaper.
Algeria has already played a significant role in displacing Italian imports of Russian gas, becoming the country's largest supplier in 2022 thanks to a new agreement between the two countries. Descalzi has identified other sources of supply including Libya, as well as LNG-producing countries in Africa.
"We have a connection with Libya that is now worth about 12-14 billion cubic metres [424-494 Bcf or 1.2-1.4 × 1010 m3] in terms of capacity, which can go up with adequate compression additions of several billion," Il Messaggero quoted Descalzi as saying.
Separately, Descalzi said earlier in January that Eni was planning to import an additional 247 Bcf (7×109 m3) of LNG to Italy over 2023-24. This comes as a new floating storage and regasification unit (FSRU) offshore Piombino is due to enter service in the spring.
BULGARIA
Construction kicks off on Bulgaria-Serbia gas link
Work has begun on the Bulgarian section of the Interconnector Bulgaria-Serbia natural gas pipeline project. The 170-km (106-mile) pipeline will run from Novi Iskar in Bulgaria to Nis in Serbia and is expected to be operational by the end of 2023 after previous delays.
Work on the Serbian portion of the pipeline has been underway for around a year, but both sections are due to be completed around the same time. The pipeline will have bi-directional capability and a transmission capacity of 63.6 Bcfy (1.8 × 109 m3/y).
The interconnector will give Serbia access to non-Russian sources of gas supply, including volumes from the Southern Gas Corridor and LNG import terminals in Greece and Turkey.
For Bulgaria, which was cut off from Russian gas supplies in April 2022, this also represents a further step in its diversification of supply. The country also placed an interconnector with Greece, which carries gas from Azerbaijan, into service in late 2022. And state-owned Bulgargaz signed a long-term agreement with Turkey's Botas in early 2023, giving it access to Turkey's gas network and LNG terminals.
BULGARIA
Bulgaria launches gas storage expansion project
Bulgaria is advancing a plan to almost double its natural gas storage capacity at a cost of BGN298mn ($163mn). Bulgarian gas transmission system operator Bulgartransgaz signed a deal January 20 with DZZD Tech Energy Expansion for the supply of the necessary materials and equipment, construction and commissioning of an expansion of capacity at the Chiren gas storage facility.
Under the plan, capacity at Chiren, which is Bulgaria's only gas storage facility, will be expanded from 19.4 Bcf (5.5 × 108 m3) to 35.3 Bcf (1 × 109 m3) by the end of 2024. The work will be carried out by a consortium led by construction firm Glavbolgarstroy, which won a tender to build above-ground facilities that will include a gas compressor station.
Currently, the Chiren facility has 24 exploitation wells and a compressor station with a total installed capacity of 10 MW, as well as infrastructure for the injection and withdrawal of gas.
Bulgartransgaz's CEO, Vladimir Malinov, told media that companies from neighbouring Greece and North Macedonia had also expressed an interest in booking capacity at the Chiren facility.
"The project is of interest not only for Bulgaria, but for the regional market," he said.
The expansion comes after Russia cut off gas supplies to Bulgaria in April 2022 after Sofia refused to pay for gas imports in rubles. Now, Bulgaria is stepping up efforts to protect itself from supply disruptions.
EUROPE
Russian piped gas exports to Europe fall to new lows in January
Shipments of piped natural gas from Russia to Europe fell almost 30% in January compared with December to reach a monthly all-time low.
According to Reuters calculations, which were based on daily data on gas shipments via Ukraine and the TurkStream pipeline, Russia's gas exports to Europe fell to 63.6 Bcf (1.8 × 109 m3) in January from 88.3 Bcf (2.5 × 109 m3) in December. This came after Russia halted gas supplies to Europe via the Yamal-Europe and Nord Stream 1 pipelines earlier in 2022. Nord Stream was subsequently hit by explosions, investigations into which are ongoing, and looks set to remain shut down indefinitely.
The Russian government said in December that it was ready to resume supplies via Yamal-Europe. However, as of February 9, gas shipments on the pipeline continued to flow east instead of west.
NETHERLANDS
Netherlands pushes on with plan to shut down Groningen gas field
The government of the Netherlands confirmed in late January that it wanted to shut down the Groningen gas field – Europe's largest – later this year. However, Dutch State Secretary for the Extractive Industries Hans Vijlbrief was reported by media as saying that if necessary, the field would remain open until October 2024 if gas shortages emerged in Europe next winter.
Vijlbrief cited safety concerns as being behind the field's forthcoming closure. Production at Groningen has caused hundreds of earthquakes since the 1980s, prompting the Dutch government to impose increasingly tough restrictions on the field over the past decade and scale back output.
The onshore field now produces a fraction of its capacity, despite pressure last year to increase output again in the wake of Russia's invasion of Ukraine and the European Union's resulting scramble to reduce its dependence on imports of Russian gas. The planned shutdown of Groningen was postponed, however, with production down to 98.9 Bcfy (2.8 × 109 m3/y) – the minimum required to keep pumps operating at the field.
NEWSLETTER
Delivered directly to your inbox, CompressorTech² News features the pick of the breaking news stories, product launches, show reports and more from KHL's world-class editorial team.