Euro gas report: Snam to boost Italian gas supplies
By Anna Kachkova06 December 2022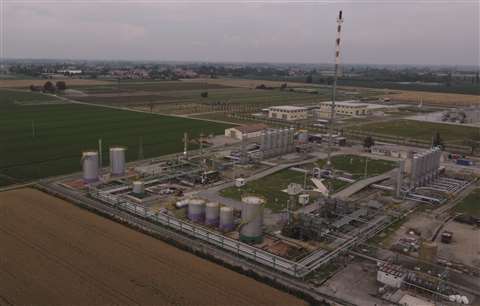 Italy's Snam is planning more investments in the country's natural gas network in an effort to improve transportation infrastructure from the south to the north and boost supplies from Africa.
The Italian government has turned to long-standing partnerships with Algeria and Egypt to secure more gas and replace some of its imports from Russia in the wake of the war in Ukraine. Snam has also received permission in recent weeks to set up a floating storage and regasification unit (FSRU) at Piombino by early 2023 and a second off Ravenna by 2024.
In Snam's third-quarter earnings call, the company's CEO, Stefano Venier, discussed the Adriatic pipeline, which he said would take five years to be built, starting up at the end of 2027. The total cost of the pipeline, which runs from the south to the north of Italy, is estimated at EUR2.7bn ($2.8bn). Venier said the pipeline could allow for additional flows from the Trans Adriatic Pipeline (TAP) as well as providing greater flexibility and capacity to accommodate extra volumes from Algeria, Libya and a new gas development offshore Sicily.
Snam reported a 9% in natural gas consumption by industrial users over the first nine months of 2022. This was attributed to high gas prices, which are causing some buyers to scale back usage or switch to alternative fuel sources.
EUROPEAN UNION
EU proposed price cap draws mixed response
The European Commission unveiled a proposal to cap natural gas prices across the European Union at EUR275 ($285) per megawatt hour for month-ahead derivatives on the Netherlands' Title Transfer Facility (TTF) exchange.
The proposal is part of an instrument to protect EU businesses and households from excessively high gas prices as the bloc pivots away from Russian gas imports and battles an energy supply crisis. In its announcement, the Commission noted the "extreme" gas price spike over two weeks in August that had a knock-on effect on electricity prices and inflation.
"The Commission is proposing to prevent the repetition of such episodes with a temporary and well-targeted instrument to automatically intervene on the gas markets in case of extreme gas price hikes," it stated.
Under the proposal, the mechanism would be triggered automatically when two conditions are met – the front-month TTF derivate settlement price exceeds EUR275 for two weeks and TTF prices are EUR58 ($60) higher than the LNG reference price for 10 consecutive trading days within those two weeks.
However, the proposal has received a mixed response from EU member states, and opinion has been so divided that energy ministers have thus far failed to reach a compromise, despite agreeing in late October to a limit on gas prices. A further emergency meeting to continue discussions on the topic is scheduled for mid-December.
NETHERLANDS
Porthos CCS project set to be delayed by Dutch court ruling
The Netherlands' highest administrative court, the Council of State, ruled that nitrogen emissions from the proposed Porthos carbon capture and storage (CCS) project would need to be taken into account. The developers of the Porthos project had been hoping to make use of an exemption granted by the Dutch government for construction activities. However, the court said in an interim ruling that this would violate European law and that it will need more time in order to decide whether construction of Porthos can proceed.
The consortium developing Porthos – comprising the Port of Rotterdam Authority, Gasunie and EBN – said in a statement that the interim ruling would delay the project. The group had been aiming for a final investment decision (FID) by the end of 2022, with the system then due to be operational by 2024 or 2025. Now, though, the timeline will have to be pushed back.
The project includes a pipeline running through the Rotterdam port area to a compressor station that would receive and pressurize carbon dioxide (CO2). From the compressor station, the CO2 will be transported via an offshore pipeline to a platform around 20 km (12 miles) off the coast and injected into an empty gas field.
The Porthos consortium said it had already conducted an ecological test, which showed that nitrogen emissions from construction of the project would be "minor and one-off" and would not have a significant impact on Natura 2000 nature protection areas in the region. However, it now has to wait for the Council of State to deliver its final verdict before deciding how best to proceed.
The Dutch government has also expressed its concern over the potential impact of the court ruling.
"It now seems that this ruling will delay projects necessary for the energy transition by about six months to two years," said Dutch Minister for Climate and Energy Policy Rob Jetten. "That's a bitter pill because many sustainable projects – after they have been built – actually reduce nitrogen emissions."
POLAND-SLOVAKIA
Poland-Slovakia interconnector enters service
Poland's Gaz-System and Slovakia's Eustream said that the Poland-Slovakia gas interconnector was set to enter service, with capacity on the new interconnection point available by auction from the following day.
The pipeline has the capacity to carry up to 201.3 Bcf/y (5.7 × 109 m3/y) towards Poland and 166.0 Bcf/y (4.7 × 109 m3/y) towards Slovakia. On the Polish side, the pipeline connects with the national transmission system at the recently built gas distribution and metering hub at Strachocina, where pipelines that are part of Poland's North-South Gas Corridor converge.
The project forms part of a broader effort to increase security of supply in the region and enhance access to non-Russian sources of natural gas in the wake of the war in Ukraine. Through Slovakia, Hungary and Romania, Poland gains access to gas arriving at LNG import terminals in Greece, Turkey and Croatia, as well as to gas production in the Mediterranean Sea and the Caucasus. Meanwhile, Slovakia gains access to supplies arriving in Poland via the Baltic Pipe and the Świnoujście LNG terminal, as well as volumes from Lithuania's Klaipėda LNG facility.
UKRAINE
Russia backs off threat to restrict gas flows through Ukraine
Russia threatened in late November to restrict gas supplies to Western Europe via Ukraine – the only route connecting the regions along which natural gas is still flowing. Russia's state-owned Gazprom accused Ukraine of taking gas that was meant for Moldova from pipelines crossing the country, and said that it could reduce supplies from November 28. However, that day Gazprom opted not to cut flows after all.
While volumes being shipped to Moldova only comprise a small percentage of those transiting Ukraine, any further disruption in gas flows from Russia to Europe would spell a worsening of the continent's energy crisis and would be expected to unsettle markets. And there is no guarantee that further disruptions can be avoided as well.
Around 1.5 Bcf/d (4.3 × 107 m3/d) of Russian gas has been transiting Ukraine in recent weeks en route to Western Europe. Gazprom has claimed that Ukraine had "accumulated" around 1.8 Bcf (5.2 × 107 m3) of gas that had been bound for Moldova over an unspecified period.
Ukraine rejected Gazprom's allegations, and analysts cited by the Financial Times said Moldova had been storing some of its gas in Ukraine ahead of the coldest winter months.
According to a statement on Gazprom's Telegram channel, a payment issue between the company and Moldova had been resolved. As a result, flows via Ukraine have not been curbed.
Separately, Russia's Kommersant newspaper reported on November 28 that Gazprom had decided to preserve gas-pumping equipment at the Portovaya and Slavyanskaya compressor stations that supply the Nord Stream 1 and Nord Stream 2 pipelines instead of moving it to other sites, according to sources familiar with the matter. Nord Stream 2 never entered service and Nord Stream 1 remains suspended, which Gazprom initially attributed to needing to carry out repairs on a gas turbine at the Portovaya station.
Subsequently, both the Nord Stream 1 and Nord Stream 2 pipelines were severely damaged by explosions in late September. Preliminary investigations by Sweden into the explosions had found traces of explosives on foreign objects by mid-November, though the Swedish investigators have not yet identified who may be responsible. Danish and German authorities are also investigating the explosions.
NEWSLETTER
Delivered directly to your inbox, CompressorTech² News features the pick of the breaking news stories, product launches, show reports and more from KHL's world-class editorial team.