Russia gas exports to Europe plunge
By Keefe Borden12 August 2022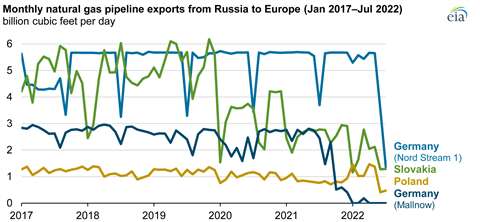 Natural gas pipeline exports from Russia to the European Union and the United Kingdom fell by almost 40% in the first seven months of 2022, compared with the same period one year ago. In addition, those exports fell by almost half when compared with the five year average from 2017 to 2021, a recent study has shown.
Data from Refinitive Eikon show that as of mid July, exports fell to 1.2 Bcf/d, the lowest level in nearly 40 years. From 2016 to 2020, Russia accounted for about a third of the pipeline supply that reached the EU and the UK, according to data from Eurostat.
Data from Russia's Gazprom indicate that exports to the EU and the UK throughthe major pipelines, which account for about 16 Bcf/d of capacity. The three main pipelines include Nord Stream 1, a separate line through Belarus to Poland and a third line through the Ukraine to Slovakia.
Russia's natural gas pipeline exports to the EU and the UK have been declining since 2020, initially as a result of reduced demand in Europe because of responses to the COVID-19 pandemic. In mid-2021, Russia began to limit its natural gas exports to Europe to long-term contracted volumes only and ended spot-market sales.
Russia's natural gas exports to the EU and the UK averaged 16.0 Bcf/d in 2019, 12.4 Bcf/d in 2020, and 10.9 Bcf/d in 2021. The biggest decline in Russian natural gas exports has been through the Nord Stream 1 pipeline, which fell to 11.4 Bcf/d, a fifth of its design capacity of 5.6 Bcf/d. In addition, Russia's exports through Belarus have also fallen dramatically. Russia's pipeline exports into Slovakia averaged 1.8 Bcf/d in 2022, down from a five-year average of 4.2 Bcf/d. Pipeline flows have fallen partially because a natural gas compressor station located in Ukraine was taken offline.
To compensate for the decline in gas exports from Russia, the EU and the UK have imported record levels of LNG from the U.S.
LNG exports from the U.S. have climbed to record levels and are expected to climb further as the year progresses, according to the latest short term energy outlook from the U.S. Energy Information Administration.
New midstream projects announced
The agency has forecast that U.S. LNG exports will average 10 Bcf/d in 3Q22 and 11.2 Bcf/d for all of 2022, up 14% from 2021. The increase in exports stems from a steady increase in U.S. LNG export capacity and the return of the Freeport LNG export terminal, which has resumed operations sooner than expected. U.S. exports are expected to climb further to 12.7 Bcf/d in 2023, the agency has forecast.
Dry natural gas production averaged 97.1 Bcf/d in August and 96.6 Bcf/d, for all of 2022, up 3% from 2021, the EIA has predicted. Production for all of 2023 is expected to climb to 100 Bcf/d in 2023. U.S. gas consumption is expected to average 85.2 Bcf/d in 2022, also up 3% from 2021.
As U.S. gas producers plan to increase production, midstream operators are simultaneously planning five major projects that will expand takeaway capacity. Once complete, the projects would increase capacity from the Permian capacity by a combined 4.18 Bcf/d over the next two years, the EIA has reported.
Three of the five major midstream projects were announced since May. Kinder Morgan announced the first project, the Gulf Coast Express Pipeline expansion, would expand compression on the pipeline and boost capacity to 2.55 Bcf/d. That project is expected to be in service by December 2023.
Kinder Morgan also committed to the expansion of the Permian Highway Pipeline at the end of June. That project will boost compression and capacity to 2.65 Bcf/d. That project is expected to be enter service in November 2023.
Whitewater and MPLX announced plans to expand the Whistler Pipeline capacity in May. The companies plan to expand compression by installing three new compressor stations on the pipeline, which will boost capacity by 0.5 Bcf/d to 2.5 Bcf/d. That project is expected to enter service in September 2023.
WhiteWater, EnLink Midstream, Devon Energy and MPLX collectively plan to construct the Matterhorn Express Pipeline, a new pipeline that will transport uup to 2.5 Bcf/d of natural gas from the Waha Hub in West Texas to Katy Texas. The pipeline will transport natural gas from the Permian Basin and processing facilities in West Texas before connecting to the Agua Blanca Pipeline. Matterhorn is expected to be in service in 3Q24.
As midstream operators boost capacity, natural gas prices in the U.S. have reached their highest level in the past 20 years. The 30-day volatility of the front month contract at Henry Hub averaged 179% in February, compared with a five-year average of 48%, the EIA reported.
Factors which contributed to the volatility of gas prices include unplanned maintenance and outages, strong fluctuations in demand, a decline in U.S. gas inventories and a steep increase in LNG exports, the EIA reported.
NEWSLETTER
Delivered directly to your inbox, CompressorTech² News features the pick of the breaking news stories, product launches, show reports and more from KHL's world-class editorial team.