Euro Gas Report: EU countries to explore legal options for blocking Russian LNG imports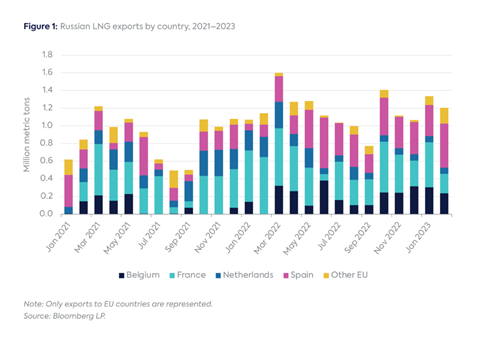 European Union countries agreed on March 28 to explore legal options for blocking imports of LNG from Russia by preventing Russian companies from booking capacity at receiving terminals.
EU countries' energy ministers proposed that new EU gas market rules should include the option for governments to temporarily block Russian and Belarusian gas exporters from bidding up-front for capacity on European LNG infrastructure. The proposal comes as part of an effort to establish new gas market rules for the bloc, but would need to be approved by the European Parliament, which could take months and is already running into some opposition, notably from Hungary.
While Russian pipeline gas imports to the EU have fallen since the war in Ukraine started – with the situation exacerbated by the explosion on the Nord Stream pipeline, which now looks increasingly unlikely to ever return to service – LNG imports from Russia have risen. EU data show imports of Russian LNG rising from 565 Bcf (1.6 × 1010 m3) in 2021 to 777 Bcf (2.2 × 1010 m3) in 2022.
If the proposal is approved, it would allow EU member countries to block Russian LNG imports without resorting to sanctions, which would be more difficult to authorize.

CYPRUS, GREECE, ITALY
Edison targets FID on EastMed-Poseidon pipeline this year
Italy's Edison is targeting a final investment decision (FID) on its proposed EastMed-Poseidon pipeline by the end of 2023. Edison's executive vice president for gas assets, Fabrizio Mattana, told Reuters in late March that with an FID in 2023, the project would be online by 2027.
The EastMed-Poseidon pipeline would initially connect several gas fields offshore Israel – Leviathan, Tamar, Tanin and Karish – to Italy, with a capacity of 353 Bcfy (1 × 1010 m3/y). If a second phase subsequently goes ahead, the pipeline's capacity could be doubled to 706 Bcfy (2 × 1010 m3/y). Plans also call for the pipeline to be capable of transporting hydrogen.
The project is backed by Israel, Cyprus and Greece, and is being touted as a source of alternative supplies for Europe as it pivots away from imports of Russian gas. It is also expected to improve Cyprus' connectivity to the European Union's gas network. Edison said that as a result of this, the European Commission could be interested in partly funding the project, whose total cost is estimated at around EUR6bn ($6.5bn).
EastMed-Poseidon would be built by the IGI Poseidon joint venture between Edison and Greece's DEPA International Projects. The pipeline would be 2,000 km (1,243 miles) long, with the offshore portion covering at least 800 km (497 miles).
Mattana said Edison was seeking support from the Italian government for the project, adding that his company hoped Italy would become a signatory to the intergovernmental agreement signed by Israel, Cyprus and Greece on the pipeline in 2020.
"We have asked for it, we are having positive contacts with the government," Mattana told Reuters.
GREECE, NORTH MACEDONIA, SERBIA
Serbia, North Macedonia sign memorandum on gas pipeline link
The prime ministers of Serbia and North Macedonia signed a memorandum of collaboration in late March on construction of a natural gas pipeline link between the two countries, local media reported. The link will be an extension of the interconnector pipeline that is being developed between Greece and North Macedonia.
No further details were provided on the Serbia-North Macedonia link at this time. However, recent updates on the Greece-North Macedonia interconnector include an announcement in December that North Macedonia's government had approved an agreement for advance reservation capacity on that pipeline.
Greece and North Macedonia agreed to proceed with construction of the interconnector in 2021, with the war in Ukraine subsequently adding urgency to the project amid concerns over North Macedonia's security of supply. The link will give North Macedonia access to the Southern Gas Corridor, which comprises the Trans Adriatic Pipeline (TAP), South Caucasus Pipeline (SCP) and the Trans Anatolian Pipeline (TANAP).
The 123-km (76-mile) interconnector will extend from Nea Mesimvria in Greece to Negotino in North Macedonia via the Evzoni-Gevgelija border crossing. Its initial capacity will be 53.0 Bcfy (1.5 × 109 m3/y), with the option to double it at a later date. The pipeline is expected to enter service in 2024.
HUNGARY
Hungary to explore options for receiving Azerbaijani gas via Southeast Europe
Hungarian Minister of Foreign Affairs and Trade Peter Szijjarto has said his country will explore the technical opportunities for receiving natural gas from Azerbaijan via Southeast Europe's transmission infrastructure.
This will be carried out jointly with Bulgaria, Romania, Greece and Turkey. Speaking at the Budapest LNG Summit on April 3, Szijjarto said the countries would run a joint market test in the coming months. An agreement to enable joint efforts in this area will be signed later in April, Szijjarto added.
This comes after Hungary and Azerbaijan signed a memorandum of understanding (MoU) on natural gas supplies in late January. Azerbaijan is aiming to double its gas exports to the European Union by 2027, having supplied 290 Bcf (8.2 × 109 m3) in 2021 and 399 Bcf (1.13 × 1010 m3) in 2022.
Szijjarto also said that Hungary was looking into signing a long-term contract to receive 70.6 Bcfy (2 × 109 m3/y) of gas per year from Azerbaijan. Pipelines in Southeast Europe would be key to receiving these volumes and Szijjarto said Hungary was therefore pushing for development of infrastructure in the region.
Among the infrastructure that could be expanded is the Interconnector Greece-Bulgaria (IGB), which entered service in late 2022, with an initial capacity of 106 Bcfy (3 × 109 m3/y). Plans call for the IGB to be expanded to 177 Bcfy (5 × 109 m3/y), and Greece would need to build two additional compressor stations in order to enable this.
Expansion of the IGB would also give Hungary access to gas arriving at LNG import terminals in Greece and Turkey, according to Szijjarto. Meanwhile, Turkish President Recep Tayyip Erdoğan said in late March during a visit by Hungarian President Katalin Novak that his country was ready to supply Azerbaijani gas to Hungary via the Trans Anatolian Pipeline (TANAP).
UKRAINE
Ukraine Energy Support Fund to help finance compressor station renovation
The Ukraine Energy Support Fund, which has been created by the Energy Community Secretariat in co-operation with the Ukrainian Ministry of Energy, has announced that it will provide support for the renovation of a gas compressor station.
The renovation is being carried out by the Gas Transmission System Operator of Ukraine (GTSOU) and has run into delays as a result of the war in the country. The announcement did not name the compressor station in question, but media reported that it was the Bar compressor station on the Soyuz gas pipeline. That station has been operating since 1979, with renovation of the facility launched in 2018.
The Ukraine Energy Support Fund will now help finance the project thanks to a EUR2mn ($2.2mn) grant from the German Foreign Office. The grant will be used to procure works required for the completion of the facility, the Energy Community said in a March 20 statement. It did not provide further details on the project, but added that the compressor station was "essential" for meeting the needs of consumers in Ukraine.
"During the full-scale war, the Ukrainian GTS Operator makes tremendous efforts to ensure reliable gas transmission within the country," stated a GTSOU production support director, Oleh Chertikhin. "We must complete the renovation project because it will form a solid foundation for future post-war rehabilitation."
The Energy Community comprises the European Union and certain neighboring countries, including Ukraine. The Ukraine Energy Support Fund was set up to enable governments, international financial institutions and organizations and corporate donors to provide financial support to the Ukrainian energy sector during the war.
NEWSLETTER
Delivered directly to your inbox, CompressorTech² News features the pick of the breaking news stories, product launches, show reports and more from KHL's world-class editorial team.