IGB project reaches 80% completion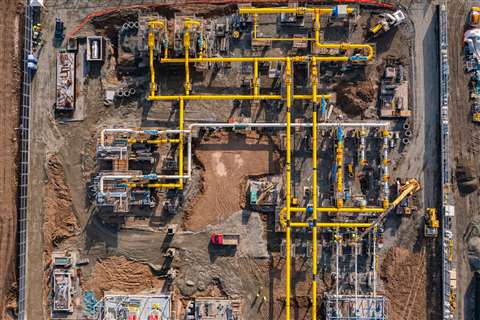 The Interconnector Greece-Bulgaria (IGB) gas pipeline project continues to advance. The ICGB consortium, which operates the pipeline, reported that over 80% of construction activities for the project had been completed. This includes all 53 points where the pipeline intersects with existing infrastructure such as railways and roads, ICGB said.
Hydro tests have also been completed on the Greek portion of the pipeline, and are currently underway on the Bulgarian section. The consortium said hydro testing on four out of 11 sections of the pipeline on Bulgarian territory was complete, and that across the entire pipeline, two-thirds of the required hydro tests had been performed.
The IGB will have the capacity to carry up to 106 Bcf/y (3 x 109 m3/y) of gas, with the potential to expand this to 177 Bcf/y (5 x 109 m3/y) in the future through the addition of a 10-MW compressor station in Bulgaria. In the wake of the final investment decision (FID) on the Alexandroupolis LNG terminal in Greece in late January, the ICGB consortium said the LNG project represented a boost to the pipeline's prospects, opening up new opportunities to increase capacity or reverse flows.
The consortium is aiming to bring the pipeline into service in July 2022 and said it was working on optimizing the deadlines for the remaining administrative and certification requirements. This suggests that a slight further delay cannot be ruled out.
ICGB has also joined Europe's Prisma platform for auction transmission capacity.
Europe
European Commission proposal classifies gas as sustainable
The European Commission unveiled proposals in early February to classify certain natural gas and nuclear investments as sustainable.
Under the proposals, gas-fired power plants would be labelled green this decade if they emit less than 270g of carbon dioxide (CO2) equivalent per kWh, or have annual emissions below 550kg CO2 equivalent per kW over 20 years. However, such gas-fired plants would be required to switch to run on low-carbon gases by 2035.
New nuclear plants would be required to receive construction permits before 2045 to obtain a green investment label. They would also need to be located in a country with plans and funds in place to safely dispose of radioactive waste by 2050.
The proposals come as Europe grapples with soaring energy prices amid shortages of natural gas. Concerns are growing over the potential for the EU's long-term pursuit of net zero emissions to exacerbate the situation. However, the Commission's new proposals have come under fire from both environmental groups and the gas and nuclear industries – with the latter saying the rules would be too strict.
A super-majority of 20 out of 27 EU member states could block the rules from being implemented, but this is currently seen as unlikely.
LITHUANIA
Amber Grid contracts MT Group for ELLI metering station reconstruction
Lithuania's Amber Grid said on February 10 that it had signed a works contract with MT Group related to the Enhancement of Lithuania-Latvia Interconnection (ELLI) project. The contract, worth EUR2.8mn ($3.2mn), covers the reconstruction of Kiemėnai gas metering station.
The station acts as the gas entry and exit point at the border between Latvia and Lithuania. The reconstruction work is due to be completed by the second quarter of 2023, while the ELLI project is expected to be finished by 2024.
On the Lithuanian side, the ELLI project also includes the installation of new equipment meeting more stringent standards and the reconstruction of the gas pipeline to Panevėžys compressor station. In Latvia, upgrades will be made to the main gas pipeline to increase its maximum operating pressure to 50 bars. Latvian transmission system operator Conexus Baltic Grid will carry out the Latvian portion of the work.
Amber Grid's CEO, Nemunas Biknius, said the ELLI project would enhance integration in the Baltic gas market. By raising gas transmission capacity between Lithuania and Lativa, the interconnector will offer more flexible access to Klaipėda LNG terminal, Latvia's Inčukalns underground gas storage facility and the new GIPL interconnection with Poland, he said.
NORWAY
Equinor pushes back Hammerfest LNG restart date
Norway's Equinor announced that its Hammerfest LNG plant was now expected to restart on May 17, rather than March 31 as previously envisaged. The delay was attributed to the continuing impacts of the Covid-19 pandemic, as well as operational restrictions.
The plant has been offline since a fire caused severe damage to the facility in September 2020. Equinor said that more than 22,000 components had been checked and 180 km (112 miles) of electrical cables had been replaced since then. Repairs have been carried out on advanced equipment and compressors, while a planned turnaround and ordinary maintenance have also taken place. Around 1,000 people per day have been working to return the facility to service, according to the company.
NORWAY
Hynion, Hyrex aim to launch floating hydrogen station this summer
Norwegian firms Hynion and Hyrex have said they are aiming to launch their planned floating hydrogen refueling station this summer.
The pilot facility will be used to refuel leisure boats with zero-emission fuel, Hynion said in mid-February.
According to Hynion's statement, the station will offer compressed hydrogen to a growing fleet of leisure boats with hydrogen-electric drivelines. The filling station will consist of an electrolyser for the production of hydrogen, a hydrogen compressor with associated storage tanks and a dispenser mounted on a floating jetty module. The station needs water and electricity to operate and emits pure oxygen only.
The initiative comes as Norway calls for greenhouse gas (GHG) emissions from leisure boats to be cut by around 50%. If the pilot project is successful, floating hydrogen stations could be deployed across numerous ports and marinas.
Editor's Note: Anna Kachkova covers European gas infrastructure for CompressorTech2 from Scotland. For additional details, see the March 2022 issue of CompressorTech2.
NEWSLETTER
Delivered directly to your inbox, CompressorTech² News features the pick of the breaking news stories, product launches, show reports and more from KHL's world-class editorial team.