Growth of U.S. natural gas pipeline network slows
By Keefe Borden03 March 2023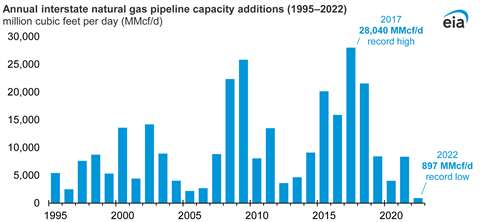 The capacity for interstate natural gas transportation in the U.S. continued to climb in 2022, as it has each since at least 1995, but that rate of growth is the lowest in more than 27 years, a recent survey has shown. Midstream operators in the U.S. added more than 897 MMcf/d last year, the lowest increase in capacity since 1995, the U.S. Energy Information Administration reported.
That additional capacity fell for two reasons: a growth of intrastate capacity, which is not captured in the EIA's data on interstate pipelines, and a decline in overall capital expenditures at midstream and upstream companies, the EIA reported.
In most of the last 27 years, midstream operators boosted  interstate pipeline capacity by looping pipelines and adding compressor stations to accommodate the growth in production. Looping refers to the addition of another pipeline along an existing right-of-way. The practice boosts capacity and increases the capacity to store natural gas.
By 2022, most of the planned new interstate pipelines in the works since 2017 had been completed. Since 2017, about 70% of the growth in natural gas production has come from the Permian and Haynesville regions, located near liquefied natural gas (LNG) export terminals along the Gulf Coast. Midstream operators planned intrastate projects (rather than interstate projects) to increase takeaway capacity and connect that natural gas production to LNG export terminals.
Building large-scale, commercial natural gas pipelines that cross state boundaries involves a number of contractual, engineering, regulatory, and financial requirements. These requirements generally take longer to complete compared with intrastate pipeline projects, the EIA reported.
In 2022, five projects increased interstate capacity to transport natural gas. The projects focused primarily on upgrading compressor stations, with only one project adding a relatively small amount of additional pipeline, the EIA reported:
Columbia Gulf Transmission's Louisiana XPress Project increased its capacity from Mississippi to Louisiana by 493 MMcf/d and from Tennessee to Mississippi by 50 MMcf/d by adding or upgrading compressor stations to increase the deliverability of natural gas from the Appalachian Basin.
Florida Gas Transmission's Mobile County Project increased its capacity west-to-east from Mississippi to Mobile County, Alabama, by 175 MMcf/d by modifying the CS10 compressor station in Perry County, Mississippi.
Florida Gas Transmission's Southwest Alabama Project increased capacity from Mississippi to Escambia County, Alabama, by 100 MMcf/d by upgrading a compressor station.
ANR Pipeline Company's Wisconsin Access Project increased capacity from Illinois to Wisconsin by 51 MMcf/d by upgrading several meter and filtering stations on the ANR Pipeline, alleviating constraints in parts of northern and central Wisconsin.
Gulfstream Natural Gas's Gulfstream Phase VI Expansion Project increased capacity by 28 MMcf/d between Alabama and Tampa Electric Company's Big Bend Power Plant in Florida by installing about four miles of pipe and a booster compressor station.
NEWSLETTER
Delivered directly to your inbox, CompressorTech² News features the pick of the breaking news stories, product launches, show reports and more from KHL's world-class editorial team.