COMPRESSORtech2 Hydrogen Summit to focus on infrastructure
By Keefe Borden21 March 2023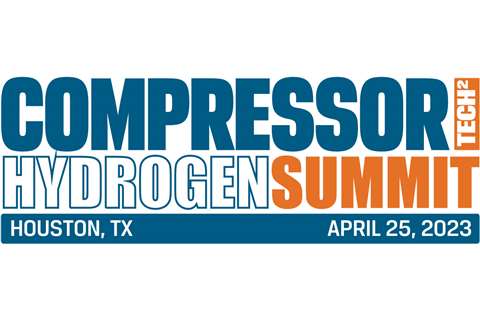 Enbridge and Williams Companies, two of the largest midstream operators in North America, plan to send representatives to COMPRESSORtech2 Hydrogen Summit to describe some of the commitments the companies have made to the use of hydrogen. The one-day event will be held April 25, 2023 at Houston's Intercontinental Hotel and will showcase the promise and challenges posed by hydrogen in the U.S. gas infrastructure.
Jeff Falkiner, manager, operations & maintenance engineering – transmission operations at Enbridge Gas Inc. (EGI), will start the day with a morning keynote address highlighting key engineering elements in repurposing natural gas assets for blended hydrogen service.
Falkiner is responsible for engineering support for all compression and ancillary equipment in the storage and transmission operation at EGI, which includes a portfolio of more than 800,000 hp. He is a licensed mechanical engineer with 30 years of experience in the natural gas industry, including pipeline and metering, regulation station design and construction, equipment specification, asset management and rotating equipment support.
In his current role, he is deeply involved in the assessments of hydrogen impacts on and the suitability for compression equipment.
Falkiner will discuss key engineering elements for repurposing natural gas assets for blended hydrogen service. Although hydrogen is not an energy source, it does have a major role to play in decarbonizing existing energy infrastructure. He will lay out the importance of ensuring due diligence prior to repurposing natural gas assets. He will also discuss efforts underway to decarbonize gas turbine driven compressors.
Jacob Saletsky, an engineer who supports Williams' New Energy Ventures group in Tulsa, OK, will serve as the afternoon keynote. In his current role, he supports the development and execution of projects centered around decarbonization of existing natural gas gathering, processing, and transmission assets, and is also involved with energy transition technologies such as hydrogen, ammonia, carbon capture, renewable natural gas, waste heat recovery, and utility-scale solar.
Saletsky has been at Williams since 2020, and prior to his current role, he worked as an asset integrity engineer out of Salt Lake City, Utah, and a tactical project engineer out of Pittsburgh, Pa.
Saletsky's will address why Williams has plans to play a large role in clean hydrogen production and transmission. He will describe the motivations behind using hydrogen-based fuel to decarbonize existing natural gas assets.
The presentation will include a summary of its recent field test in Wyoming on a legacy Cooper 6V-250 reciprocating engine. He will discuss the results of those field tests, the effects of hydrogen blending on combustion emissions and stability and the modifications needed for permanent installation. His presentation will include how Williams will utilize these results and the next steps for Williams.
Additional speakers
Falkiner and Saletsky are the highlights in a roster of speakers that will cover a broad range of topics addressing hydrogen and its impacts on the technologies used in gas compression. With hydrogen expected to play a critical role in the future energy mix, this is an event not to miss for anyone involved at any level of the gas compression industry.
Peter Roth, director of PPI products at Sundyne, will speak in the morning about methods and future of hydrogen compression. He works extensively with operators in the renewable energy, chemical and power generation markets and has extensive experience with small, medium and large-scale turbo compressors, reciprocating compressors, steam turbines and gas turbines.
In addition to Sundyne, he has worked with Siemens Energy, Rolls Royce Energy Systems and MAN Turbo & Diesel.
His presentation will briefly describe how hydrogen is produced and where it is used and will examine why compression is required to make hydrogen a valuable commodity. He will discuss different methods of compression and examine the benefits and drawbacks of each method.
Marybeth McBain, senior sales engineer for Elliott Group, will discuss the promise and potential of hydrogen to lead to a decarbonized energy infrastructure. She will discuss the need for investment in technologies and the evolution of modern compression equipment. Her presentation will also address the changes needed to the pipeline and fueling system infrastructure to meet the need to produce, transport and store hydrogen.
For the most part, the compression requirements for hydrogen are similar from production to transport, requiring booster units, pipeline transport compressors, storage compression and possibly fueling station pumps or compressors. Her presentation will provide an overview of the needs for hydrogen compression and the challenges hydrogen poses for compressor designs.
In her current role, McBain covers the market in North and South America for engineered products, which includes LNG compressors, pipeline transport, downstream/refinery compressors and hydrogen and CO2 applications.
Previously, she worked at Kinder Morgan evaluating new compression for gas transmission and storage projects and recommended upgrades and compressor modifications for the company's midstream systems.
Will Kernan, Caterpillar Oil & Gas Product Strategist, will discuss the company's efforts to blend hydrogen in its gas engines.
Burak Bekisli and Paul Modern will discuss challenges associated with high-pressure, non-lubricated hydrogen reciprocating compression. Bekisli, director of materials engineering at Dover Precision Components, will discuss the emerging market for hydrogen storage, injection and fueling applications.
Paul Modern, chief engineer for valve and flow control products at Cook Compression, will join him. Their presentation will discuss some of the challenges associated with hydrogen compression and illustrate ways to solve those problems through case studies.
A presentation by Jordan Smith and Hans Mathews of Cooper Machinery Services will highlight the company's experiments in use of hydrogen in its gas engines and its field testing of a large bore slow-speed integral engine running on a 30% hydrogen fuel blend. The presentation will cover the performance and resulting exhaust emissions benefits and trade-offs.
Mathews joined the gas pipeline and compression industry in 1991 with Tenneco, where he spent nine years in engineering, maintenance and analysis before joining Hoerbiger in 2000. There, he became senior vice president and general manager for their Engineering Services (HES) team. HES was acquired by Cooper in 2020.
Jordan Smith is VP of sustainability & emerging tech at Cooper Machinery Services. He is a 20-year veteran of the compression industry who specialized in the design of emissions reduction technologies for large power generation and gas compression engines while at Cameron Inc. He has held engineering and sales management roles and received his P.E. certification in Colorado.
Joel Sanford is senior key expert, Technology and Innovation Group at Siemens Energy. He will speak with Steve Chaykosky, who is senior key expert in Reciprocating Compressor Engineering group at Siemens Energy.
The two will discuss valve performance, a key element for reliability and efficiency of reciprocating compressors. Their presentation will address best practices of valve design, operation and maintenance for reliable hydrogen reciprocating compressors. They will also present a user case study that implemented these practices to demonstrate the recommendations.
After a series of technical presentations, delegates will hear a panel discussion entitled, "The changing shape of our energy infrastructure," during which three experts will discuss how quickly a shift to hydrogen might occur in the U.S. The discussion panel will include Noureen Faizee, director, strategy & growth – hydrogen at Worley; Luiz Soriano, sales and business development manager at Siemens Energy; and Patrick McCalley, sales and product manager, hydrogen economy- Americas, with NEA Group.
The panelists are scheduled to discuss the effects of the Inflation Reduction Act on capital investments toward alternative energy and what that might mean for hydrogen compression.
The list of registered delegates is growing steadily with over 100 people expecting to be in attendance. Registered attendees include BP, Exxon Mobil, and major equipment OEMs including NEAS, Howden, INNIO Waukesha, Caterpillar, Mitsubishi Heavy Industries to name but a few. Additional delegates from ACI Services, Reynolds & French, Compass, Williams and Hotstart are also in attendance.
Compressortech2 Hydrogen Summit will also provide networking sessions for delegates and sponsors. Drinks are provided by networking sponsor Sundyne. Additional sponsors include Silver Sponsor Howden, and Bronze Sponsors Siemens Energy, Boll Filter, Kobelco and CDI Energy Products.
Register to attend.
For more information on still-available sponsorship opportunities, contact Daniel Brindley.
NEWSLETTER
Delivered directly to your inbox, CompressorTech² News features the pick of the breaking news stories, product launches, show reports and more from KHL's world-class editorial team.