COMPRESSORtech2 plans hydrogen summit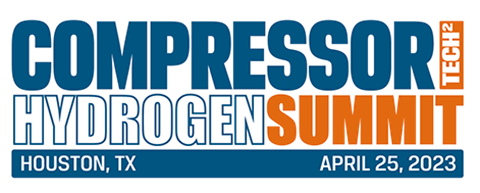 The Compressortech2 Hydrogen Summit debuts at the Intercontinental Hotel in Houston, April 25th of this year. The one-day event is held in response to multiple inquiries and an ongoing interest in the gas compression market about the feasibility of hydrogen in existing energy infrastructure.
A representative from Enbridge is scheduled as the keynote speaker and will describe the company's fully functional hydrogen blending plant in Markham, Ontario. The project provides blended hydrogen and natural gas for about 3600 customers in Markham, Ontario and reduces emissions and the overall carbon footprint of the company.
A representative from Caterpillar is scheduled to discuss the company's efforts to blend hydrogen within its gas engines.
Two representatives from Cooper Machinery Services, Jordan Smith and Hans Matthews, will address the conference about the company's experiments blending hydrogen within its gas engines.
Southern Star Central Gas Pipeline and Cooper Machinery Services have worked together to field test a large bore slow-speed integral engine running on a 30% hydrogen (H2) fuel blend.
In late 2021, the two companies signed a memorandum of understanding (MOU) to launch a joint hydrogen research project aimed at converting Southern Star's fleet of gas fired reciprocating integral engines to combination gas-hydrogen fired units. The two companies modified a large bore Cooper-Bessemer GMVH-12 at Southern Star's Hugoton, Kansas compressor station to run on a blend of hydrogen and natural gas.
Peter Roth, director of PPI Products at Sundyne, works extensively with operators in the renewable energy, chemical and power generation markets. After a brief discussion of how hydrogen is produced and where it is used, he will examine why compression is required to make hydrogen a valuable commodity. This session will discuss the different methods of compression. It will evaluate the benefits and drawbacks of each method, and this session will also discuss the future of hydrogen compression, including technologies such as LH2 pumping and electro-chemical compression.
Burak Bekisli is director of materials engineering at Dover Precision Components. His presentation will discuss several challenges associated with hydrogen compression and, through case studies, illustrate our approach to solving them.
Marybeth McBain represents Elliott Group as a Senior Sales Engineer, covering North and South America for engineered products, which includes LNG compressors, pipeline transport, downstream / refinery compressors and hydrogen and CO2 applications, as well as axial compressors, cryogenic pumps and steam turbines in this region.
The promise and potential of hydrogen to lead toward a decarbonized energy infrastructure will likely result in significant investment in technologies and an evolution of modern compression equipment. In addition, pipeline and fueling system infrastructure changes are required to meet the production, transportation, storage, and usage needs for a properly functioning hydrogen economy.
Her presentation will provide an overview of these needs, hydrogen compressor challenges and considerations for how these applications may warrant new compressor designs in years to come.
Joel Sanford is a Senior Key Expert in the Technology and Innovation group at Siemens Energy responsible for the development of new valve and unloading technologies for reciprocating compressor product lines.
His presentation will address the key aspects and best practices of valve design, operation, and maintenance for reliable hydrogen reciprocating compressors. A user 'case study' implementing these practices is presented to demonstrate the benefits of the recommendations from this presentation.
For a full list of speaker topics or to register and get the early bird deal please visit the summit webpage. For sponsorship information, contact daniel.brindley@khl.com. 
NEWSLETTER
Delivered directly to your inbox, CompressorTech² News features the pick of the breaking news stories, product launches, show reports and more from KHL's world-class editorial team.