New lubricant additive from Cortec
By Jack Burke21 January 2022
Effective in most hydrocarbon-based lubricants
Cortec said its newest lubricant additive offers advanced corrosion protection and compatibility for ashless oil systems.
Cortec M-535 additive is suited for gearboxes, turbines, and other lubricant systems at risk for corrosion from trapped water or moisture condensation. Corrosion can mean downtime and ultimate failure on these critical components, and M-535 is designed to counter these setbacks with two important features for corrosion protection in ashless systems, the company said.
The first important characteristic of M-535 is its vapor-phase action. Traditional corrosion inhibitor additives can only protect the metal surfaces in direct contact with the oil to which the inhibitor has been added, Cortec said. This leaves a large percentage of the system unprotected as, for example, gearboxes are often only half-filled. M-535 adds an extra dimension of protection in the form of vapor phase corrosion inhibitors. These molecules vaporize out of the treated oil, diffusing throughout the headspace to form a protective molecular corrosion inhibiting layer on metal surfaces above the fluid level, according to the company This makes corrosion protection economical, efficient, and thorough, even at a low dose or with minimal oil in the system.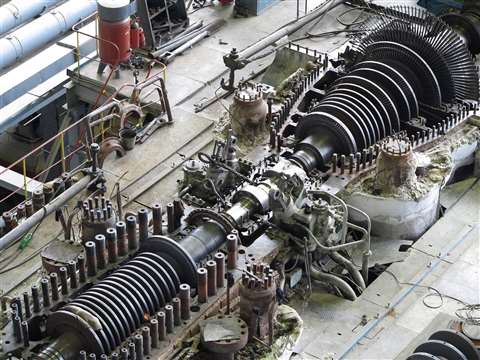 The second key feature of M-535 is its ashless chemistry. Compatibility with the base-oil is a must-have for additives, the company said. When it comes to turbines and other systems that use ashless oils, additional compatibility testing is essential. M-535 was designed specifically with the needs of ashless oils in mind and a heightened understanding of ashless performance requirements, the company said. It has successfully been formulated for use in turbines, as well as many general lubrication systems where ashless chemistry is not mandatory. Possible applications include gas turbines, speed reducers between steam turbines and generators, speed increasers, hydraulic systems, compressor systems and other industrial fluids.
M-535 offers non-staining properties and is effective in most hydrocarbon-based lubricants (including naphthenic, paraffinic, PAO, etc.).
The company said M-535 can be used during layup or intermittent operation. This saves the hassle of having to remove the oil additive and reapply it every time an idle system has to be temporarily started up in the middle of a preservation period. M-535 also opens further potential for regular use in operating systems, although this should be tested and evaluated on a case-by-case basis.
NEWSLETTER
Delivered directly to your inbox, CompressorTech² News features the pick of the breaking news stories, product launches, show reports and more from KHL's world-class editorial team.