Baker Hughes sees expanded use for reciprocating compressors
By Keefe Borden29 July 2022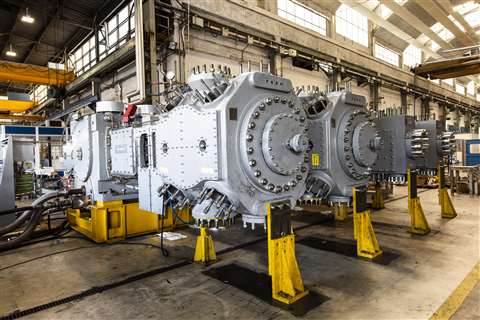 One of the most common ways that industries adapt and advance is to find new uses for an established technology. Many OEMs have used the proven technology of reciprocating compressors for new uses, primarily the transition of the energy sector away from hydrocarbons.
Baker Hughes is now using its experience as technology provider for reciprocating compressors to boost the hydrogen used in new uses, primarily in transportation. The company has seen a growing demand for hydrogen compressors worldwide.
Baker Hughes has provided compression solutions for hydrogen applications since 1962 and now has more than 2250 units of hydrogen compressors installed worldwide, the majority of which are reciprocating compressors.
Looking at all the applications and the API 618 standards, there are about 3000 Baker Hughes reciprocating compressors installed. Many of these machines can operate up to three years in severe conditions without the need of stopping the machine to perform maintenance.
Until few years ago, the majority of Baker Hughes customers seeking hydrogen compression were refiners. Now, however, industrial companies are showing a steady interest in hydrogen compressors for a wider variety of uses that include mobility.
"Now, we are hearing a lot of interest in green hydrogen," said Tommaso Wolfler, product leader, reciprocating compressors at Baker Hughes. "We have used reciprocating compressors in refining for 60 years, and the same machines can be used in the energy transition."
The use of hydrogen compression at refineries has given Baker Hughes the needed experience to adapt the technology for other applications. "It's the same gas that we know very well, and we were able to take on challenging applications with high fuel complexity and extreme operating conditions, providing solutions that are process optimized and cost competitive," he said.
Current hydrogen applications for refueling stations require a diaphragm compressor, which can compress the gas up to 900 bar. But diaphragm compressors typically do not have the capacity of reciprocating technology. To make up for the limited capacity, an operator would need multiple diaphragm compressors to keep up with the volume of a single reciprocating machine.
In addition, diaphragm compressors generally require more stringent maintenance intervals. On the contrary, reciprocating compressors can have extremely long useful lives. "Some of them are dinosaurs."
Baker Hughes manufactures the HG series of reciprocating compressors. These are the largest machines the company designs, some of which have up to 10 cylinders with a cylinder size up to 1250 mm. The HG series of reciprocating compressors are an important part of the energy transition, but hydrogen compressors still face some technical challenges.
"We are continuously investing in this technology and we are at work to increase efficiency, to avoid contamination and to reach higher discharge pressure," he said. The gas has to be purged of moisture before it is compressed. To avoid additional contamination, engineers designed it with a proprietary technology that avoids lubrication fluids. The engineers worked with a unique sealing design and compressor architecture to achieve high discharge pressure without lubrication.
"The process challenge is to have a high discharge pressure without lubrication," Wolfler said. In other scenarios, Baker Hughes provides a combination of both reciprocating and centrifugal compressors.
"When you need to have large flow rates with high discharge pressures, we can combine the technologies," he said. The centrifugal compressors enable the process to achieve larger flow rates, while the reciprocating machines use enable higher pressures. "We are pioneering in this direction, developing High Pressure Ratio Compression (HPRC) technologies working in combination with reciprocating compressors to guarantee large H2 production with less CAPEX investment, as well as OPEX services, with a footprint reduced up to 75% as per specific applications."
Asia refinery
Even as end users have shown a growing interest in reciprocating compressors for new applications, Baker Hughes continues to see steady interest from traditional customers, including refiners. Baker Hughes recently shipped an HG unit to China and is preparing separate orders for customers in the U.S. and Saudi Arabia.
The company also recently produced and shipped four HG compressors to the Sriracha oil refinery operated by Thai Oil, a subsidiary of the state-held PTT Group. Managers at the refinery decided in 2018 to expand its capacity 275,000 b/d to 400,000 b/d and to make it more environmentally friendly by providing a series of new processing facilities that included new hydrocracking unit, residue hydrocracking unit, hydrogen manufacturing unit, hydrotreating unit and a new hydrodesulphurization unit.
Given the refinery's high flow rate for the gas, Baker Hughes recommended its HG series of reciprocating compressors. In this case, the units have eight cylinders each.
Baker Hughes supplied four identical units throughout the refinery, each of which included a relative auxiliary cooling and lubrication system driven by a 21 MW electric motor. Each unit has a footprint of 11 X 15 meters, weighs 330 tons, and has a capacity to transport 9150 m3/hour of hydrogen.
Baker Hughes tested and manufactured the units before the end of 2020 and the refinery is in the process of commissioning them.
NEWSLETTER
Delivered directly to your inbox, CompressorTech² News features the pick of the breaking news stories, product launches, show reports and more from KHL's world-class editorial team.