Zahroof StraightFlo Valves optimize performance, reliability
Zahroof Valves (ZVI) is always looking for new and unconventional ways to solve old problems. The company, founded in Houston in 2010, has developed an innovative reciprocating compressor valve utilizing a specialized replaceable cartridge that provides industry-leading efficiency and reliability. ZVI StraightFlo valves are a direct replacement for traditional OEM valves.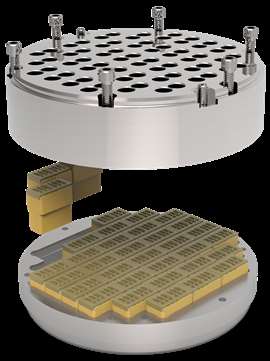 With traditional compressor valves, the sealing elements are typically spring-actuated polymer plates, concentric rings, or poppets where the gas flowing through the inlet valve ports directly impacts the sealing element and is then redirected multiple times before it can exit the outlet valve ports. This flow redirection creates a tortuous path for the gas, resulting in significant pressure drop across the valve. In contrast, the gas flowing through the Zahroof StraightFlo valve opens metallic reeds and the gas flows straight through an unobstructed flow area resulting in lower pressure drop and ultimately, improved valve efficiency.
The company's founder and president, Zahroof Mohamed, started the company in 2010 with early prototype compressor valve designs before expanding into mainstream reciprocating gas compressors.
By 2014, the company's StraightFlo valve became commercially available for high-speed compressors, initially targeting bad actors in dirty and wet gases.
Today, the company's compressor valves are widely used in the oil and gas industry in a variety of applications with clean, dirty, and corrosive gases. In upstream oil and gas, ZVI valves are used in gas gathering, gas lift, and CO2 injection for enhanced oil recovery, as well as compression applications for offshore rigs. In the midstream, ZVI valves can be found in natural gas processing plants, pipelines, and storage facilities. Downstream applications include oil refineries and chemicals facilities, largely in hydrogen, but also in nitrogen, ethylene, propane, and butane mix gases. In addition to reciprocating compressor valves, the company has developed products for scavenger valves used in 2-stroke engines. ZVI primarily operates in North America, but the company's customer base extends to five other continents around the world.
Improved reliability, easy on-site repairs, reduced inventory
The StraightFlo valve's unique straight flow design performs very well in corrosive and/or dirty gas applications. The valve tends to be self-cleaning as the flow carries contaminants through the StraightFlo™ valves, as compared to traditional valves where the gas flow directly impacts the sealing elements, often leading to valve failure and debris build up in the low-velocity regions of the flow passages.
"Zahroof valves have a track record and reputation for excellent reliability and performing quite well in difficult applications." said Brian Bertelsen, senior VP for sales and chief commercial officer. "They are known as 'bad actor killers.'"
Bertelsen joined the company in November 2022 and oversees all aspects of global sales and marketing.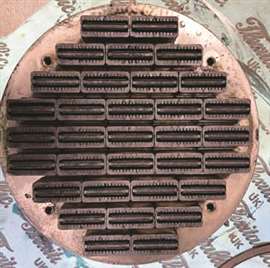 "We collaborate with our end-user customers to ensure each application is thoroughly reviewed to understand the gas composition and the range of operating conditions," said Bertelsen. "Then the valve modules are specifically engineered to optimize reliability and efficiency."
From a design standpoint, one of the most innovative aspects of the StraightFlo valve is that all the sealing elements are contained in replaceable modules. As such, there is no wear and tear on the ZVI metal valve housings, a game-changing difference when compared to traditional compressor valves where the valve's seat and guard suffer from wear and tear and require machining during valve repairs. With this differentiation, ZVI offers an industry-best 10-year warranty on its valve housings. In addition, since the modules are standardized in size, the same module can be used in various valve sizes, with larger valves holding more modules.
With replaceable modules, end-users no longer need to follow the traditional approach of stocking complete sets of spare valve assemblies to keep the compressor in operation while the worn set of valves is sent out for repair at a machine shop.
"With ZVI valves, the modules can be easily replaced in the field – in a short amount of time, without any machining or skilled labor," Bertelsen said. "And with the standardization of the modules, one module part number can be used in many compressors. The capital expended on spare parts inventory can be drastically reduced when compared to stocking complete spare valve sets and repair kits."
"All in—with increased reliability, improved compressor valve efficiency and the corresponding reduction in power consumption, and reduced repair and inventory costs—the total life cycle value of ZVI valves is extremely compelling for end-users." said Bertelsen.
Recent industry shift
The industry has shifted over the last 12 months—and some of those changes benefit ZVI. The industry clearly has placed a higher emphasis on natural gas production for LNG exports. Many natural gas pipelines, however, have capacity constraints.
"In many cases, if the compressor has the capacity for additional throughput, our valves can move more gas. ZVI valves require less specific horsepower, which is the amount of power required per unit of flow. This enables the operator to boost throughput," Bertelsen said. "It's really about the efficiency of the valve. If the compressor has capacity available, you can convert that increased efficiency to more flow by closing a clearance pocket that might be open."
In addition, ZVI has noted that operators are concerned now, more than ever, about emissions. This concern comes in response to pressure from regulators, consumers, and environmentalists that are giving the natural gas industry unprecedented scrutiny.
To cite one example, in the coming months the Environmental Defense Fund will put into operation a low orbit satellite designed to exclusively monitor methane emissions. Its data will be available in real time to the public.
In addition, the international space station is in a low orbit above the earth and has a camera capable of precisely pinpointing the source of methane leaks. There are also drones and stationary monitoring stations operated by third parties that can precisely target methane emissions—and make that data publicly available.
"There is nowhere to run and nowhere to hide," said Zahroof CEO Jim Ilaria. "Operators face consequences if they allow large emissions to go unchecked."
As a result of these growing concerns and additional scrutiny, Ilaria believes it's soon going to be a different world for natural gas operators.
"Federal regulators are clamping down on methane emissions within the gas compression industry as seen with the EPA's changes in New Source Performance Standards (NSPS) and the monetization of carbon emissions with the Inflation Reduction Act passed in 2022," he said.
Many operators have already announced goals to voluntarily become net zero emitters by a certain date and they have encouraged their suppliers to join them in that commitment. Going forward, many of those commitments will largely become mandatory and affect the industry as a whole.
"We're moving into a new world order where things will not be voluntary," Ilaria said.
In addition, Ilaria said operators will not be able to vent emissions into the atmosphere when they have an operational issue, or they need to service one of their compressor stations. Those emissions will be much more costly in the future given the more stringent regulations.
To survive and prosper in this new world, operators will need to adopt disruptive technologies like ZVI's StraightFlo compressor valve design.
NEWSLETTER
Delivered directly to your inbox, CompressorTech² News features the pick of the breaking news stories, product launches, show reports and more from KHL's world-class editorial team.