U.S. spot gas prices expected to climb in 2022
By Keefe Borden12 April 2022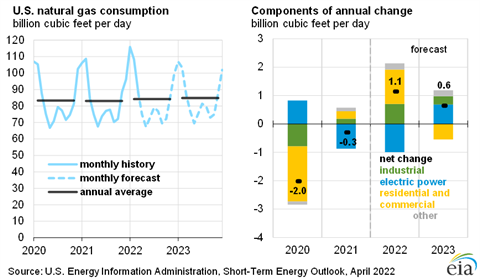 Tighter gas supplies in the United States and an ongoing climb in exports are expected to push gas prices higher for the remainder of the year, according to the latest short-term energy outlook published by the U.S. Energy Information Administration.
In March, the spot price for natural gas at Henry Hub averaged $4.90/MMBtu, up from $4.69/MMBtu in February. Looking forward, the EIA predicted Henry Hub spot prices of $5.95/MMBtu in April and $5.68/MMBtu for 2Q22. For all of 2022, the EIA said it expected gas prices to average $5.23/MMBtu before falling to $4.01/MMBtu for all of 2023. The decline in gas prices in 2023 reflects the EIA's expectation that storge levels will be higher next year.
Inventory withdrawals outpaced the five-year average in March and LNG exports are expected to continue to climb, keeping supplies tight in the near term. The EIA was quick to add that its forecasts remains highly uncertain because of the Russian invasion of the Ukraine. "Russia's actions came at a time when global inventories of crude oil, natural gas, and coal were below average, contributing to continued price volatility and high prices," the EIA said.
The EIA estimated that natural gas inventories ended March at 1.4 Tcf, about 17% lower than the 2017-2021 average for this time of year. The EIA said it expected inventories to increase by 245 Bcf in April as the injection season begins, ending the month at almost 1.7 Tcf, about 14% below the five-year average for this time of year.
"We forecast that natural gas inventories will end the 2022 injection season (end of October) at 3.5 Tcf, which is 4% below the five-year average," the EIA wrote.
In March, U.S. LNG exports averaged 11.9 Bcf/d, up 0.7 Bcf/d from February. Despite the climbing gas prices in the U.S., the price for gas in Europe is higher, leaving the arbitrage for LNG exports open. European prices remain high amid supply uncertainties caused by Russia's invasion of Ukraine and the need to replenish Europe's natural gas inventories. Inventories in Europe were 26% full as of March 31, compared with the five-year average of 34%, the EIA reported.
"We expect high levels of U.S. LNG exports to continue in 2022, averaging 12.2 Bcf/d for the year, a 25% increase from 2021," the EIA said.
U.S. gas consumption will average 84.1 Bcf/d in 2022, up 1% from 2021. Residential and commercial consumers are expected to use more gas this year because of colder temperatures forecast for 2022. In addition, the EIA said it expects the industrial sector to consume more natural gas in 2022 in response to expanding economic activity. Looking further ahead, the EIA said it expects U.S. natural gas consumption to average 84.7 Bcf/d in 2023.
The EIA estimates dry natural gas production averaged 96.2 Bcf/d in the United States in March, up 1.2 Bcf/d from February. Production in March was lower than in December because of brief periods of freezing temperatures in certain production regions and, in part, because of maintenance, according to public sources.
The EIA predicted dry natural gas production to average 96.9 Bcf/d in April. For all of 2022, dry natural gas production will average 97.4 Bcf/d, up 3.8 Bcf/d more than in 2021. Looking further ahead, the EIA forecast production in 2023 will average 100.9 Bcf/d in 2023.
NEWSLETTER
Delivered directly to your inbox, CompressorTech² News features the pick of the breaking news stories, product launches, show reports and more from KHL's world-class editorial team.