U.S. gas price forecast at $3.40/MMBtu for 2023
By Keefe Borden23 February 2023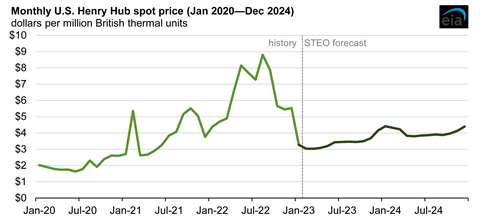 Natural gas spot prices at Henry Hub will average around $3.40/MMBtu in 2023, according to a recent study. That number is down almost 50% from 2022 and is down about 30% from a previous forecast made in January, the U.S. Energy Information reported.
The most recent Short-Term Energy Outlook has revised the outlook for natural gas prices in response to "significantly" warmer-than-normal weather in January that led to lower consumption of natural gas. January was the warmest January since 2006.
The lower consumption, in turn, pushed inventories above the five-year average. The EIA now expects inventories will close the withdrawal season at the end of March at more than 1.8 Tcf, about 16% higher than the five-year average.
The benchmark natural gas price at Henry Hub fell by 41%, or $2.26/MMBtu in January from December, the EIA reported, citing data from Refinitive Eikon.
U.S. natural gas prices generally increase in the winter as temperatures decrease and demand for space heating climbs, but this year, January saw 16% fewer heating degree days than the average from 2013 to 2022. In addition, an outage sparked by a fire at the Freeport LNG plant reduced demand by 2.0 Bcf/d since June.
As demand fell from historical levels in the last few months, dry natural gas production in January averaged 100.2 Bcf/d, or 11% than the average. "Strong production combined with less consumption in January reduced natural gas withdrawals from storage by 55%, or 371 Bcf, compared with the five-year average," the EIA has reported.
Larger market
In a separate overview on the U.S. gas market, the EIA reported that the U.S. natural gas market that has emerged over the past two decades is larger, more dynamic, more subject to forces in international energy markets, and produces more volatile prices than in previous years.
The EIA expects wholesale U.S. natural gas prices in the last quarter of 2022 and the first quarter of 2023 to average more than 40% lower than its October forecast.
In its latest outlook, the EIA has predicted that through 2024, the U.S. natural gas market will be shaped by several trends:
Domestic production will continue to grow.
Growth in domestic consumption will slow as renewable sources displace natural gas used to generate electricity.
U.S natural gas trade will hold steady, with high international prices in Asia and Europe supporting exports.
Natural gas storage will continue to balance supply and demand, reflect longer-term trends, and strongly influence prices.
Prices will remain volatile. The most significant factors affecting natural gas prices remain how cold the remainder of the winter will be and how warm the summer will be, how many and what kinds of extreme weather conditions will occur, and how many facilities will experience outages and for how long.
The U.S. natural gas market has seen significant changes over the last 20 years and those changes will continue to affect prices over the next few years, the EIA reported. U.S. production has grown 92% since 2003 and the EIA expects it will grow further in 2024.
The current period of growing U.S. natural gas production began in 2006, when producers began to expand their application of fracking and horizontal drilling technologies in shale formations. In both 2018 and 2019, production grew more than 10%, but fell 1% in 2020 in response to the changes brought by the pandemic. In 2021 and 2022, production grew between 3% and 4%, the EIA reported.
Greatly expanded production has driven down natural gas prices in the United States, making natural gas more competitive and triggering growth in consumption in all end-use sectors.
Even as domestic production has nearly doubled in 20 years, U.S. consumption has grown by a little more than 40%. A large part of the growth in consumption of natural gas occurred when power producers began to use less coal and more natural gas.
"This year, we expect natural gas consumption by electric utilities will have grown by 130% from consumption in 2003. By the end of this year, commercial and industrial natural gas consumption will each have grown slightly more than 10% over that same two-decade period," the EIA reported. Residential natural gas consumption fell slightly in that 20-year period.
In the same timeframe, the U.S. market has evolved from a net importer of gas to a significant world exporter.
Because of the changes over the last 20 years, the U.S. natural gas market is much larger than it has historically been, with production, consumption and exports growing.
"Together, these components make prices much more volatile, which we witnessed from when prices initially collapsed due to the pandemic in 2020, through significant increases in price during 2021 and 2022, and through their subsequent collapse into early February 2023," the EIA reported.
NEWSLETTER
Delivered directly to your inbox, CompressorTech² News features the pick of the breaking news stories, product launches, show reports and more from KHL's world-class editorial team.