Transformation from garage repair shop to OEM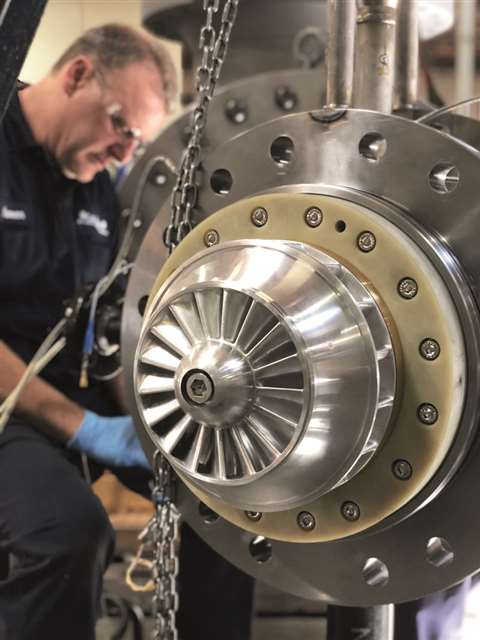 L.A. Turbine (LAT) is celebrating its 20th anniversary as a turboexpander aftermarket repair, service, and OEM provider of turboexpander design and manufacturing. What started as a garage-based business with a handful of veteran engineers from the turboexpander industry, quickly became a company with a reputation for responsive service provided by technicians who knew rotating equipment and could get plants back operating quickly. Their first "garage job" involved a simple repair to a non-LAT turboexpander unit.
Since 2003, L.A. Turbine has provided aftermarket services for more than 500 non-LAT legacy machines located in Europe, the Middle East, South America, North America and platforms in the North Sea and African coast. These include aftermarket repairs as simple as replacing oil gaskets and O-rings to complex projects involving the complete redesign of a non-LAT turboexpander-compressor mechanical center section equipped with active magnetic bearings to increase the gas processing capacity while also modifying the design to reduce the machine footprint on the offshore platform.
LAT has also come to the aid of early adopters of green and clean power to solve non-LAT expander-generator operating and performance issues associated with unreliable components, vibration, seal, and oil leakage issues within several geothermal plants.
In the 1960's, the first turboexpander for a natural gas application was introduced and now more than 5000 units are operating globally. More than sixty years later, turboexpanders known as the heart of the plant, along with its brain, the control system, have or are aging out.
LAT's expertise gained through years of dissecting all makes and models of turboexpanders has given the company the ability to redesign control systems and ensure the heart and brain keep turboexpanders and control systems performing regardless of the OEM.
This includes work on a recent project involving an antiquated non-LAT turboexpander and 80's era control unit requiring upgraded control technology, dual turboexpander monitoring, ease of access to service the existing e­quipment and additional room to house upcoming equipment purchases.
Evolution to Turboexpander OEM
Within four years, armed with an arsenal of aftermarket knowledge gained working on numerous legacy non-OEM machines, the company realized it was ready to design its own custom-engineered and built turboexpander. In 2007, the company delivered its first L.A. Turbine turboexpander for hydrocarbon processing and shortly after, installed the unit in North Africa where it operates today.
LAT has engineered, built and delivered more than 200 application-specific turboexpanders for customers and commissioned more than 100 units since becoming an OEM provider. L.A. Turbine's ability to support the midstream sector with new equipment design and end-users with aftermarket field service, maintenance, repair, and spare parts is a business strategy which has helped the company withstand the unpredictable economic, political, and financial ups and downs within the energy industry.
From the outset, rethinking turboexpanders is a motto LAT has lived by and it continues to permeate all things aftermarket and OEM. This innovation mindset resulted in the delivery of ARES AMB, the industry's first active magnetic bearing (AMB) turboexpander-compressor featuring a skid-mounted AMB controller and programmable logic control (PLC) panel certified for hazardous area installation in 2018. Today, LAT ARES AMB units are installed globally and have accumulated more than 200,000 hours of availability since commissioning. (See COMPRESSORtech2 August/September 2018 cover story.)
Chart expands portfolio
In July 2021, Chart Industries bought L.A. Turbine.
With the addition of LAT, Chart is able to offer customers a "one-stop shop" solution and more options within what they refer to as the "Nexus of Clean"—clean power, clean water, clean food and clean industrials. This includes technology equipment for a variety of applications used in hydrogen and helium liquefaction, carbon capture and energy storage, industrial gas, natural gas processing, small-scale LNG plants and heavy hydrocarbon removal at LNG plants.
Chart purchased LAT because of its capability to manufacture unique expanders required for hydrogen and helium liquefaction, and due to LAT's vertical integration, Chart is further differentiated by the ability to execute faster on new expander product developments and standard expander manufacturing, resulting in greater control over delivery timeframes. There is a high degree of fit between the high specification engineering of both LAT and Chart, which is already yielding positive results in increasing the size of hydrogen liquefaction plant capacities and improving plant efficiencies.
This purchase gave Chart access to in-house turboexpander engineering process and design expertise, and a manufacturing infrastructure to produce specialized expanders required for hydrogen and helium liquefaction. This move represents a critical link to Chart's ability to provide customers an end-to-end solution and it enhances Chart's portfolio of Nexus of Clean solutions in clean power, water, food, and industrials.
In addition to Chart Lifecycle services, Chart customers now gain access to a team of rotating equipment specialists and comprehensive turboexpander aftermarket services provided by LAT's FX-TURBO team.
NEWSLETTER
Delivered directly to your inbox, CompressorTech² News features the pick of the breaking news stories, product launches, show reports and more from KHL's world-class editorial team.