Swiss-Made Education
By Roberta Prandi16 August 2017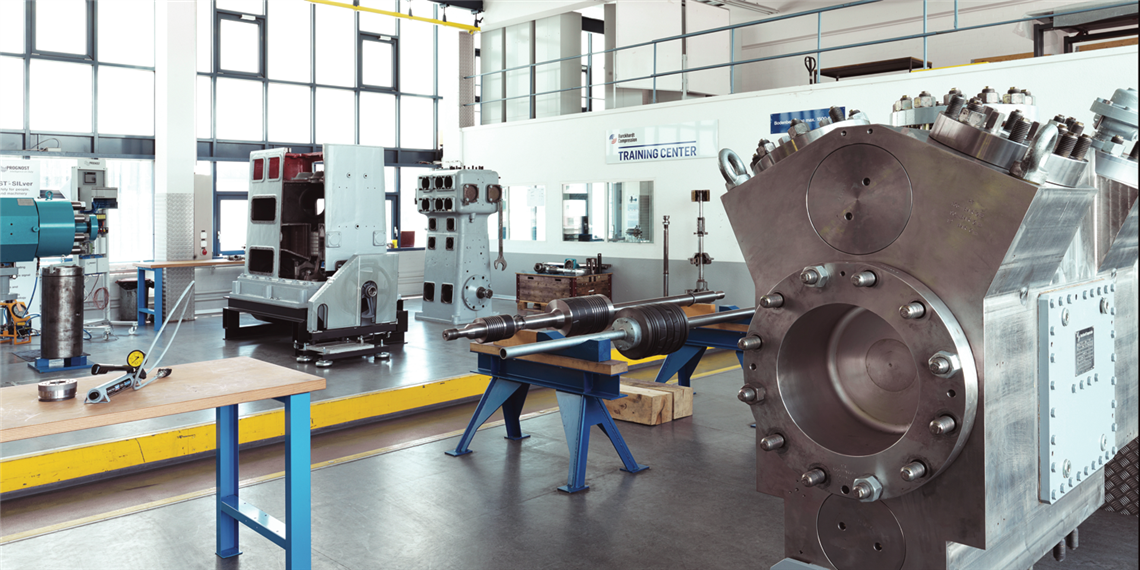 This article was originally published in the July issue of COMPRESSORtech2. We only publish a fraction of our magazine content online, so for more great content, get every issue in your inbox/mailbox and access to our digital archives with a free subscription.
The Education Campus at Burckhardt Compression's headquarters in Winterthur, Switzerland, is a dedicated facility for in-house training for customers.
Evren Doganlar, global training and development specialist at Burckhardt, said the Education Campus is focused on training that combines theory with hands-on experience. Doganlar said that, in his experience, the practical part of each training prepares customers for the real-world problems and is what benefits them most.
The Education Campus comprises training rooms, a working area, offices and the company's museum. There, it is possible to work with all the compressors in Burckhardt's portfolio. That includes process gas compressors, hyper compressors, standard high-pressure compressors and Laby and Laby-GI compressors (with contactless labyrinth sealing). Two large Laby compressors are available on the campus, as well as one process gas compressor. The campus hosts one other brand's compressor so training participants can get comparative experience on reciprocating compressors.
"We have recently added a brand new training room for the Laby-GI compressor," Doganlar said. "In this facility, the compressor is surrounded with a robust working platform ensuring easy access to the cylinders and a safe work environment. The very first training with the Laby-GI has just been completed and has been a success. The training group completely disassembled and reassembled the com- pressor for training purposes.
"The Education Campus is equipped with state-of-the-art tools, and the premises are constantly upgraded to offer the best possible trainings."
For those customers with special requirements, Burckhardt Compression can offer tailored training courses, for example, on instrumentation and controls. These special sessions are always managed by Burckhardt specialists in those particular fields.
In 2016, Burckhardt Compression carried out 20 training courses at its Education Campus, with courses in English and German. Doganlar said the typical training duration is five days, but there is a lot of flexibility to adjust to customers' needs and requests. Although mostly required by customers, training is offered for suppliers or Burckhardt employees and partners.
Scheduling training usually starts with a proposal from Burckhardt, which is discussed with the customer and tailored to the situation. The approach can be adjusted to cater to customer needs. In order to maintain the quality due each student, training normally does not exceed eight participants. Specialized trainers dedicated to each group adjust to the level of each course, depending on the number of attendees and their technical know-how.
According to Doganlar, the most popular courses are those for Laby compressors, especially for marine applications. He said that is one market where requirements for trained people are on the rise.
"We found that the interaction with trainers and other people from Burckhardt Compression is beneficial in building relationships," Doganlar said. "Customers also have the advantage of getting to know personally Burckhardt Compression's technical support team that will support them in the future.
"Finally we care for the social aspect and leverage the region where Burckhardt Compression operates: Switzerland has a lot to offer, and we can organize trips to the Alps or the close-by Rheinfall region."
Doganlar said training is key for an efficient compression operation. Day-to-day handling, economical operation, maximization of operating time, preventive failure detection, plant shutdown scheduling and optimized spare parts logistics, are all important for a compressor operator.
NEWSLETTER
Delivered directly to your inbox, CompressorTech² News features the pick of the breaking news stories, product launches, show reports and more from KHL's world-class editorial team.