Study: EU emission trading system makes coal more expensive
By Keefe Borden24 June 2021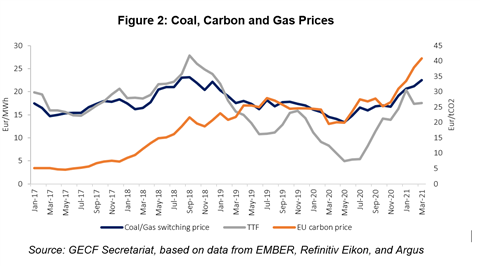 The European Union Emissions Trading System (ETS) has generally made coal-fired electricity generation more expensive and given market incentives for power producers to switch to gas, according to a recent study by the Gas Exporting Countries Forum (GECF.)
The ETS is the mechanism that the European Union (EU) hopes to use to reach its climate exchange goals. The framework was initiated in 2005 and is the world's largest international emissions trading system. It covers about 40% of the European Union's greenhouse gas emissions from power, manufacturing and aviation sectors.
The ETS functions in all 27 member countries in addition to Iceland, Liechtenstein, and Norway. From January 2017 through March 2021, the coal-to-gas switching price has fluctuated, but generally held between €15/MWh and €25/MWh. The EU carbon price has gradually climbed from around €6/MWh in 2017 to €25/MWh in 2020, according to the study.
The coal to gas switching price and the price of carbon are closely correlated. If carbon prices increase, then coal-fired generation becomes more expensive, giving power producers a market incentive to switch to gas, which is then more competitive, the GECF reported.
In January, the EU ETS started its fourth trading phase, which is scheduled to last through 2030. During this decade, the number of emissions allowances is expected to fall annually from 2.2% from 2021, an increase from 1.74% from 2013 through 2020.
The trading scheme establishes an annual cap for emissions of greenhouse gases and enables participants to trade their allowances based on individual needs. They must have enough allowances to cover their total emissions for each year or they are subject to heavy fines. The system provides financial incentives to cut emissions and promotes investment in low-carbon technologies. As the total emissions cap is lowered over time, total emissions are also lowered.
Carbon prices in the European Union averaged €16/tCO2 in 2018 and rose 57% to €25/tCO2 in the following year. From March to May 2020, the demand for electricity in Europe plunged in response to the outbreak of COVID-19. That decline in demand for electricity led to a decline in carbon prices to around €20/tCO2, according to the study.
In the second half of 2020, there was a recovery in demand for electricity, which in turn led to an increase in carbon prices. Those prices rose to above €50/tCO2 in early May 2021, and to above €56/tCO2 on May 14, 2021. In addition to the EU's climate change policies, colder than usual temperatures in the winter of 2020/2021 led to an increased demand for electricity and heat. This, in turn, boosted demand for allowances and drove up carbon prices, the study reported.
The European Union's coal-to-gas switching price indicates the threshold at which coal-fired generation becomes more expensive than gas after factoring in operating costs, efficiencies, fuel costs and carbon costs. Coal plants emit about twice the amount of carbon emissions that gas plants do, they incur a higher carbon cost. Once that cost rises, so to does the cost of using coal.
New policy announcements expected in the new future are causing uncertainty in the market for carbon.  A new announcement fro the European Commission (EC), known as the "Fit for 55" package, is expected to be announced on July 14 and to widen the scope of emissions to include maritime, transportation and building sectors. This series of reforms is expected to tighten the carbon market, the GECF study noted.
In addition, the EC is also expected to propose a new regulation to establish a Carbon Border Adjustment Mechanism, which will regulate greenhouse gas emissions by imposing a carbon emissions cost on some imported goods to prevent the risk of carbon leakage. The CBAM is expected to apply to some items in the following industries: cement, electricity, fertilizers, iron and steel and aluminum. The new regulation is expected to start from 2023 and to be fully implemented three years later, the study noted.
NEWSLETTER
Delivered directly to your inbox, CompressorTech² News features the pick of the breaking news stories, product launches, show reports and more from KHL's world-class editorial team.