SEC Energy sees ongoing demand for compression
By Keefe Borden21 March 2023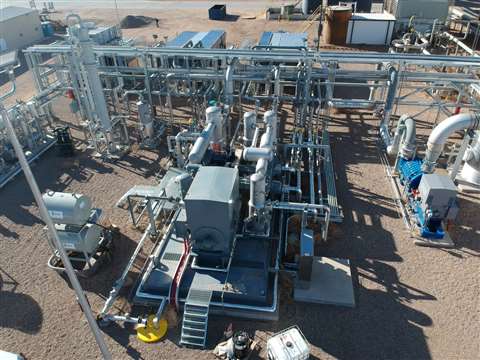 Houston-based SEC Energy Products & Services recently completed a series of milestones 20 years after its establishment. Over the last two decades, the packaging, maintenance and service company has built in excess of 3,600 packages with a total of more than 5 million in horsepower placed in service.
With roots to the former Hanover Company, SEC was founded by building relatively small non-Ariel reciprocating compressor packages largely used for wellhead compression. In 2005, SEC Energy bought the company's current headquarters. As SEC has grown it has developed more sophisticated quality control systems, improved automation for the preparation of raw materials, and added capacity at the company headquarters as well as service locations in Odessa and Fairfield, Texas and Crescent, Oklahoma.
Today, the main campus sits on a 56-acres, includes 11 buildings with 28 packaging/assembly bays, and an engine and compressor overhaul shop with a 6,500hp dynamometer. The Northwest Houston packaging facility has over 350,000 total square feet under-roof with 100,000 square feet dedicated to steel processing and fabrication.
Today, SEC is one of the largest packagers of natural gas and electric driven Ariel reciprocating compressors for gas gathering, wellhead and processing facilities in horsepower ranges from 95 to 8000. It is the largest manufacturer of Dual Drive compressor packages in the industry.
Market trends
Recently, SEC Energy noted clear direction that now drives the entire industry. Its customers show a strong preference for compressor packages that enable them to meet a variety of environmental goals. "Simply put, our customers drive demand. Almost all new capital seems to be tied to some component of ESG initiative. This requirement by investors forces our customers to align their operations with care for the environment," says Kurt Loustalot, president of SEC Energy Products & Services.
"To cite one example, the industry must ultimately substantially reduce or eliminate flaring and incineration of CO2 into the atmosphere, which was the traditional way of eliminating CO2 from an amine treatment plant. The alternative process requires CO2 to be stored underground or otherwise injected, and that requires compression. We recognized in 2020 that things were going to begin moving in that direction," he said.
Because SEC Energy prefers to keep full control of pressure containing components on its packages, it enhanced its capability to handle and manufacture stainless steel vessels and piping to maintain quality standards of fabrication.
While still a long way from the bulk of its business, SEC Energy has indeed noticed a surge in interest in CO2 compression as traditional operators (and a few new companies) are seeking compression to inject captured CO2 into underground storage and artificial gas lift, which essentially boosts or maintains production from an existing oil field. Today, however, the majority of SEC's Customers' interest in CO2 compression is for underground storage.
One recent industry trend that SEC Energy did not anticipate as strongly was the relatively new preference for electric motors on gathering and wellhead packages. "That has taken off in a way that we did not expect," Loustalot explained. Between July 2021 to July 2022, the company packaged about 275 compression units. Roughly 75% of those units had electric drivers. When broken down by horsepower, nearly half were electric. In the last six to nine months, however, the demand for electric motor-driven packages has eased somewhat because the required variable frequency drives for larger gathering units are often hard to obtain and because operators are unsure the electricity grid can supply a reliable source of power in a timely enough manner to drive the compressor and still meet production timelines.
To fill the gap in reliability, SEC has packaged about 15 Dual Drive compression units and has seen increasing interest in these electric driven units that can switch to a gas engine driver whenever the grid becomes unstable or the price of electricity spikes. The Dual Drive technology is owned by Energy Transfer.
Over the last few years, the company has also trended toward diversification of its range of customers. In 2019, they primarily built units for contract compression fleet customers and midstream operators. Last year, the company had a substantially more diverse customer base.
The growing interest by exploration & production as well as midstream companies in owning their compression assets has created a strategic cycle that benefits the company. SEC is able to leverage aftermarket service post-compressor sale, which has driven substantial growth in aftermarket parts and service-related business since the pandemic downturn.
"This customer-facing service is an added value that I believe helps to differentiate us," Loustalot maintains.
Industry challenges
With the re-growth of its business post-pandemic slowdown, SEC Energy continues to contend with issues that have affected everyone in the energy industry: chiefly, an unusually tight labor market and ongoing struggles with delivery of components in the supply chain.
"The worldwide response to the pandemic in 2020 and early 2021 did a huge number on the industry's supply chain. What surprises me is how long it continues to take to recover from these supply chain issues," Loustalot said. "I had no idea how dependent our American-sourced components are on foreign sources of material."
The relative scarcity of qualified suppliers in the U.S. and the scarcity of labor to support them has made it difficult for companies like SEC Energy to get some essential components needed to package a compression unit. Those delivery uncertainties can cause delays in production, he said.
Nonetheless, the company has been resourceful with strategic inventory and in-sourcing of subcomponents where possible, and the result is a solid backlog of work at SEC's facilities in Houston.
As of this article, delivery of large frame units may take 36-40 weeks to obtain and a smaller frame unit of 1000 hp or below has a turnaround time of about 30-36 weeks. Depending upon specific unit selection, deliveries can take in excess of a year.
Many companies in the industry have had trouble attracting skilled labor needed to build and maintain midstream assets. In response, the company recently broke ground on a training facility in Odessa, Texas that will provide training classes for its mechanic technicians and plant operators. The school is expected to be fully operational sometime in the fourth quarter of 2023.
Outlook
"As long as unemployment stays low, near term, it's no stretch to believe we will continue to see demand for energy," he said. "Just about everything I read seems to indicate that oil prices should hold for the year. With that in mind overall, the demand for compression is expected to stay flat, which is good."
Crystal balls are usually unclear, but Loustalot said an ongoing need for energy in general is an easy prediction and natural gas will continue to play a part in that for the foreseeable future. "Even with a shift to other sources of energy beyond natural hydrocarbon gas, the alternatives are all in gas form. There remains a need to move those sources to places where they are consumed. So regardless of medium – natural gas, CO2 by-products, hydrogen, or anything else – that transportation requirement should benefit the compression industry as a whole for years to come."
NEWSLETTER
Delivered directly to your inbox, CompressorTech² News features the pick of the breaking news stories, product launches, show reports and more from KHL's world-class editorial team.