Reynolds-French remains a specialist in cast iron repairs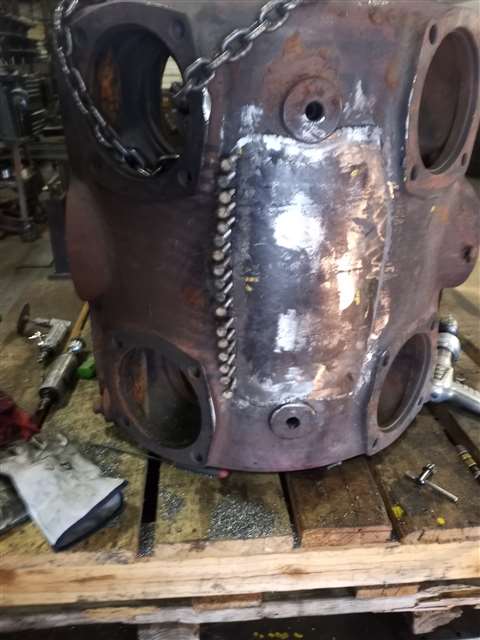 Many oil and gas assets have frequently lasted decades, but eventually, everything can break after subject to decades of stress under high speeds and temperatures. Sooner or later, virtually any part needs repair – and cast iron stitching is one common technique to keep compressors and their drivers operating.
Tulsa, Oklahoma-based Reynolds French & Co. is well suited to repair virtually any asset in the industry using a variety of techniques and is well known for its cast iron stitching repairs. The company has serviced assets in almost every industry but has worked for the energy industry more than any other.
Reynolds French & Company began in the early 1940s as a company that metal laced small locks and overlapping threaded dowels for relatively low-stress areas. It operated its first decade with two to four individuals making repairs.
In the late 1960s, Reynolds French started a field machine division that would travel with portable boring bar and portable milling machines. The company's field machine group has steadily grown and now rivals its casting repair group. By the 1970s, the company had developed new techniques for repairing damaged castings. All work can be done in-shop in Tulsa and onsite in the field.
Russell Watkins, vice president of repair services for Reynolds-French & Co., said the technique is used almost daily in the oil and gas industry. The "big iron" compressors and other equipment have, in many cases, been up and running for decades and will eventually need repairs.
Because cast iron is one of the most challenging metals to weld, technicians use cast iron metal stitching to repair many of the assets that are cracked, chipped or broken. The process uses a variety of materials to replace the crack and surrounding material, including copper and zinc-plated bolts, tapered plugs, threaded rods, screws, setscrews, dowels.
Technicians insert high tensile strength, steel bars known as locks into accurately prepared slots that run perpendicular to a crack. The serrated design of the lock locks the casting sections together on both sides of the crack. These locks have evolved over the years and are created in many shapes and sizes. One kind of lock is installed by drilling intersecting holes across the crack and driving locks into the holes.
Cast iron stitching has long been used in the industry, Reynolds French has refined the technique over time after years of listening, observing and learning how to get a compressor or a driver back into operating condition. Watkins works to understand the torsion, strength, tension and load on an asset before fixing it.
"We do a lot of failure analysis. I need to understand why something broke before I can fix it," he said.
Basic cast iron stitching requires a few pneumatic tools, fixtures, jigs and supplies, all of which can fit in a few industrial tool boxes. For larger jobs, the company needs welding equipment, portable milling equipment, portable boring bars, portable flange facers and all kinds of facets for different needs in the industry.
Certain repairs are more challenging than others and require time in the field.
The new lock designs have increased drawing capabilities over short distances. These new tools and technologies have enabled technicians to make repairs that were not previously possible and make repairs faster, easier and more effective. The finish is flawless and the seals stand up to high pressures.
All engines (Wartsila, Mitsubishi, Cooper, Ingersoll Rand, Dresser Rand, Caterpillar & others) are made as robust as possible but after extensive use and repeated stress, all have a weakness and are subject to failing. "Knowing these weaknesses is a skill that is not acquired in school," he said. All engines used extensively over time will need to be stitched or reinforced with steel plating or cross-sectional bolting.
New equipment and replacement parts are an option, but the time and expense make them less attractive than a stitching repair. A new compressor may cost hundreds of thousands of dollars, and require 52 weeks or more of lead time to complete. Many operators prefer to repair the smaller cracks and breaks whenever possible, he said.
"Some of our biggest jobs we accomplished within a month at a fraction of cost of replacing a new unit," he said.
The process of cast iron stitching can take a few hours, a few days or a few weeks, depending on the nature and size of the failure. Shop repairs can take between 90 minutes and a few days.
Although virtually any part on the engine or the compressor itself is susceptible to breaking, certain repairs, such as those to the compressor cylinder are considered anomalies and some cannot be repaired. A good technician knows when to walk away, Watkins said. "It's hard to put your gold stamp on that and say, 'It's going to be just fine,'" he said.
One common difficulty when repairing aging compression equipment is documentation. Sometimes it's simply not available and Reynolds French has to do some reverse engineering to determine appropriate cylinder and flange sizes.
Another frequent problem with repairs of aging equipment is access to a job site. In some cases, the operator-built rail access, installed and commissioned a compressor station before removing the railway and letting the compressor operate. In those cases, remote access is challenging, and the repairs are usually done on site, he said.
Another potential problem the industry faces is an aging workforce. Many of the skills for cast iron stitching are not really taught in school and can only be learned on the job after a couple of decades of experience. Finding experienced technicians is an ongoing challenge that Reynolds French (and anyone in the industry) must confront.
Many operators have found that the number of experienced repair technicians has dwindled over time, in part because some of the younger generations are reluctant to get out into the field and study on the ground. "The gene pool is growing thin," he said. "We still have many people, and the ongoing task is to find others who love the challenge, love the travel and love the work."
NEWSLETTER
Delivered directly to your inbox, CompressorTech² News features the pick of the breaking news stories, product launches, show reports and more from KHL's world-class editorial team.