Qatar's giant LNG ambitions in the Middle East
By Anna Kachkova07 March 2022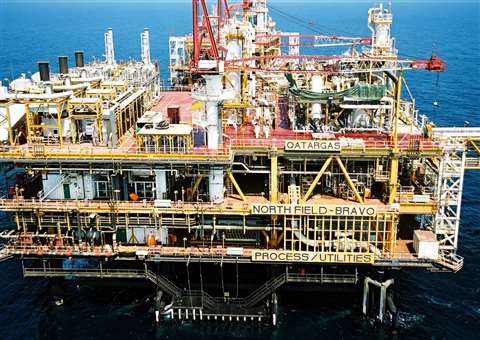 Qatar dominates natural gas news from the Middle East as it develops the North Field East expansion, which is the world's single largest LNG project
Natural gas news from the Middle East over the past year has been dominated by developments in Qatar. The country is already one of the world's leading LNG exporters, though it has recently been edged out by Australia and also stands to be overtaken by the US as more liquefaction capacity comes online there in 2022. However, Qatar is taking steps to regain and extend its LNG dominance as it expands production from its North Field, its portion of the world's largest non-associated natural gas field, which it shares with Iran.
In February 2021, state-owned Qatar Petroleum – which has since been renamed to QatarEnergy – announced a final investment decision (FID) on North Field East (NFE), the first phase of its North Field Expansion project. NFE is set to increase Qatar's liquefaction capacity from 77mn tonnes per year (tpy) to 110mn tpy. A second phase of expansion, North Field South (NFS), is then set to further increase capacity to 126mn tpy at an estimated total cost of $28.75bn.
"QatarEnergy is pressing ahead with the development of the North Field Expansion project that will return it to the global LNG export top spot," consultancy IGM Energy's principal advisor, Ian Simm, told COMPRESSORtech2. "Under the leadership of Saad al-Kaabi, the company has proven to be a shrewd operator and holds a stacked hand in building out its gas production and liquefaction capacity," he said.
Among other advantages, QatarEnergy benefits from having extremely deep pockets, to the point that it has delayed choosing equity partners for the project and took FID on NFE by itself. It is in the process of evaluating offers for participation in the project from international companies, but has previously indicated that it is not afraid to go it alone if necessary. Another advantage the company enjoys is its low cost of supply, with rising natural gas prices and demand putting it in an even stronger position.
"North Field's enviable size and productivity provide economies of scale that mean Doha's LNG will remain profitable at prices way below its competitors," Simm said. He also sees QatarEnergy's delays in bringing on equity partners in NFE as having worked to the company's advantage, given how the global gas market has changed in the interim.
"It looks like QatarEnergy will finally announce its choice of equity partners by the end of Q2, but given the number of delays to date, it wouldn't be a great surprise if this date were to move," he said. "The delays have ended up working in Qatar's favor and it will likely find itself in a far stronger negotiating position than it would have previously."
Infrastructure
While construction moves forward at NFE, a major compression project is simultaneously underway aimed at maintaining the production profile of the original North Field. According to an Upstream report from November, the North Field Production Sustainability (NFPS) project will entail at least seven compression platforms tendered across four phases in the coming years.
QatarEnergy did not respond to a request for further details, but COMPRESSORtech2 understands that while the NFPS budget is not comparable to that for NFE, it could still reach a few billion dollars.
Together, NFE, NFPS and NFS call for massive infrastructure buildout and billions of dollars' worth of contracts to be handed out. A number of these have already been announced, but there are more still to come, and various contractors are reported to be competing for the work.
"By my estimates there are perhaps another $7-8bn worth of contracts still to be handed out for NFE, including Package 4, which relates to sulphur-handling at North Field East," Simm said. "However, I'd say the key contracts in terms of opening up the North Field expansion were the $13bn EPC deal awarded last year to a JV of Chiyoda and Technip Energies covering the construction of four LNG mega-trains and associated facilities, and the offshore EPCI work awarded to McDermott in January."
Simm also cited QatarEnergy's ongoing $19bn plans to acquire up to 100 LNG vessels, which he says will be vital to exporting all of the additional cargoes of LNG.
The mega-trains that will be built by Chiyoda and Technip will each have a capacity of 8mn tpy and will receive around 6 bcf/d (1.7 × 108 m3/d) of feed gas from NFE. The contract also includes a "large" carbon capture and storage (CCS) facility. According to the two companies' statement from February 2021, the CCS facility is expected to result in roughly 25% lower greenhouse gas (GHG) emissions compared with similar LNG projects – though it does not specify on what basis a project would be considered similar.
This component of the contract awarded to Chiyoda and Technip marks a further step in Qatar's efforts to embrace the energy transition while still building out its LNG capacity.
"Qatar already operates the Middle East's largest CCS facility, which reinjected more than 2.5mn tonnes of CO2 during its first two years of operation," Simm said. "The planned $200mn NFE CCS facilities will be integrated with a wider network at Ras Laffan with the aim of increasing QatarEnergy's CCS capacity beyond 7mn tpy."
The contract awarded to McDermott International in January 2022 covers engineering, procurement, construction and installation (EPCI) for the NFE topsides, offshore pipelines and subsea cables. The contractor said it also has an option to take on the NFS offshore topsides and that the award represents one of the largest single contracts it has been awarded in its history.
The scope of the contract includes the fabrication and installation of eight wellhead topsides (WHT) for NFE and a further five WHT for NFS, McDermott said. The subsea pipeline scope includes over 300 miles of pipelines and more than 140 miles of 33kV subsea cables and associated works.
A handful of other contract awards relating to North Field projects has also been announced, in some cases even before the NFE FID was taken. For example, Baker Hughes said in September 2020 that it had received an order to supply multiple main refrigerant compressors (MRCs) for NFE. Each MRC train will consist of three Frame 9E DLN Ultra Low NOx gas turbines and six centrifugal compressors across the four mega-trains being built for NFE, for a total scope of supply of 12 gas turbines to drive 24 centrifugal compressors.
More recently, Upstream reported in September 2021 that tenders had been offered to up to five pre-qualified companies or consortia for the second package of engineering, procurement and construction (EPC) work related to the first phase of the NFPS compression project. Package 2 is reported to be the largest on offer, covering two offshore compression platforms, as well as two accommodation platforms and two flare platforms. According to the report, an award could come by the middle of 2022.
Leading the way
Given the resource available to it, the finances at its disposal and the expertise it has developed in previous years, Qatar seems set to meet its gas production and LNG export goals. The country's plans are some of the most significant in the Middle East currently in terms of bringing new gas production online, but this is not to say that Qatar is the only country to watch for gas developments in the region.
Indeed, Simm cited moves in Saudi Arabia, Kuwait, Iraq and Iran as being among the other Middle Eastern gas developments worth watching currently.
In Saudi Arabia, he identified the key development as the unconventional Jafurah Basin.
"The Ministry of Energy and Aramco envisage this asset fuelling the nation and reducing the burning of crude for power, thereby freeing up more oil for export," he said. "It is also seen feeding the generation of commercial quantities of blue hydrogen for use either domestically or sale to export markets once that industry takes off. Jafurah will also be leveraged to provide feedstock for the Eastern Province's large petrochemical industry."
In Kuwait's case, Simm cited the recent opening of a new LNG import terminal that will receive gas from QatarEnergy. Across the border in Iraq, inroads are finally being made to capture gas associated with oil production, which has historically been flared, and work is belatedly beginning to develop 'free gas' assets as well. And in Iran, he sees attention turning to further expansion of gas production.
"With the final of 24 phases covered by South Pars' development plan expected online this year, thoughts have already turned to future expansion, with National Iranian Oil Co. subsidiaries drilling in the east of the field," Simm said.
Qatar's North Field is an extension of Iran's South Pars, and on the Iranian side, the field also has considerably more potential that has yet to be tapped.
Editor's Note: A copy of this article ran in the March 2022 issue of CompressorTech2.
NEWSLETTER
Delivered directly to your inbox, CompressorTech² News features the pick of the breaking news stories, product launches, show reports and more from KHL's world-class editorial team.