Preventing costly down time
A new service offering from Sloan Lubrication Systems
No one disagrees that preventative maintenance is critical to compressor reliability. Likewise, no one would argue about the importance of proper lubrication as being critical for the longevity of wear components and guaranteeing uptime.
Why then is the force feed lubrication system on compressors one of the most oft-ignored systems when it comes to preventative maintenance?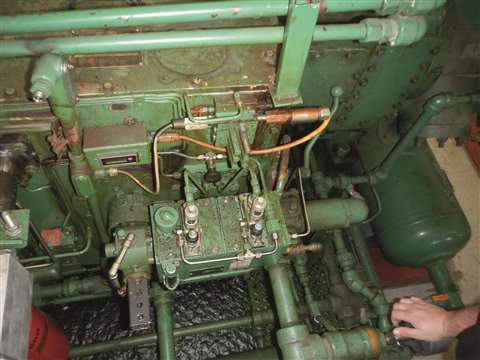 The folks at Sloan Lubrication have made it their mission to solve this. With more than 322 years of collective experience over four generations and 100 years in business, the Sloan Team has seen a lot. And one common theme is that the vast majority of lubrication system problems are related to a lack of or no preventative maintenance being performed on the critical wear components such as the divider blocks, pumps, filters, and lubricator boxes.
What contributes to this problem is the fact that lubrication systems can run for a very long time, showing no signs of problems at all – sometimes a decade or more with no maintenance, but as the components wear things may not be as they seem. As the components wear out critical functionality is compromised – the ability of the system to "fail-safe." This functionality is guaranteed by the precise tolerances of the components, and the only way to verify if this functionality is intact is through preventative maintenance.
To help operators avoid costly problems brought on by a lack of maintenance, Sloan Lubrication Systems is introducing maintenance contracts that will be available for all new systems and most systems installed within the past five years. The maintenance contract program was officially unveiled at the Eastern Gas Compression Roundtable (EGCR) in Pennsylvania earlier in May.
After experimenting with yearly service offerings for key customers for decades, the folks at Sloan believe they have developed a model that works.
"The most important thing is making sure that the work gets done," said Eric Sloan, Manager of Marketing Communications. "We know from our experience that this is the thing that sets successful customers apart, and we are finding that more and more the end users do not have the staff, time or training to do the proper maintenance, so our main objective was to put together a program that customers think is a no-brainer in terms of value."
During a yearly PM service, key components like the divider blocks are tested for the integrity of the piston to bore fit to guarantee continued fail safe operation for the next year. In addition, all major component groups are serviced and inspected, filters are changed, flow rates are verified to make sure that the lubrication system is doing its job as well as possible. Too often, deferred preventative maintenance turns into a costly emergency service call that involves a root cause failure analysis, equipment damage and significant downtime.
Sloan said the company's maintenance contracts come with a big perk – they effectively extend the warranty on systems for the life of the contract and beyond.
"This brings a great peace of mind," Sloan said. "The contracts are purchased for a small additional charge at the time the system is purchased or commissioned."
This gets the purchaser priority scheduling for a yearly service by Sloan's expert team and a discount on all maintenance parts and wear components necessary for the service. Additional benefits include priority callouts for emergency service, 24/7 customer support, and access to Sloan's training and optimization resources. This service is effectively a yearly recommissioning of the system and a guarantee of uptime for the next duty cycle, the company said.
For customers that have existing systems, Sloan will also offer maintenance contracts pending a complete system evaluation. Systems that are approved will also benefit from a recommissioning and warranty extension.
NEWSLETTER
Delivered directly to your inbox, CompressorTech² News features the pick of the breaking news stories, product launches, show reports and more from KHL's world-class editorial team.