PDC Machines grows as the world turns to hydrogen
By Keefe Borden29 March 2022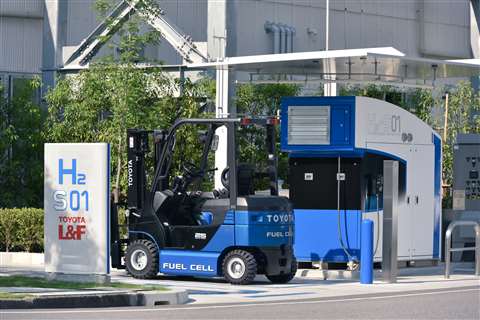 To combat climate change, governments and industry worldwide are turning to hydrogen as an important part of our clean and secure energy future. This has created unique opportunities for automakers, electricity and gas utilities, oil and gas companies, and technology firms to take an active role in reducing carbon emissions. One such company is PDC Machines.
PDC Machines, founded in 1977 and located in Warminster, Pennsylvania, has long been a proponent of hydrogen as an energy carrier. Over the years PDC has partnered with the largest gas producers and technology companies to create practical and commercial acceptance of hydrogen as an energy source though an innovative array of technologies.
PDC manufactures diaphragm compressors for hydrogen, hydrogen refueling stations and power to gas applications. One of PDC's most cutting-edge endeavors, however, is the commercially friendly SimpleFuel, an on-site hydrogen generation, compression and dispensing appliance and complete hydrogen refueling station. SimpleFuel has a global customer base using the appliance for refueling vehicles, light duty trucks, buses and forklifts.
Over the years, PDC has delivered compressors to general petrochemical, oil and gas and industrial companies. Recently however, 80% of PDC's production has shifted to the hydrogen energy sector. "Production has essentially doubled in the last three years" said Michael Walsh, global sales manager at PDC. As the market grows further, PDC plans to open an additional 150,800 square feet manufacturing facility in Souderton, PA this year. "We expect our production to double again," Walsh said. "It's a necessary step to keep up with the exponentially increasing demand for green hydrogen."
The chief market for PDC compressors is Asia, primarily China, Japan, and Korea, where policy makers have increasingly turned to hydrogen for energy. South Korea plans to build three hydrogen cities by 2022, while five South Korean conglomerates have announced plans to invest $38 billion in hydrogen technology by 2030, as reported by Centre for Strategic and International Studies. To support this growing demand, PDC has established regional sales and service offices in Germany, China, Japan and South Korea.
China has also pushed aggressively into hydrogen. Several companies that used to make compressed natural gas (CNG) fueling stations have converted them to hydrogen refueling stations. "They buy a lot of compressors from us," Walsh said. "They acquire the bare block compressor from us and integrate it locally with the stations they are building. The stations are used to primarily to fuel light duty trucks used for deliveries. They line them up by the hundreds to fuel them with hydrogen."
Within the US, there is a growing demand for hydrogen to fuel forklifts in industrial warehouses. Currently, forklifts use either internal combustion engines that run off gasoline, propane or natural gas, or lead acid batteries. These are all flawed options for both worker safety and power efficiency. Fuel cell forklifts have no environmental concerns from acid run off or lead and tail pipe emissions. Economically, hydrogen powered forklifts refuel in a few minutes while a battery-operated forklift takes hours to recharge. Battery operated units degrade permanently with repeated use, losing overall battery power. Hydrogen powered units do not. For many companies, the calculus between hydrogen fuel cells and their alternatives is clear.
PDC serves the hydrogen, compressor, and industrial gas markets. Worldwide, PDC's installations represent the cutting edge of the hydrogen industry, serving organizations from government to professional sports and universities.
PDC is headquartered in Warminster, PA with additional locations in high-growth hydrogen energy markets including China, Japan, South Korea and the European Union. Founded in 1977 by Sy Afzal, PDC was added to the Arcline Investment Management portfolio in mid-2021.
PDC's triple metal diaphragm compressors are ideally suited for compressing hydrogen in a leak-free, contamination-free manner. PDC offers an extensive line of compressors to meet an array of mobility applications including passenger vehicles, buses, material handling vehicles, and medium- and heavy- duty trucks and power to gas. It's machines compress hydrogen from sources such as electrolyzers, reformers, and tube trailers to 15,000 psi/1,000 bar to enable vehicle range that matches or exceeds distances traveled using conventional fuels.
The company makes SimpleFuel, an ultra-small H2 refueling station. This all-inclusive package includes water electrolysis hydrogen generator, purification system, diaphragm compressor, gas storage and integrated dispenser. It enables fuel cell vehicles for locations currently without hydrogen access. SimpleFuel includes hydrogen production of up 20 kg/day. As such, SimpleFuel is capable of supporting small fleets of light duty vehicles and or forklift trucks.
PDC provides turnkey Hydrogen Refueling Stations (HRS). This includes compression, storage, chilling, dispensing, safety, controls and factory certification. The components are selected from standard building blocks to meet fleet requirements. PDC's HRS designs easily adapt to increased capacity as the vehicle fleet grows in the future.
NEWSLETTER
Delivered directly to your inbox, CompressorTech² News features the pick of the breaking news stories, product launches, show reports and more from KHL's world-class editorial team.