New dry gas seal to cut methane emissions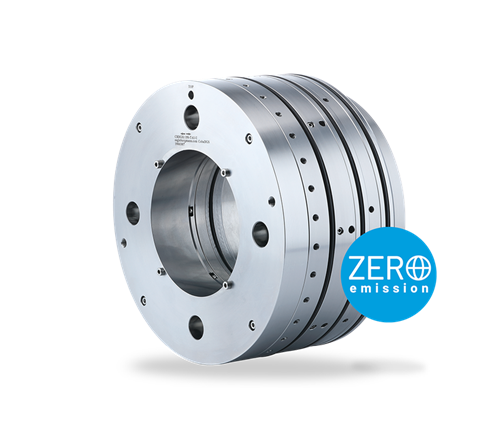 A European gas supplier is voluntarily reducing its methane emissions by implementing a new type of seal for turbo compressors. The pilot project from EagleBurgmann demonstrates CobaDGS to be the first gas-lubricated mechanical seal that completely eliminates leakage, while also being suitable for high pressures, the company said.
The avoidance of losses helps to improve the operating result and set the stage for future-oriented management in adherence with statutory regulations and climate protection initiatives, the company said.
More than half of the methane emissions attributable to the energy sector are a result of fugitive emissions from natural gas and oil infrastructures. After carbon dioxide, methane represents the largest share of climate-relevant gas, and it is many times more potent. This means that there is need for action, as well as particular potential for savings. However, methane emissions are not completely avoidable. The compressors at pipeline stations leak due to their design, as current mechanical units do not create a complete seal. They also have to be vented when not in operation.
The CobaDGS from EagleBurgmann eliminates leakage during operation and during standstill. Since nitrogen is constantly flowing through it, there is no need for venting. The system operates safely and robustly even in the event of an N2 failure. It withstands operating pressures of up to 160 bar, and it requires no modifications to the compressor housing, the company said.
Emissions-free seals significantly reduce operating costs by preventing the loss of gas. For pipeline operators, an investment in this solution pays for itself within a few years. If the pricing of CO2 emissions at €25 per ton is taken into account, the return on investment can even be reduced to one year, EagleBurgmann said
The seal enables gas suppliers to position themselves for the future. In addition to voluntary industry initiatives, such as the CCAC or the US Environmental Protection Agency (EPA), the first legal regulations are already being discussed. One regulation could stem from the EU Commission's talks on the certification of upstream chain emissions or bans on the venting and flaring of methane, the company said.
Until recently, manufacturers and operators of turbo compressors have had to accept that mechanical seals can run emission free when supplies with nitrogen, which are only suitable for low-pressure applications. They can fail quickly if the nitrogen supply is interrupted. Tandem seals, meanwhile, can withstand very high pressure but emit large amounts of harmful process gas or CO2 when vented or flared, EagleBurgmann said.
The CobaDGS enables compressor operators to prevent emissions, and easily cope with high operating pressures. The new seal also performs well without damage even when the nitrogen seal is interrupted. A quick emergency stop of the compressor is not necessary, the company said.
The CobaDGS can be used to upgrade existing single, tandem or double seals. Its compact design allows an additional backup seal if required, which further increases the reliability of the seal, the company said.
The new seal is as safe to use as a tandem seal and can be operated reliably and emission-free up to 160 bar. In addition, the supply of dry, clean sealing gas eliminates the need to discharge process gas into the atmosphere, which is common with tandem seals. There is no loss of process gas, which results in lower total cost of ownership, EagleBurgmann said.
The CobaDGS fits almost any compressor, even in one with smaller seal cavities, and can be used with turbo compressors with gas turbine, steam turbine or electric drive, the company said, adding that is can supply single or tandem versions.
The CobaDGS single seal can withstand a temporary failure of the nitrogen supply without damage because of its emergency running properties. The tandem CobaDGS is significantly safer because of additional backup seal without exceeding typical seal cavity. Both variations can be used in all applications where double seals are used, such as wet-gas compressors, the company said.
NEWSLETTER
Delivered directly to your inbox, CompressorTech² News features the pick of the breaking news stories, product launches, show reports and more from KHL's world-class editorial team.