Net zero goals limit offshore projects
By Keefe Borden07 March 2022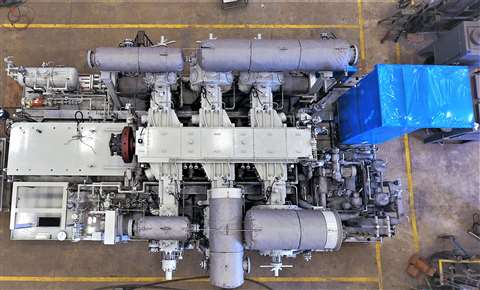 The commitment for meeting net zero emissions targets over the next 20 to 30 years has led to a reduction in final investment decisions for new offshore exploration projects. In fact, over the last 12 months, the industry has seen some majors pull funding from projects that no longer fits with their business models. This could lead to a slowdown in future offshore exploration projects in the long term.
However, offshore fields continue to represent a major source of oil and gas production worldwide -- and that production continues to require gas compression, an industry expert said recently.
Stephen Maguire, Howden's general manager for sales and business development for screw packages, said that while the net zero initiatives are being announced, there are still a number of exploration projects continuing. "There are a number of exploration projects commencing offshore in Brazil for example with the P78, 79, 80 and 81 FPSO's and we are also seeing other Offshore projects commencing in offshore Australia and Africa," he said.
The design and manufacture of offshore compression packages requires additional thought that does not generally apply to onshore compression.
"For offshore projects, there are things to consider that just don't exist in an onshore environment," he said. "And you have to take these into consideration. They can slow things down and increase lead time and they do also add cost."
For one, many compression packages for offshore applications frequently require adherence to Class Rules and certification from one or more accredited registrar such as Bureau Veritas, DNV, or the American Bureau of Shipping. "This process of certification involves extra time and expense that needs to be considered for offshore compression projects," he said.
The amount of inspection and examination from the class society varies by project, but in most cases, there will be a requirement for the compressor vendor to comply with pre-established standards of the classification society. Norway's DNV is one of the most common class societies for offshore projects.
Another consideration that comes up frequently offshore is the requirement to meet a certain footprint for a compressor package. "Most offshore platforms and FPSO's have a finite amount of space. They also require high levels of availability and reliability so that space issue becomes even more challenging when you factor in duty and standby requirements," he said.
The onerous environment that offshore compressors operate in demand robust materials, which is another factor for consideration. Offshore compressors packages frequently need to manufactured with more robust materials to stand up to constant exposure to salt water or humid air found offshore.
An operator, for example, may need a compressor made of a higher grade of stainless steel or more exotic grades of stainless steel to withstand its operating environment. These higher grades of stainless steel will add cost to an offshore project that an onshore operator may not face, he said.
There is a long-term trend in the oil and gas industry that exploration and production has moved offshore as many of the onshore reservoirs worldwide are found and developed. This trend has not necessarily resulted in more compressors sent offshore.
"Actually, in my experience with Howden, this is not a trend I have seen and in fact in the last 10 years, for all of the projects that Howden have been involved in for screw compressor packages that have been taken to a conclusion, only 15% of those were for offshore applications. This would seem to contradict that through process," he said.
Growth of LNG worldwide
The growth in trading for liquefied natural gas worldwide has led to a resurgence in demand for compressors, some of which are offshore. The use of boil off gas compressors on LNG vessels, for example, has become more common.
"We are seeing more of these BOG opportunities as the demand for LNG continues and the market grows," he said. "LNG is a growth industry and there is large requirement and opportunity there for compression technology and in BOG in particular, Howden have a number of screw compressor solutions to offer."
That renewed interest in BOG compressors has caught the attention of manufacturers worldwide. Termomeccanica Industrial Compressors (TMIC), for example, has seen its business grow in part because of the renewed demand for screw compressors.
Based in La Spezia, Italy, TMIC manufactures screw block oil injected compressors. The units are sold to packagers in South Korea and Japan, and are ultimately installed on ships built in Asia.
These units take gas that comes from vaporized natural gas on LNG carriers and uses it to drive a steam turbine, which in turn is used to propel the vessel. That gas might otherwise be vented to the atmosphere. Many tankers have dual fuel engines which can use both natural gas and bunker fuel for propulsion, said Gianluca Battistini, senior sales representative at TMIC.
The screw block compressors are certified by the most important certification bodies, including the Korean Register, DNV-GL register, the American Bureau of Shipping, Lloyd's and Bureau Veritas, he said.
The company started about four years ago and received only a few orders in its first year. Orders have grown dramatically and this year, the company has orders for 30 to 40 more, which will be installed betwen 20 and 30 LNG vessels between 2022 and 2023, he said.
U.S. Gulf Coast
The interest in offshore compression extends to the U.S. Gulf Coast as well. Reagan Power & Compression was selected by a major oil and gas company to provide two 3,150hp electric motor driven high speed reciprocating compressor packages. Reagan is a custom packager based in Broussard, Louisiana that assembles compressors based on the individual needs of a given customer.
These units will serve as the main compressor units and will be installed on a new state of the art semi-submersible platform located in the Green Canyon area of the deepwater Gulf of Mexico, approximately 140 miles off the coast of Louisiana in water depths ranging from approximately 4500 feet to 5200 feet.
The units are made by Dresser-Rand, model 6HOSS6, which have a 6.0'' stroke and a combined rod load of 75000 lbs. The driver is an electric induction motor made by GE. It runs at a maximum 900 RPM and complies with API 541.
Each compressor will support various processes for five different gas streams. Each cylinder/stage operates independently, which essentially creates five compressors in a single package, he said.
The units were recently transported to a fabrication yard in Ingleside Texas, where the topside is under construction. They are scheduled to be commissioned in the Spring of 2023.
Derrick Stoltz, business development manager at Reagan, said the time needed to assemble a package can vary widely by project and engineering needs, but it frequently takes a year. This package took nearly two years because of supply side issues caused by COVID-19.
Typically, offshore compression packages for deep-water platforms are designed for 30 years of operation at optimal efficiency. API 618 practices are typically applied as much as possible. Lower operating and piston speeds than commonly seen on onshore units are usually considered when selecting a compressor, he said.
Other things to consider are having a robust skid design and dynamic analysis to eliminate vibration caused by opposing forces of reciprocating compressors. Pulsation and mechanical studies should also be performed for optimizing pulsation suppression as well as pipe layout and supports, facility piping should also be modeled into the mechanical studies to optimize pipe layout and support locations.
Offshore units must also be required to start-up, blow down & shut down automatically due to process safety systems dictated by API RP 14C Analysis, Design, Installation, and Testing of Safety Systems for Offshore Production Facilities. All vents, drains, and fugitive gases must be captured and routed to a safe location.
Deep-water platforms also typically require at a minimum 316SS lubrication systems, printed circuit heat exchangers for gas cooling, strict coatings requirements for corrosion protection, robust PLC controls systems and conditioning monitoring systems.
Separately, Reagan received orders for three custom power generation packages for offshore platforms. Those units will require certification from the U.S. Coast guard and the American Bureau of Shipping before commissioning, Stoltz said.
NEWSLETTER
Delivered directly to your inbox, CompressorTech² News features the pick of the breaking news stories, product launches, show reports and more from KHL's world-class editorial team.