Natural gas, oil to remain top sources of energy in U.S.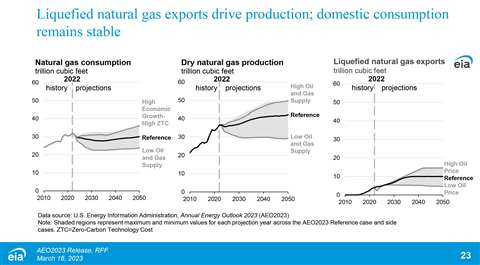 U.S. natural gas consumption will hold essentially unchanged in the U.S. even as domestic production will climb, making the country a net exporter of natural gas through 2050, a recent outlook has shown.
The annual energy outlook from the U.S. Energy Information Administration has forecast that the share of coal and nuclear power will decrease for U.S. electricity producers. Meanwhile, oil production will reach record highs while natural gas production in the U.S. will be increasingly driven by natural gas exports.
High international demand for gas, is expected to cause ongoing growth in U.S. production. The EIA foresees limited growth in domestic consumption, which  allows the United States to remain a net exporter of petroleum products and natural gas through 2050 in all cases.
Although the EIA sees no significant change in the domestic consumption of petroleum and other liquids through 2040 across most cases, it expects U.S. oil production to remain at historically high volumes. Domestic natural gas consumption also remains relatively stable, despite a shift in electricity generation towards renewables. Production of natural gas within the U.S. will continue to grow in response to the international demand for LNG.
Meanwhile, the EIA has projected that increased electrification, greater equipment efficiencies and more zero carbon power sources will reduce U.S. energy-related CO2 emissions through 2050. U.S. energy-related CO2 emissions should fall 25% to 38% below what they were in 2005 by 2030, according to the EIA projections.
In addition, the EIA expects renewable generating capacity to grow in all regions in the U.S., supported by growth in installed battery capacity.
By 2050, U.S. energy-related CO2 emissions are 17% lower in this year's reference case compared with last year, after EIA accounted for the effects of the Inflation Reduction Act (IRA), energy technology costs and performance updates.
The increase in electrification, higher equipment efficiency and the deployment of renewables in the electric sector are expected to drive down energy-related CO2 emissions in the U.S., according to the outlook. The long-term growth in the U.S. transportation sector and industrial activity are expected to limit the emissions reductions.
"With policy changes over the last year and continued technology innovation, we expect to see significant shifts in energy production and use over the next 30 years," said EIA Administrator Joe DeCarolis. "The resulting projections for energy-related CO2 emissions are most sensitive to our assumptions regarding economic growth and the cost of zero-carbon generation technology."
In the reference case, implementation of the Inflation Reduction Act is expected to lead to a 33% decline in energy-related CO2 emissions by 2030 relative to 2005. Without the IRA, energy-related emissions would fall by a 26%, the EIA stated.
The EIA sees stable growth in U.S. electric power demand through 2050 in all cases because of increasing electrification and ongoing economic growth.
Investment in renewable sources, like wind and solar, and the operating cost advantage of those sources should increases the share of zero-carbon electricity generation in EIA's projections. EIA projects growth in installed battery capacity in all cases to support growth in renewables.
Technological advancements and electrification drive projected decreases to demand-side energy intensity. The EIA projects an increase in the deployment of heat pumps, electric vehicles, and electric arc furnaces in the iron and steel industry. In the residential and commercial sectors, higher equipment efficiencies and stricter building codes extend ongoing declines in energy intensity.
In the transportation sector, light-duty vehicle fuel efficiency improves due to rising Corporate Average Fuel Economy (CAFE) standards and electric vehicle (EV) sales, according to the outlook.
NEWSLETTER
Delivered directly to your inbox, CompressorTech² News features the pick of the breaking news stories, product launches, show reports and more from KHL's world-class editorial team.