Monitoring Government: Is New England ready for winter?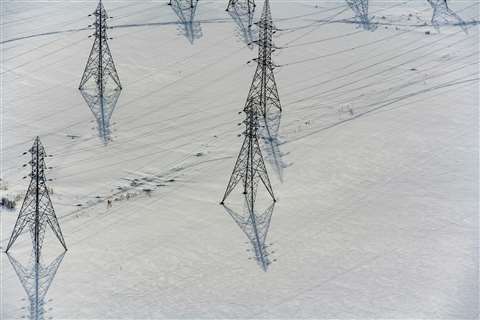 There was a lot of talk this year among government and utility circles regarding the ability of New England's power system to respond to a particularly harsh winter.
So much so that the chief executive officer of a New England energy company wrote a letter to President Joe Biden urging him to consider implementing an array of emergency actions aimed at ensuring the region has an adequate amount of natural gas and other power sources should the need arise this winter.
In an October 27 letter, Eversource Energy Chief Executive Officer Joseph Nolan asked the Biden administration to "swiftly address the growing concerns about winter electric reliability in New England."
Eversource and other utilities have increased spending on "large-scale clean energy resources including offshore wind and hydropower that will reduce dependency on natural gas for electric generation, but many of these projects will not be bringing power to the grid for several years," Nolan wrote.
New England relies in part on liquefied natural gas (LNG) imports during the winter months, he noted.
"Pipeline deliveries are routinely supplemented by shipments of foreign-sourced LNG delivered to the LNG import facility in Everett, Massachusetts, on foreign flagged vessels. However, because of the war in Ukraine, imported LNG is not available to the New England region in the volumes necessary to meet this winter's needs without causing further stress on European markets and the American economy," he wrote.
Nolan urged Biden to implement a number of measures to deal with the potential gas shortfall. Among other things, he urged the suspension of the Jones Act, which requires goods moved between U.S. ports to be carried by U.S.-flagged and staffed ships. Suspending the act would allow foreign-flagged vessels to carry LNG and other types of energy from one U.S. port to another in order to alleviate the situation.
In September, the Federal Energy Regulatory Commission conducted a forum in Burlington, Vermont to concentrate on potential long-term solutions to New England's winter energy problems, during which commission Chairman Richard Glick deemed New England's reliance on imported LNG as unsustainable.
Following the forum, FERC Commissioner Allison Clements opined, "We know that the root of New England's winter electric system reliability challenge is the significant dependence on natural gas in these extreme conditions, along with gas-supply constraints during extreme winter weather."
She continued: "Shoring up or adding more natural gas supply capability is one way to address these constraints. It is only one way. The region can also diversify away from reliance on natural gas for electric generation and can reduce both electric and gas demand during these extreme weather conditions."
On November 7, Interstate Natural Gas Association of America (INGAA) President Amy Andryszak also wrote Biden, offering a response to Nolan's letter.
"I encourage your Administration to pursue a long-term solution that addresses the root cause of the region's long-standing electric reliability problems--a lack of adequate natural gas infrastructure--rather than focus only on short-term, "emergency" solutions that were neither intended nor designed to address systemic issues like those present in New England," Andryszak wrote.
"The experience of our member companies across the country demonstrates that growing renewable penetration in the electric sector requires greater deliverability of natural gas to backstop the inherent intermittency of renewable resources," she continued. "Unfortunately, there is insufficient infrastructure connecting New England to domestic natural gas supplies and recent attempts to expand existing infrastructure at the request of local utilities and other energy users have been thwarted by misguided policies and vocal opponents to new infrastructure development. New England is facing a perilous winter season because of this stifling of new infrastructure development over the past decade."
Andryszak added that "the negative consequences of overreliance on imported LNG can be avoided with additional natural gas pipeline infrastructure. This solution is especially compelling considering the region's proximity to the Marcellus shale production area, one of the most prolific natural gas supply basins in the world."
Whether New England will experience a particularly cold winter remains to be seen, but Andryszak warned the region does not need a long cold spell to face significant problems. "Just a few days of cold weather could wreak havoc on the region's power grid, and in New England, cold weather is to be expected."
NEWSLETTER
Delivered directly to your inbox, CompressorTech² News features the pick of the breaking news stories, product launches, show reports and more from KHL's world-class editorial team.