LNG expansion projects to lead increase in U.S. exports
By Keefe Borden08 March 2023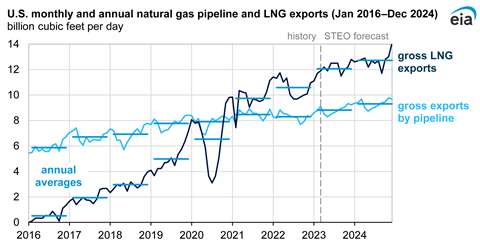 Natural gas exports from the U.S. are expected to climb over the next two years, but the growth in LNG exports is expected to surpass pipeline exports in that timeframe, a recent study has shown. The U.S. Energy Information Administration has forecast that LNG exports will average 12.1 Bcf/d in all of 2023, up 14% from last year. That growth is expected to continue into 2024, when LNG exports will climb an additional 5%.
The EIA has forecast U.S. LNG exports will rise over the next two years because of the strong demand for natural gas in Europe and Asia. So far this year, relatively mild winter temperatures and fuller than average storage has led to lower than expected prices in the U.S. That, in turn, has provided an incentive to import more LNG from the U.S., especially in price sensitive countries of Southeast Asia.
Meanwhile, the return to normal operations of the Freeport LNG facility to normal operations and the new LNG export projects scheduled to start by the end of 2024 will support the EIA's forecast of an increase in exports. Freeport LNG facility suffered a fire in June 2022 and was forced to halt operations until the cause was determined and the plant received clearance to restart. At the time, the facility was exporting around 1.9 Bcf/d of LNG. Freeport LNG has received clearance from federal regulators to restart operations and is in the process of ramping up its production.
Because of the Freeport shutdown, U.S. LNG exports declined to an average 10.0 Bcf/d from June 2022 through December 2022, down from a high of 11.7 Bcf/d in March. When the a new facility, Calcasieu Pass LNG, was commissioned, it partially offset the decline in exports from Freeport LNG; exports from Calcasieu Pass have averaged 1.2 Bcf/d since June 2022, the EIA reported.
In late February, Freeport LNG said it planned to restart a three-train production of about 2.0 Bcf/d over the course of several weeks. Initial operations are using two of the plant's three LNG storage tanks and one of its two LNG berths. The second berth and third LNG storage tank are scheduled to return to service in May.
In early March, Freeport LNGsaid it received clearance from the Federal Energy Regulatory Commission (FERC) and the Pipeline and Hazardous Materials Safety Administration (PHMSA) to restart Train 1, the final train of its three-train liquefaction facility. Freeport LNG's Trains 2 & 3 returned to full commercial operation in recent weeks, reaching production levels in excess of 1.5 billion cubic feet per day. The company repeated previous statements that it will take a few weeks to fully restart all three trains.
This year, once all three trains at Freeport LNG return to service, the EIA predicts U.S. LNG exports will exceed 12 Bcf/d, and the United States will remain the world's largest LNG exporter. As Freeport LNG returns to normal operations, other LNG producers are working on several expansion projects that should boost U.S. LNG export capacity by a combined 5.7 Bcf/d by 2025.
Golden Pass LNG consists of three standard-size trains, each with a peak capacity of 0.8 Bcf/d, for a total capacity of 2.4 Bcf/d. Golden Pass LNG is on the site of an existing regasification facility and will use shared infrastructure, which helps to reduce project costs and shorten the construction timeline.
The Plaquemines LNG plant consists of 24 mid-scale trains, each with a peak capacity of 0.07 Bcf/d. Each liquefaction train is part of a two-unit block for a total of 12 blocks with a combined peak capacity of 1.8 Bcf/d.
Corpus Christi Stage III is on the site of an existing terminal with three liquefaction trains in operation. Each of the 14 new, mid-scale trains under construction has a peak capacity of 0.11 Bcf/d. Each train is part of a two-unit block for a total of seven blocks with a combined peak capacity of 1.6 Bcf/d.
The expansion at those three facilities should further boost U.S. exports to about 14 Bcf/d by December 2024, according to the EIA forecast.
As LNG exports climb, the EIA also forecast that U.S. pipeline exports of natural gas will also grow, although by a lower rate. U.S. natural gas pipeline exports will grow by 0.5 Bcf/d in both 2023 and 2024, primarily because of increased exports to Mexico. Several new pipelines in Mexico—Tula-Villa de Reyes, Guaymas-El Oro, the Mayakan pipeline on the Yucatán Peninsula—are scheduled to come online in 2023–24. "We also expect an increase in exports via the Sur de Texas-Tuxpan underwater pipeline to supply the proposed floating liquefaction (FLNG) project off the east coast of Mexico," the EIA said.
NEWSLETTER
Delivered directly to your inbox, CompressorTech² News features the pick of the breaking news stories, product launches, show reports and more from KHL's world-class editorial team.