Investors move to hydrogen
By Keefe Borden13 July 2022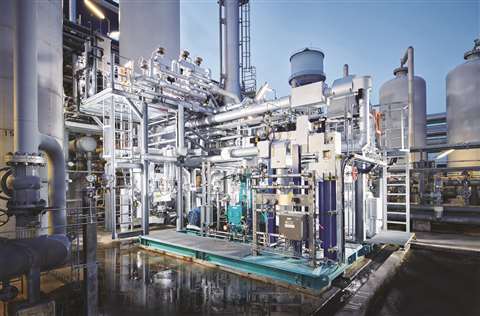 The growing support among policy makers for alternative forms of energy have drawn the attention of investors, many of whom are placing their bets on hydrogen as the best route to take. The sector has drawn billions in new investments amid expectations that the lightest and most abundant known element can transition the world's energy sector to something other than hydrocarbons.
Hydrogen will play a key role in decarbonizing the energy mix, but investors need to make a "massive" commitment throughout the supply chain, according to a recent report from the International Energy Forum.
The Hydrogen Market Pathways report was written by the IEF with Anne-Sophie Corbeau of the Columbia Center on Global Energy Policy. The report does not estimate, in dollar figures, the scale of the investment needed. It does outline the scope of changes needed to allow hydrogen to play a significant role in decarbonization.
While interest in hydrogen has grown in recent years, the idea of using hydrogen as an energy carrier is not new – it has come in and out of fashion since the 1970's, the report states. Yet, despite decades of interest and research, there are still many obstacles to overcome for the hydrogen market to scale-up. Currently, hydrogen accounts for only ~1% of the energy mix, is predominately produced using unabated fossil fuels, and is mainly used on-site where it is produced.
For hydrogen to play a role in the energy transition, it must be available in sufficient volumes, at a competitive cost, and with low carbon intensity associated with its supply chain.
The entire supply chain must be developed and scaled up. Different demand forecast scenarios show hydrogen consumption growing by as much as six-fold by 2050 (with low-carbon hydrogen growing by 500-600-fold). Such growth makes it increasingly plausible that hydrogen could become an internationally traded commodity in the coming decades, the report states.
The growing interest in hydrogen worldwide has created opportunities for companies that can make compressors to move hydrogen. The hydrogen compressor market was valued at $1.9 billion in 2020 and is projected to reach $2.8 billion by 2028, a compound annual growth rate of 5.2%, according to a recent global study by The Insight Partners.
Hydrogen is one of the most efficient fuels with the highest energy content per weight. However, the hydrogen density in ambient conditions is ~90 g per cubic meter. Therefore, to attain functional levels of energy density, an operator needs to compress it efficiently.
Part of the growth in hydrogen, and consequently the need for hydrogen compression, is the growing use and development of fuel cell electric vehicles (FCEV), which by some measures are more efficient than the internal combustion engine, the study stated.
Compressors for hydrogen stations
The need for hydrogen compression is evident in the transportation sector. Burckhardt Compression recently announced it will supply several diaphragm compressors to HRS to be used in hydrogen refueling stations. The compressors will be integrated into HRS hydrogen refueling stations with a capacity of over one ton per day.
The aim is to provide refueling solutions for intensive market use, with a capacity of over one ton per day to meet the market demand for heavy transport, which includes bus, trucks and ports, and light commercial vehicles such as taxi fleets.
The two-year contract secures a stock of several of these compressors, which can be delivered to HRS within a few weeks. This will be necessary to respond swiftly to the expected ramp-up in demand for large-capacity stations, which is already strong.
The contract also activates HRS' order for the first two units, which will enable the first 1 ton per day stations in its order backlog to go into production. As part of the partnership, Burckhardt will promote HRS solutions on its website, as one of its key customers for hydrogen mobility applications.
"We are convinced that this innovative agreement will support the hydrogen mobility in France and the decarbonization of transportation," said Burckhardt CEO Fabrice Billard.
Commitment from investors
EDP Renewables (EDPR) and Lhyfe have agreed to jointly develop, build and manage a series of renewable hydrogen production projects, primarily in Europe. The agreement between the two companies is contingent upon Lhyfe's efforts to carry out an initial public offering and to list on the Euronext market in Paris.
Under terms of the agreement, EDPR will supply renewable electricity to Lyfe's hydrogen generation projects. In addition, both companies will identify opportunities to co-develop projects, with EDPR providing up to half of the projects' capital. The companies will also work together on research and development, new project development and equipment procurement.
EDPR said the agreement will boost the growth of its portfolio, especially in France, and contribute to the development of Lhyfe's projects all around the world. It also contributes to achieve higher operational and commercial expertise in renewable hydrogen projects.
EDP has committed to deploy 1.5 GW of green hydrogen production capacity by 2030. The group has created the H2 Business Unit (H2BU), especially dedicated to the development of renewable hydrogen projects and focused on developing opportunities in promising sectors, such as the steel industry, chemicals, refineries, and cement plants, as well as heavy-duty long-distance transport.
EDP is one of 13 entities in a consortium building the GreenH2Atlantic, a 100 MW renewable hydrogen production project in Portugal which is one of the three projects selected by the EU Green Deal Call to demonstrate the viability of green hydrogen production.
Lhyfe said it has a portfolio of more than 4.8 GW of total installed capacity in 93 projects under development in Europe and plans to install 200 MW by 2026 and 3 GW by 2030. Among these 93 projects, 20 are at an advanced stage of development, with a total capacity of 380.5 MW expected to come onstream between 2023 and 2026.
The two companies said they expect global demand for hydrogen to increase sixfold between 2020 and 2050, reaching 530 million tons in 2050, driven by economic growth and the multiplication of uses, both in industry and in mobility. The share of renewable hydrogen should represent 60% of total hydrogen demand by 2050, Lhyfe said.
Green hydrogen plant
The city of Schwäbisch Gmünd, Germany has authorized Lhyfe to start construction of its renewable green hydrogen plant at a nearby site covering 10,000 square meters. The new plant will have a capacity of up to 4 tonnes/day, about 10 MW.
The plant will be built near publicly accessible hydrogen filling stations and a pipeline to supply a nearby technology park with renewable hydrogen. The plant is expected to be operational in early 2024, Lhyfe said.
A wind farm will provide electricity needed to produce the hydrogen. Future customers for the project are in the immediate area of the site and in the region. The hydrogen will be used as a process gas by industrial customers and as a fuel for fuel cell vehicles at distribution stations, Lhyfe said.
This 10 MW project is one of the 20 projects in advanced development announced at the time of the company's IPO, with a total capacity of 380.5 MW and a planned entry into operations between 2023 and 2026, Lhyfe said.
Earlier this year, Linde Engineering started up the world's first full-scale pilot plant in Dormagen, Germany to show how hydrogen can be separated from natural gas streams using its membrane technology.
Linde's HISELECT powered by Evonik membrane technology can separate hydrogen from natural gas streams at the point of consumption. The process enables midstream operators to blend hydrogen with natural gas and to transport the mix in natural gas pipelines. The blended gas could consist of between 5 and 60 percent hydrogen, the company said.
Membranes are then used to extract hydrogen from these natural gas streams at the point of consumption. The resulting hydrogen has a concentration level of up to 90 percent. When further processed with Linde Engineering's pressure swing adsorption (PSA) technology, a purity of up to 99.9999% can be achieved, the company said.
CenterPoint's green hydrogen project
Within the U.S., CenterPoint Energy's green hydrogen project in Minneapolis is now operational. The project uses renewable electricity to split hydrogen from water, which is then blended in low concentration within its own distribution system.
CenterPoint Energy is one of the first natural gas utilities in the United States to produce and add green hydrogen to its distribution system. Because there are no carbon emissions from either its production or end-use, green hydrogen has the potential to be an important zero-carbon supplement to conventional natural gas.
The project's one-megawatt electrolyzer is powered by renewable electricity and can produce up to 60 Dekatherms (432 kilograms) of hydrogen gas per day, using approximately two gallons of water per minute. The water is sourced from the municipal water supply and highly purified before it enters the hydrogen production system, the company said.
The green hydrogen produced by the system is added in low concentrations, up to five percent, to the natural gas in a low-pressure section of CenterPoint Energy's local distribution pipeline system.
Massive hydrogen facility gets financing
Mitsubishi Power Americas recently announced it has closed on a $5.4 million loan guarantee from the U.S. Department of Energy to fund the development of a massive green hydrogen project in central Utah.
Once complete, the hub will produce up to 100 metric tonnes per day of green hydrogen from renewable energy using electrolysis, which Mitsubishi called the world's largest industrial green hydrogen facility.
The DOE's loan is its first in more than 10 years for a renewable energy project.
According to Mitsubishi Power Americas, the loan helps generate a viable market for hydrogen and will make it scalable in the western United States and electrical grid, creating the fundamental infrastructure necessary to deploy this zero-carbon energy source.
The Advanced Clean Energy Storage hub will help the clean energy transition by supporting the Intermountain Power Agency's IPP Renewed Project—upgrading to an 840 MW hydrogen-capable gas turbine combined cycle power plant, the company said. The plant will initially run on a blend of 30% green hydrogen and 70% natural gas starting in 2025 and incrementally expand to 100% green hydrogen by 2045.
The hub will produce up to 100 metric tonnes per day of green hydrogen from renewable energy using electrolysis. Green hydrogen can then be stored in two massive salt caverns, each capable of storing 150 gigawatt hours (GWh) of energy, resulting in the world's single largest hydrogen storage site and providing capabilities for seasonal shifting of excess renewable energy. The long-duration energy storage capability of the salt caverns will help improve resource adequacy and decrease costs by capturing excess renewable power when it is abundant and dispatching it back on the grid when it is needed.
New hydrogen startup
Mitsubishi Heavy Industries (MHI) has invested in Electric Hydrogen (EH2), a clean hydrogen startup headquartered in Natick, Massachusetts, to support its efforts to develop cost-competitive, fossil-free hydrogen. Terms of the investment were not announced.
Through this investment, MHI said it plans to strengthen and diversify its assets in the hydrogen value chain. The investment has been executed through Mitsubishi Heavy Industries America, Inc. (MHIA), which joins a consortium of investors including Breakthrough Energy Ventures, Equinor, Amazon, Honeywell, and Rio Tinto.
"No single company can provide needed technology to achieve global decarbonization, which is why we recognize the importance of investing in and enabling companies like Electric Hydrogen to develop new solutions," said Takajiro Ishikawa, president and CEO of MHIA.
EH2's patented approach to electrolysis is specially designed for the high-volume, low-cost production required to support massive industrial operations, which could significantly improve the levelized cost of hydrogen, the company said.
This investment will support the scale-up of EH2's high electrolyzer technology and its use in the manufacturing, and deployment of pilot projects to produce fossil-free hydrogen, also known as "green hydrogen," at large scale for industrial and infrastructure applications.
Industries not amenable to electrification, such as steel, fertilizer and intercontinental energy transport, account for more than a third of the world's total greenhouse gas emissions, according to EH2. Hydrogen, when produced in places with abundant and clean electricity, is a promising pathway for decarbonizing these industries.
New test facility
SIAD Macchine Impianti recently opened a hydrogen compressor test facility at its Osio plant, near the company's headquarters in Bergamo, Italy. The company said it would install a dedicated compressor designed to reach high pressure for oil-free hydrogen compression applications by October 2022.
Burckhardt Compression in Winterthur, Switzerland, has started construction of a separate hydrogen test facility to develop sealing technologies and solutions for hydrogen refueling stations for heavy-duty vehicles.
In addition to new startups, investors have funded studies to blend hydrogen with natural gas, a technology considered to be a transition until the world's hydrogen production capacity comes up to speed.
Wärtsilä, WEC Energy Group (WEC), the Electric Power Research Institute (EPRI), and Burns & McDonnell (B&McD), have been contracted to carry out hydrogen fuel testing at the A.J. Mihm power plant in Michigan, USA.
The test will be one of the first cases where hydrogen is tested for use to reduce the carbon footprint of an existing gas-fueled power plant delivered by Wärtsilä. The 55 MW plant currently operates with three Wärtsilä 50SG engines running on natural gas. The parties will aim for testing fuel blends of up to 25% by volume hydrogen mixed with natural gas.
WEC said it hopes to reduce the CO2 emissions from its electric generating fleet by 60% by the end of 2025, and by 80% by the end of 2030 from 2005 levels, and to be net carbon neutral by 2050.
The Wärtsilä engines can operate with this level of hydrogen blended with gas with little to no modification needed. Though Wärtsilä engines can be operated on even higher hydrogen-blend levels, these tests will be restricted to the limit of 25% hydrogen for natural gas systems, according to the international equipment standard IEC/EN 60079-20-1, Wärtsilä said.
Other hydrogen blending projects are also showing promising results. Mitsubishi Power, Georgia Power and the Electric Power Research Institute (EPRI), recently completed a fuel blending of hydrogen and natural gas at both partial and full load on an M501G natural gas turbine at Georgia Power's Plant McDonough-Atkinson in Smyrna, Georgia. The demonstration project is said to be the first to validate 20% hydrogen fuel blending on an advanced class gas turbine in North America, the companies announced.
The 20% blend was shown to provide a roughly 7% reduction in carbon emissions compared to natural gas. "Accelerating low-carbon technology development is essential to achieve net-zero targets by mid-century. This successful hydrogen demonstration test reinforces the significant, game-changing role that this and other low-carbon technologies can play to help reach economy-wide decarbonization," said Neva Espinoza, vice president of Energy Supply and Low-Carbon Resources, at EPRI.
Earlier this year, Houston-based Cooper Machinery Services successfully tested a slow-speed integral engine running on a hydrogen (H2)-natural gas fuel blend. The test was completed five months after the announcement of Cooper's joint hydrogen research project with a major U.S. gas pipeline company to demonstrate the safe operating range of H2 blends in large-bore internal combustion engines.
Cooper's test injected a 5% blend of hydrogen by volume into an unmodified large-bore, slow-speed integral engine compressor. The test showed significant reductions of methane in the exhaust, the company said.
"This is the first such run using significant amounts of hydrogen in an engine of this design," said Cooper CEO John Sargent.
The Cooper test was conducted at their slow-speed integral engine test cell at corporate headquarters located in Houston, Texas. The test engine is a standard two-stroke AJAX 2802 with 15" piston bore, 16" power stroke, and a speed range of 360-440 RPM.
Cooper selected the AJAX engine because of its similarities of its combustion system to that of the large fleet of the other engine brands the company services, which include Clark, Cooper-Bessemer, Ingersoll Rand, and Worthington.
NEWSLETTER
Delivered directly to your inbox, CompressorTech² News features the pick of the breaking news stories, product launches, show reports and more from KHL's world-class editorial team.