Integrated Compressor Line for gas transportation
By Roberta Prandi27 September 2022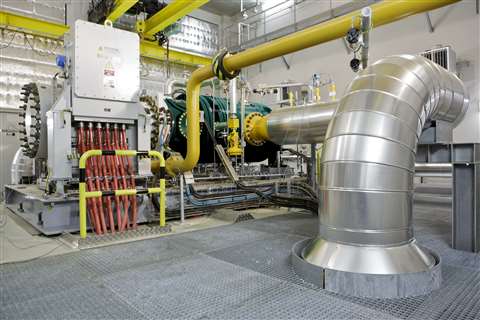 Baker Hughes recently celebrated a key contract win with Driftwood Pipeline LLC for the Tellurian pipeline project that will feed their LNG plant. Baker Hughes will supply four ICL trains each powered by 19-MW motors.
The contract was signed with Driftwood Pipeline LLC – a subsidiary of Tellurian Inc. – for ICL technology and turbomachinery equipment for Lines 200 and 300 of a natural gas transmission project proposed to be located in Beauregard and Calcasieu Parishes in southwest Louisiana, USA.
The project will represent the highest powered ICL to date; however, Olivier Pellerin, ICL marketing leader at Baker Hughes, said that this is by not the highest power that can be reached with the ICL.
Pellerin explained that the ICL is designed and manufactured in Le Creusot, France and more than 50 units have been installed globally across a variety of applications, including pipeline and upstream. "The ICL integrates four proven technologies that Baker Hughes has been using for many years: a centrifugal compressor, integrated high-speed motor, variable frequency drive (VFD) and active magnetic bearings."
The ICL has a maximum discharge pressure of up to 300 bar and an inlet flow range from 500 to 40,000 m3/h. The maximum speed is 18,000 r/min for systems above 1 MW and 30,000 rpm for systems below 1 MW, with continuous speed range from 30% minimum up to 105%
According to Pellerin, the integrated electric motor – that is the motor located inside the compressor's pressurized casing – avoids the need to seal the shaft end of the compressor, which translates into zero gas leakages. The result is ICL is an emissions-free compressor system.
Evaluations carried out at Baker Hughes showed that replacing an 8-MW gas-turbine-driven compressor with an ICL can achieve a CO2 reduction of 40% if electricity is produced with coal and even more if the electric system is fuelled with natural gas. Of course, the reduction would be 100% using electricity from renewable sources.
"With the ICL you have no emissions during stand-by and the system does not need to be depressurized, saving process gas as a result," said Pellerin. "When the operator is running a non-continuous profile with a lot of stand-by time, the ICL consumes up to 10 times less electricity compared to conventional units. If fact, there is no need to power a dry-gas seal booster to keep the units pressurized during stand-by, nor to have equipment to be switched on to be ready to ramp up the compressor."
Less downtime is also a key advantage with the ICL: when the motor compressor is running continuously, as will be the case for the Tellurian pipeline project, downtime is sensibly reduced as the system does not feature components that require regular servicing, such as gas seals, lube oil bearings, gearbox and auxiliaries.
"With the ICL, maintenance is mostly driven by the electric components (mainly the VFD) as required by safety regulations," he added. "Aside from the first year, when Baker Hughes carries out an initial operational check that takes about one day, maintenance is then executed every five years, so we are talking about approximately 40 days downtime saved in 20 years of operation."
The advantage in footprint and weight is also significant: Baker Hughes compared a 5-MW conventional compressor installed in a pipeline station in Belgium with a 6-MW ICL installed in a pipeline in Austria, and the latter has approximately half the footprint and weight. "Especially in Europe, where these machines are often located within enclosures, the ICL saves space for the building construction and that is true also in the case of brown field projects," said Pellerin. "ICL saves on components and auxiliaries, and significantly reduces construction costs compared to standard low-speed gearbox compressor systems. Consequently, the time to commercial operation is way shorter too."
Finally, the ICL is extremely flexible, Pellerin said: "The way the ICL is designed provides great operational flexibility, with 30% turndown versus 70% in a traditional motor-driven unit.
Also, the ICL can be started without warm-up and can be brought to maximum power in less than 5 minutes. The unit also features pressurized hold, which is a significant advantage in terms of maintenance.
This is essential for gas pipelines that usually need to maintain a minimum flow because of the need to recirculate. "With the ICL, there are no limitations in stop and start cycles, so customers save energy whenever operating at limited flow and when ramping the unit back up."
Regarding the US market and the Tellurian pipeline project, Jim Saccone, Baker Hughes' North America sales leader, explained that one major factor that has previously slowed the adoption of electrification for pipelines in the US is a lack of available grid power supply in remote regions and, in other areas, lack of resiliency.
"To ensure reliable power supply for the Tellurian pipeline project, we developed a unique solution with an independent power island supplied by LM6000PF+ gas turbines," he said. "Available gas turbine derived power will be located near the gas compression station and used when needed. This will provide Driftwood Pipeline flexibility in their operations and the ability to adapt to changing conditions to withstand potential power disruption."
Saccone added that gas pipeline compressor stations are an ideal application for ICL technology when the system's power band is optimized. "For pipelines in the United States, there has been a tradition to use multiple smaller powered machines so a compression station could still operate even if there a were a reduction in gas flow. The ICL's power range and turndown capability suits this market quite well."
Pellerin explained that other applications for ICL include small-scale LNG liquefaction, onshore and offshore gas compression, unmanned operations, and environmentally-sensitive areas where noise control is an issue. "With the motor inside the compressor's casing and no gearbox or auxiliaries, the ICL is 50% less noisy than conventional installations," he said. Subsea gas compression is also a potential field of application for the ICL.
In terms of further developments for this technology, Pellerin explained that "In the European market, there is an increase demand for the ICL to be capable of handling a certain quantity of hydrogen blended with natural gas – in fact, current EU regulations request 10% hydrogen capacity in gas transportation."
"With its multistage configuration, the ICL can easily handle this percentage delivering the same pressure ratio since the number of impellers can be adapted to match various molecular weights," said Pellerin, adding that Baker Hughes is working to make it compatible with 100% hydrogen.
A main area for research with ICL technology is the expansion of the product range, to meet different application needs. This requires improvements in magnetic bearing technology. Baker Hughes has a licence and service agreement with SKF for this technology. "Magnetic bearing technology has additionally enabled the ICL to be a zero-emission solution. We are continuously investing in research for this technology to expand the range above 19 MW," said Pellerin.
Baker Hughes is also investing in low-voltage ICLs for applications such as gas flaring recovery and decentralized gas gathering. ICL solutions with 300- and 900-kW motors are available. "These smaller machines offer the same benefits as the larger-powered machines," said Pellerin. "We are working also to make the ICL suitable for mild sour gas, for applications in the upstream market such as offshore including FPSOs.
"LNG applications are another area of research; we delivered machines for small-scale liquification projects, with a solution called ICL-E, that is a combination of a low-voltage ICL technology with an expander for the cooling process," he said.
NEWSLETTER
Delivered directly to your inbox, CompressorTech² News features the pick of the breaking news stories, product launches, show reports and more from KHL's world-class editorial team.