Howden offers range of compressor packages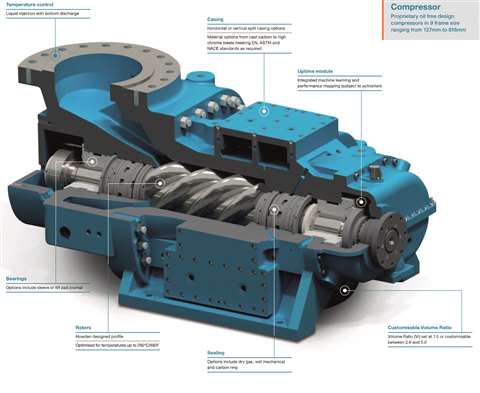 Many large oil and gas operators are under constant pressure to reduce emissions and reach publicly stated net zero goals. To help them reach that, Howden has a range of alternatives for compression packages that fit specific needs.
Howden is an original equipment manufacturer (OEM) for a range of industrial equipment, including compressors used in a variety of industrial processes. As the OEM, Howden is in a better position than an engineering, procurement and construction (EPC) to make suggestions that would optimize a compressor package, said David Walsh, a project leader at Howden.
In many cases, the end user is not necessarily the purchaser of the equipment. EPCs buy packages and deliver them to someone else who will ultimately be using them. They are generally more interested in spec compliance, documentation and cost.
"Everything is a Mars bar to them. Whereas an end-user is far more interest in reliability, process efficiency and optimization of their project," he said.
Oil and gas operators tend to focus more on value than cost when shopping for a compressor package. Walsh is responsible for manufacturing Howden packages, both oil-injected and oil-free screw compressor packages worldwide.
The units are available in a variety of configurations and materials and are designed to handle gases with high levels of liquid, dirt and particulates. Their configurations are suitable for use with hazardous or corrosive gases, or where contamination is an issue.
Screw compressors are often used in the oil and gas industry in situations involving polymer-forming gases, gases with varying composition or when operating conditions change. They are also frequently used with process gases with liquid carry over or with dirty and corrosive gases.
Howden's oil free screw compressors come in nine frame sizes ranging from 127mm to 816mm. The oil free compressor range can compress gases up 46 bar (653 psi) and a differential pressure up to 15 bar (217 psi.) The units are available in 10 models that cover flows up to 92,000 m3/h (54,150 cfm.)
The company also makes reciprocating, centrifugal and diaphragm compressors at manufacturing facilities outside the UK. It frequently packages its own compressors but also supplies them to third-party packagers that have an established relationship with Howden, he said.
Howden's screw compressor division may take on five to ten projects per year and deliver 20 to 30 annually, depending on market forces at the time. Its customers are global and about 80% of its customers are in the oil and gas industry. The remainder of customers are in specialized industrial applications that include steel, water treatment and food processing.
Walsh's focus is on screw compressors, which are almost always driven by electric motors. On occasion, Howden will package a compressors with a steam-driven turbine. Even those, however, generally require an electric motor at startup. Once running, the steam turbine takes over and drives the compressor, he said.
At other manufacturing facilities, Howden packages steam turbines, reciprocating, centrifugal and diaphragm compressors. One factory in Germany, for example, makes both centrifugal compressors and steam turbines, and frequently pair the two up. Howden mostly package its own compressors and does not take on compressors made by other OEMs.
"We offer a complete range of packaging," he said. Howden brands itself as an OEM first and a packager second. "We tell customers 'we know this (equipment) best and if it's really critical, you can rely on us'."
Third party packagers tend to be preferred when projects are less complex or the applications are not process critical. The larger IOCs and NOCs tend to have more complex projects and tend to prefer OEMs like Howden.
"Not many companies can make the complex packages," he said.
International oil companies and national oil companies often have more complex projects with specific and bespoke needs, which require more design and planning. They tend to prefer an OEM like Howden do the packaging. Clients who are more cost sensitive or who have simpler projects often use a third-party packager.
Packaging times can vary by the complexity of the project. For the simplest packages from the UK, may take four to six weeks, depending on the availability of parts on hand.
However, many high end packages generally require significantly more planning and lead time. Those projects can take 14 to 16 months, depending on the availability of parts and other supply chain questions. To come up with an estimate for lead time on complex projects, Howden engineers consider the lead time for the compressor, driver and gearbox and other critical components as well as shop and engineering loading. Some of the more complex projects require custom designs for a very specific set of needs.
But for less complex projects, Howden has standardized design modules for compressor packages that it can adapt to a specific set of needs. It does have standard packages for pre-designed parts and components, some of which are kept on hand. "A customer may have quite simple requirements and are only interested in a flow of gas at a particular flow and outlet pressure. In that case we can offer a very simple, standardized solution based on design we have on hand and ready to go."
The package life can vary widely, but are frequently complex packages are designed to operate for 20 to 25 years. In some cases, they have operated longer depending on the circumstances and maintenance records. "We've seen packages operating since the 1970s. It depends on how they are maintained," he said.
Smaller, more simple packages typically last five to 10 years because it's often cheaper to replace them than to overhaul them.
Howden has operated long enough to notice some long-term changes in the industry. Many processes have grown more complex. "Customers are generally more risk averse and pushing the risk down on to the OEMs like Howden, so we need to be careful," he said.
The support of the energy transition and net zero aims in recent years has led to many new processes in the market that require compression equipment to drive them. These new processes have created additional demand for compression products and services.
NEWSLETTER
Delivered directly to your inbox, CompressorTech² News features the pick of the breaking news stories, product launches, show reports and more from KHL's world-class editorial team.