Go Go LNGo
By DJ Slater27 March 2017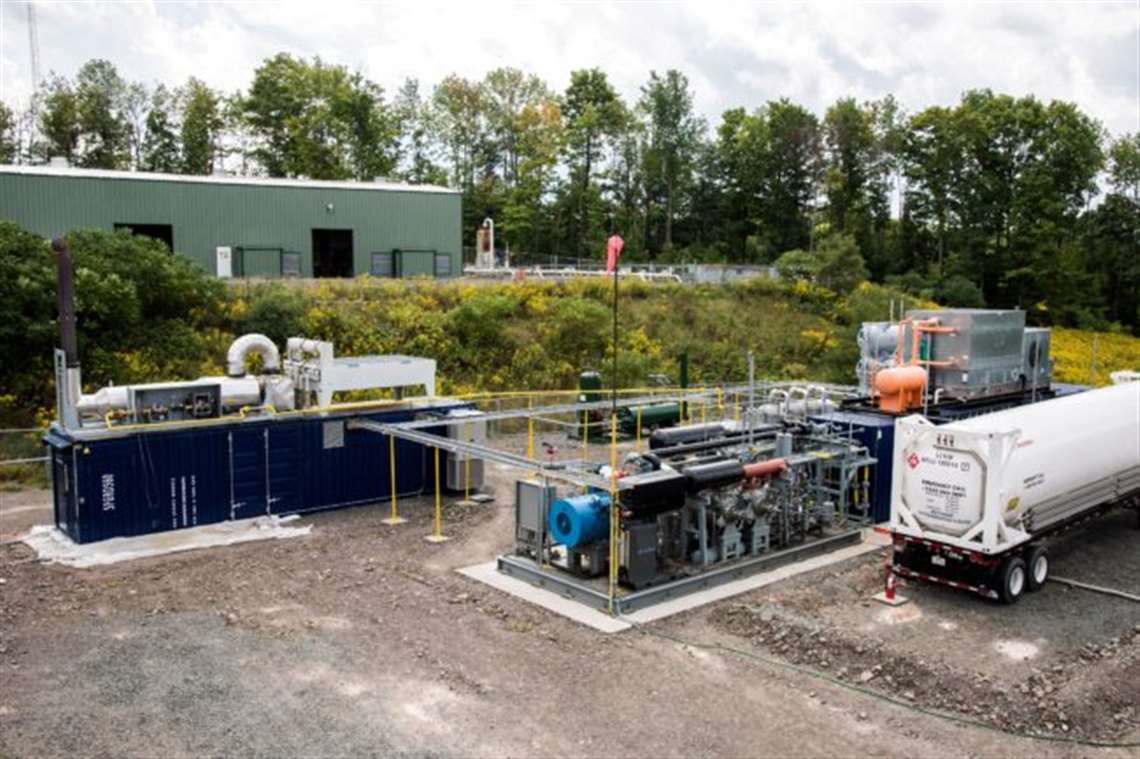 This article was originally published in the March issue of COMPRESSORtech2. Subscribe for free to receive every issue in your mailbox or your inbox.
After years of research and the perils of a slumping natural gas marketplace, Dresser Rand's LNGo natural gas liquefaction system has found a home in Pennsylvania. The move marks the company's first commission of its microscale, low-pressure natural gas liquefaction system, which took place at the Ten Man liquefied natural gas (LNG) facility near Mansfield in September 2016.
Dresser-Rand, part of Siemens Power and Gas, also is introducing another variation of its LNGo model, the LNGo-HP, which is a high-pressure version of the one used at Ten Man (LNGo-LP [low pressure]). The system is designed to produce LNG without external power, making it deployable at nearly any site, especially those without electric infrastructure. The LNGo system can be installed in a short time frame in order to meet local demand for LNG.
The system's versatility makes it useful for several applications, such as stranded gas, flare elimination, remote power generation, gas exploration, and gas production among others, said Michael Walhof, sales director for the LNGo system.
For Frontier Natural Resources, the operator at Ten Man, the system will allow the company to monetize stranded gas assets at Tenaska Resources' Mainesburg field in the Marcellus shale formation. Frontier Natural Resources is an independent natural gas producer developing conventional and unconventional resources across the Appalachian Basin.
"The LNGo technology was an economic way for Frontier to improve the economic opportunities for its well operators and land owners for gas that was otherwise shut in due to low natural gas prices," Walhof said, adding that the customer shipped 540,000 gal. (2,044,121 L) of LNG in its first 90 days of operation.
The LNGo system at Ten Man includes four packaged skids — a power module, compressor module, process module and gas conditioning module — designed to handle different steps of the liquefaction process. Inlet natural gas is converted to LNG and used as a process refrigerant. A portion of the inlet gas powers the system in conjunction with purge gas from the gas-conditioning module.
The gas-conditioning module cleans and separates gas into two separate streams — a product stream of liquefaction and a purge stream for power generation. The product stream goes to the compressor module, which uses a four-throw Dresser-Rand MOS reciprocating compressor with a 7 in. (172 mm) stroke and bore sizes of 10.5, 10.5, 17.5 and 11.5 in. (267, 267, 444.5 and 281.6 mm). The compression ratios of the four stages are 3.25, 3.5, 2.74 and 2.85.
A 14-pole, three-phase WEG induction motor rated 550 hp (410 kW) at 480 V drives the compressor, which features Dresser-Rand Magnum XF series valves. The compressor also features a 3 psi (0.2 bar) inlet pressure, 384 psi (26.5 bar) discharge pressure and a 6940 lb./hr (3148 kg/hr) flow rate.
The purge stream is used to fuel a Guascor, 16-cylinder, four-cycle, turbocharged and aftercooled, rich-burn engine, which makes up the power module of the system. The engine is rated 1362 hp (1016 kW) at 1800 rpm. It also has a bore and stroke of 6.3 x 6.9 in. (160 x 175 mm) with a displacement of 3436 cu.in. (56.35 L) and a compression ratio of 9.3:1.
The power module also includes Dresser-Rand's Enginuity PLC-based control system, which serves the module and the LNGo process. The power module also contains the motor control center (MCC). The process module, which employs four cooling phases, holds all liquefaction process equipment.
The commissioning at Ten Man was a long time coming for Dresser-Rand. In December 2013, Dresser-Rand hit a milestone with the first production of LNG at its demonstration plant (see March 2014 COMPRESSORtech2, p. 28). More tests followed, but then natural gas prices plum- meted, making it difficult to get the system in the hands of operators, said Carol Conomos, director for the high-speed reciprocating compressor business of Dresser-Rand.
"It's been a rough period of time the last couple of years with the oil and gas prices at low levels," Conomos said.
Walhof agreed, adding that the company used that time to refine the system.
"We wanted to go through a period of due diligence to make sure the system ran properly," Walhof said. "There were a lot of changes in the marketplace at that time."
Once Dresser-Rand finished developing the low-pressure LNGo model, it identified a need for micro liquefaction for customers with gas assets that had high-pressure natural gas. The LNGo-HP features six packaged modules — a gas conditioning module, primary compressor module, feed/ flash compressor module, mechanical chiller module, process module, controls module and an optional power module. The high-pressure system can produce up to 30,000 gallons (113,562 L) of LNG per day. The low-pressure model produces up to 7000 gallons (26,498 L) of LNG per day. The primary compressor module features a 7 in. (177.8 mm) stroke, four-throw Dresser-Rand MOS reciprocating compressor with an inlet pressure of 185 psi (12.8 bar), a discharge pressure of 1200 psi (82.7 bar) and a 10,650 lb./hr (4830.8 kg/hr) flow rate. The compressor, driven by a Siemens electric motor at 600 rpm in the medium-speed range, also uses Magnum XF mini-poppet style valves. The feed/flash compressor module features a 7 in. (177.8 mm) stroke, four-throw MOS reciprocating compressor with an inlet pressure of 14.5 psi (0.9 bar), a discharge pressure of 549 psi (37.9 bar) and a 2090 lb./hr (948 kg/hr) flow rate in feed gas service. In flash gas service, the compressor's inlet pressure hits 527 psi (36.3 bar), while its discharge pressure reaches 1215 psi (83.7 bar) and its flow rate is 5995 lb./hr (2719 kg/hr).
A Siemens electric motor drives the compressor with variable-speed operation from 475 to 600 rpm in the medium-speed range. The compressor also uses Magnum mini-poppet valves and is set up for remote start and stop operation.
Looking ahead, Walhof anticipates the LNGo system will gain traction in the natural gas marketplace. Currently, Dresser-Rand is in the commissioning phase for three additional LNGo units, and is looking at opportunities abroad, such as in Latin America and Russia.
NEWSLETTER
Delivered directly to your inbox, CompressorTech² News features the pick of the breaking news stories, product launches, show reports and more from KHL's world-class editorial team.