Gas plays critical decarbonization role, says GECF panel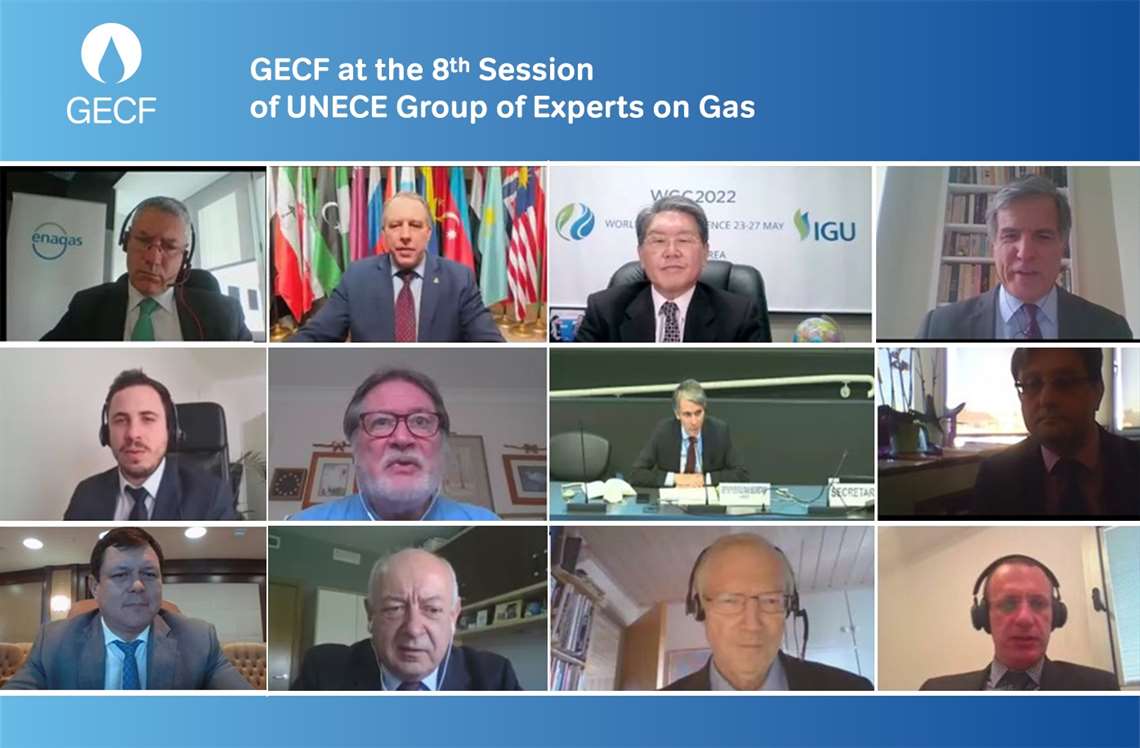 A group of experts at the virtual Gas Exporting Countries Forum (GECF) made a series of recommendations to promote natural gas as a sustainable source of energy and supported the intention of the European Union to consider gas as a sustainable source of energy under the new green labelling system.
Speaking before the Group of Experts on Gas of the United Nations Economic Commission for Europe (UNECE), GECF Secretary General H.E. Yury Sentyurin said the forum hopes that the European Parliament and the EU member states will support the sustainability rating of natural gas when they are due to discuss this next month. "GECF believes that all UNECE member states should recognize the use of gas, especially in cases where the gas technology replaces higher-emitting power sources and can cut emissions," said Sentyurin.
The UNECE's Group of Experts on Gas is a high-level policy consultation body formed to empower and inform the work of UNECE Committee on Sustainable Energy. The UNECE includes 56 member states in Europe, North America and Asia. Russia and the U.S. are two UNECE members that are expected to provide it with up to 70% of gas production by 2050.
Sentyurin said natural gas supply in the UNECE region will increase at an annual average growth rate of 0.8%, representing an overall increase of 29%. Total supply is expected to climb from 2320 billion cubic meters (bcm) in 2019 to around 3000 bcm in 2050.
"The UNECE region will be responsible for 18% of the total gas demand growth through to 2050," he said. "Despite ambitious decarbonization targets in many UNECE members, natural gas will retain a critical role in region's energy mix, being the most resilient hydrocarbon resource."
The session noted that the UNECE region is falling short of its commitments and objectives on sustainable energy. The Group of Experts concluded that it can help meet those goals by transforming the energy system and reducing the environmental impact of energy.
Panelists at the session said that natural gas is more than a just a fuel; it is a means to transition to other fuels that include hydrogen and biogas.
Other global gas executives stressed the potential of gas as a step towards a decarbonized world. This year, the UNECE will focus on air quality and health.
Francisco de la Flor Garcia, chair of the Group of Experts on Gas, pointed out that a UN General Assembly resolution adopted last Dec. 21, recognized the role that natural gas plays in many countries and calls upon governments to enhance energy security. "I interpret this resolution as a clear mandate for our continued work," he said.
International Gas Union President Joe M. Kang said the Paris Agreement would fail if policy makers relied exclusively on the transition of electrical energy to cleaner sources. "The International Gas Union believes an achievable transition is one that delivers clean, secure and affordable energy, using electrons and natural gas and hydrogen molecules."
The group's mandate is to develop a long-term, holistic exploration of the role of gas in achieving sustainable development goals.
In 2022 and 2023, the Group of Experts will take a deeper look at sustainable development goals that affect health, industry and cities. The panelists also discussed best practices for methane management in the gas sector, decarbonisation through synergies between gas and electricity, sustainable production and consumption of gas and liquefied natural gas, and gas in transport.
The group said policy makers can reduce pollution and improve air quality if they can improve access to natural gas supplies, better monitor and remediate methane losses, upgrade bus fleets with natural gas and develop LNG as a bunker fuel in city harbors.
NEWSLETTER
Delivered directly to your inbox, CompressorTech² News features the pick of the breaking news stories, product launches, show reports and more from KHL's world-class editorial team.