Forecast calls for stronger and volatile gas prices
By Keefe Borden11 November 2021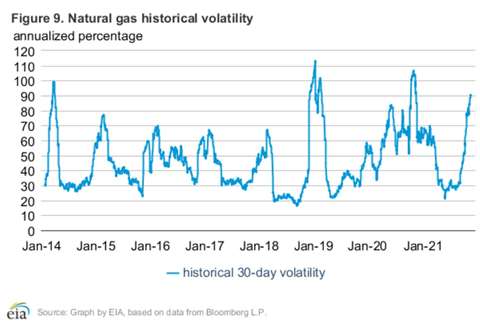 Steady domestic demand in the coming months and limited natural gas storage levels are expected to push U.S. gas prices higher and to keep them volatile through the winter, according to the latest forecast from the U.S. Energy Information Administration.
"Mild weather has limited natural gas consumption and helped bring our storage levels closer to average in recent weeks, but cold winter weather could continue to put upward pressure on prices," said EIA Acting Administrator Steve Nalley. "Winter temperatures will be the key driver of natural gas demand, inventories, and ultimately prices."
Despite the recent increase in storage, natural gas inventories in the U.S. enter the winter season 3% below the five-year average for this time of year, the EIA reported in its most recent Short-Term Energy Outlook.
The U.S. electric power sector continues to use significant amounts of natural gas for generation. In addition, the EIA estimates that U.S. natural gas exports of liquefied natural gas averaged 9.8 Bcf/d in October, up 37% from a year ago.
LNG terminals within the U.S. are acting at or near their maximum capacity as demand for gas in Asia and Europe remains strong. The EIA reported that steady demand for gas in world markets is expected to hold throughout this year and 2022.
The average spot price for natural gas at Henry Hub averaged $5.51/MMBtu in October, up from $5.16/MMBtu in September and $3.25/MMBtu in the first half of the year. The increase in prices stem from limited inventory levels, which are below their five-year averages, and steady demand in the U.S. from power producers, the EIA reported.
Looking forward, the EIA predicted the average gas price at Henry Hub in November through February will reach $5.53/MMBtu. From then prices should ease gradually through the year and average $3.93/MMBtu for the year as a whole.
U.S. natural gas inventories ended October 2021 at more than 3.6 trillion cubic feet (Tcf), 3% less than the five-year average for this time of year. Injections into storage this summer were below the previous five-year average, largely because more electricity consumption in June, the EIA reported.
The EIA forecast that natural gas inventories would fall by 2.1 Tcf this winter, ending March at 1.6 Tcf, which would be 4% less than the 2017–21 average for that time of year.
Overall domestic production continues to climb amid the stronger prices. Dry natural gas production in September averaged 94.9 Bcf/d in the United States in October, up from 94.5 Bcf/d in a month earlier and 91.9 Bcf/d in in the first half of the year.
Looking forward, the EIA forecast U.S. domestic production would average 95.2 Bcf/d from November through March and averages 96.7 Bcf/d during 2022. The strength in oil and gas prices should support the growing gas production, according to the EIA.
Prices will fall starting in March as additional production comes online and the growth of LNG exports begins to slow next year, the EIA forecast.
"We forecast that U.S. inventory draws will be similar to the five-year average this winter, and we expect that factor, along with rising U.S. natural gas exports and relatively flat production through March, will keep U.S. natural gas prices near recent levels before downward price pressures emerge," the agency predicted.
Because of uncertainty around seasonal demand, the EIA said it expected gas prices to remain volatile over the coming months with winter temperatures to be a key driver of demand and prices.
U.S. LNG exports averaged 9.8 Bcf/d in October, according to preliminary estimates, up 0.3 Bcf/d from September. Despite the recent increase in U.S. gas spot prices, U.S. prices are significantly lower than prices in Europe and Asia.
That open arbitrage has supported the recent growth in LNG exports from U.S. terminals and is expected to keep those terminals at near capacity in the coming months, the EIA reported.
LNG exports resumed from Cove Point LNG in late October after that facility's annual maintenance was completed. U.S. LNG exports will average 9.8 Bcf/d for all of 2021, up 50% from 2020, the EIA reported.
"We expect that LNG exports will increase this winter, averaging 11.0 Bcf/d from November through March. We expect high levels of LNG exports to continue into 2022, averaging 11.5 Bcf/d for the year, up 17% from 2021," the agency reported.
The EIA forecast for stronger LNG exports through the winter stems from several factors:
Optimizing operations at Cheniere's Sabine Pass and Corpus Christi termianls, which adds up to 0.7 Bcf/d of additional capacity,
Completing Train 6 at Sabine Pass LNg, which is expected to be online in December and
Commissioning of 10 mid-scale liquefaction units at Calcasieu Pass starting in December 2022 and continuing through 2022.
NEWSLETTER
Delivered directly to your inbox, CompressorTech² News features the pick of the breaking news stories, product launches, show reports and more from KHL's world-class editorial team.