Ethane content climbs in NBPL line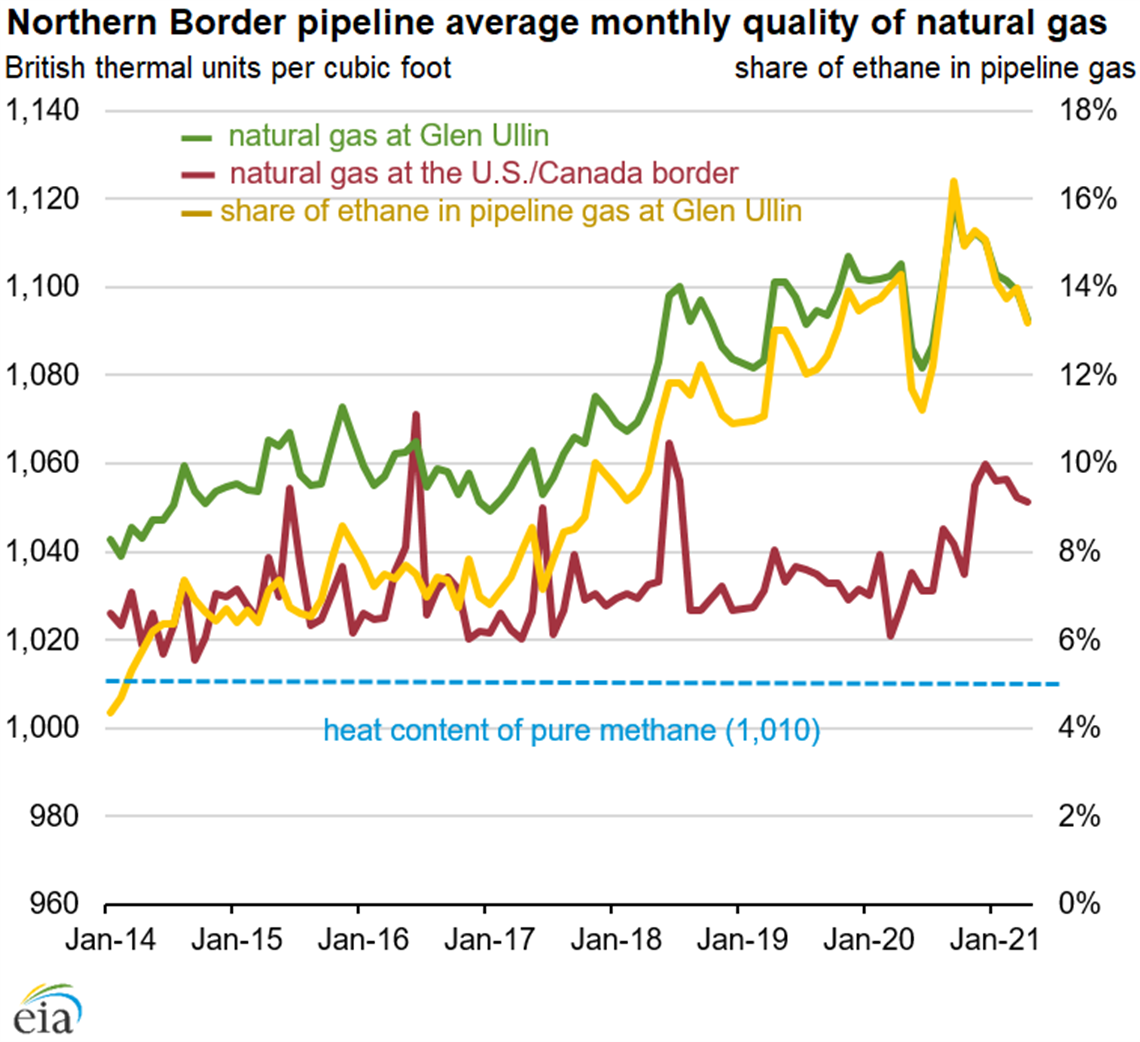 The Northern Border Pipeline Company (NBPL) recently reported that more than 14% of the volume of natural gas moved through the pipeline was ethane, causing the heat content on the line to rise above 1100 Btu/cf, the upper limit for most U.S. natural gas lines.
A recent report from the U.S. Energy Information Administration showed the heat content in NBPL's natural gas flow has risen in recent years as more of the natural gas comes from the Bakken in North Dakota, which is rich in ethane, and less from Canada. Throughout most of the 2010s, gas entering NBPL from Canada was lean, with a heat content close to 1,010 Btu/cf, the heat value of pure methane, the EIA reported.
NBPL, which runs from the Canadian border at Port of Morgan, Montana, to the Chicago market, has historically provided a path for natural gas produced in Alberta, Canada, to reach midwestern markets. Over the past seven years, as associated natural gas production in the Bakken has increased with growing oil production, volumes of natural gas originating in North Dakota began to displace natural gas from Canada on the pipeline. As a result, the share of gas originating from Canada declined from about 75% in early 2014 to less than 25% in April.
Heat content from natural gas can cause operational issues for natural gas customers and most interstate pipelines have heat content limitations. NBPL is investigating options to implement a 1100 Btu/cf upper limit on natural gas heat content.
Although ethane content of natural gas from Canada has recently increased in recent years, the average heat content from natural gas from Canada remains close to 1,050 Btu/cf. Natural gas from North Dakota is rich in liquids and, even after processing, has a heat value that exceeds 1100 Btu/cf. At some locations, the heat content exceeds 1200 Btu/cf on a regular basis, the EIA reported.
The high heat content of the gas from North Dakota means that NBPL's gas, even after it is blended with lean imports from Canada, frequently exceeds 1100 Btu/cf at Glen Ullin, North Dakota, the measurement point just past all major gas plant receipt points in the Bakken.
Since 2014, natural gas processing capacity in North Dakota has more than doubled from less than 1.5 bcf/d to almost 4 Bcf/d. The greater capacity allows for higher levels of ethane recovery, the EIA reported. NBPL reported that up to 15% of the 2.5 Bcf/d of natural gas that moved past Glen Ullin is ethane, the equivalent to more than 200,00o bbl/d of ethane in liquid form. There is limited demand for ethane in in the region, the EIA reported.
Pipeline capacity to transport ethane and other NGLs to the U.S. gulf Coast was recently expanded to 400,000 b/d, but only 60% of this capacity is utilized because NGL prices on the Gulf Coast frequently do not justify the cost of transporting them there. As a result, producers have left more liquids, including ethane, in the natural gas stream. That ethane rejection has led to the increase in heat value of the natural as stream.
TC Energy operates the 1412 mile line and has a 50% stake in NBPL The remainder is held by ONEOK Northern Border Pipeline Company Holdings. A spokesperson for TC Energy was not immediately available. 
NEWSLETTER
Delivered directly to your inbox, CompressorTech² News features the pick of the breaking news stories, product launches, show reports and more from KHL's world-class editorial team.