Cornerstones of Compression: Forced-feed cylinder lubricators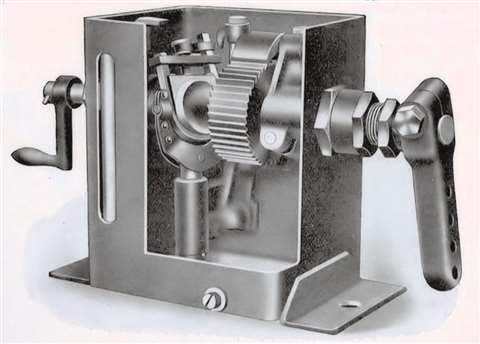 As early reciprocating compressors were applied at higher speeds and pressures, lubrication of the piston, rings and rod packing were problems that had to be overcome.
If the cylinder pressure dropped below atmospheric pressure for part of the cycle, gravity-fed drip cups could be used to lubricate the cylinder or the rod packing.
The invention of forced-feed lubricators was a critical development that enabled reciprocating compressors to run faster and compress gases to higher pressures.
These devices have one or more pumps that inject small amounts of pressurized lubricant into the cylinder and packing with every stroke of the compressor piston or otherwise timed to provide a metered amount that is related to the compressor operating speed. The lubricator is driven off the compressor crankshaft or by a small electric motor.
Forced-feed lubricator systems are commonplace today, available from a number of manufacturers.
The development of these common systems was inspired by the need to lubricate steam engines and locomotives. Continuous lubrication enabled higher piston speeds and reduced the downtime and labor associated with "oiling" engine bearings and bushings.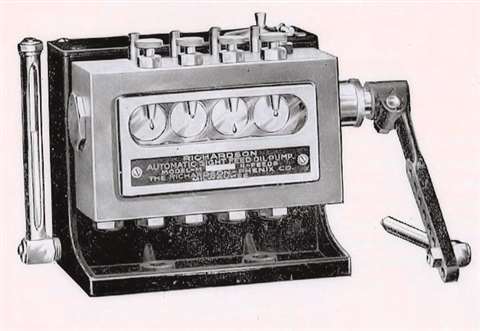 Automatic lubricators first appeared in the 1860s in the U.K. These steam-driven devices supplied lubricating oil to a steam engine's cylinders and sometimes to the bearings as well. Sight feed lubricators that allowed a visual observation of the lubrication rate appeared c.1887.
The first U.S. invention of automatic lubricators was attributed to Elijah McCoy. Born in Canada as the son of freed slaves, and well educated, McCoy immigrated to Michigan, but could only find work as a fireman and oiler at the Michigan Central Railroad.
In his home machine shop in Ypsilanti, he developed an automatic oil lubricator for the steam engines of locomotives and ships.
This 1872 invention was the first of McCoy's 50 patents dealing with lubrication systems. Lacking capital to manufacture his lubricators in large numbers, he usually assigned the patent rights to employers or sold them to investors.
One was the Detroit Lubricator Co. of Detroit, which in 1912 claimed to be the largest manufacturer of lubricating devices in the world.
Lubricators with the McCoy name were not manufactured until 1920, when he formed the Elijah McCoy Manufacturing Company. Interestingly, another of McCoy's inventions, an oil drip cup for locomotive engines, was a favorite of railroad engineers.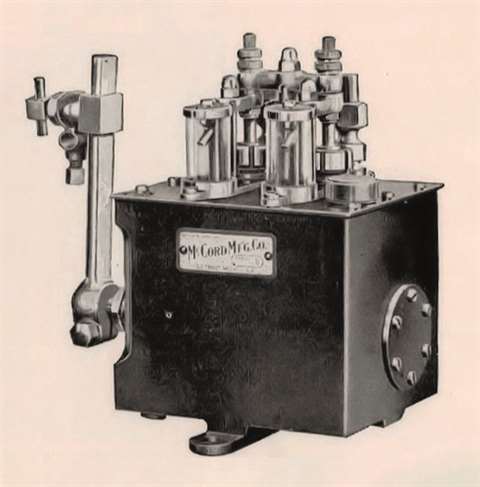 Looking to avoid inferior copies, they would request it by name as the "Real McCoy," which is generally attributed as the origin of that iconic term.
By the end of the 19th century, automatic lubricators for steam engines had become commonplace. These devices were also needed for increasing numbers of gas engines, reciprocating air compressors and ammonia compressors for refrigeration and ice-making. Some early compressor manufacturers developed their own forced-feed cylinder lubricators.
For example, Norwalk, a pioneer in high pressure air compressor development, had a type of forced-feed lubricator by 1885.
A number of dedicated lubricator manufacturers also emerged, focusing mainly on steam engine, locomotive and steam traction engine applications.
Early versions of the modern forced-feed lubricator appeared around the turn of the century. In 1898, O.G. Kipp and another man formed a company to manufacture an automatic lubrication system that they had invented. Relocating to Madison, Wisc., in 1902, the company was renamed the Madison-Kipp Lubricator Co.
In 1914, Madison-Kipp advertised that it was the largest exclusive builder of forced-feed lubricators in the world and had produced over 500,000.
Its Model 50 heavy-duty lubricator could accommodate one to fifty feed points against pressures up to 2000 psig (138 bar).
It used the Kipp barrel and plunger principle that required no check valves or similar devices. Sight feed tubes allowed observation of the exact amount of oil being delivered, and adjusting buttons allowed each feed to be adjusted down to a fraction of a drop for each stroke of the plunger. The Model 50 was still being produced three decades later.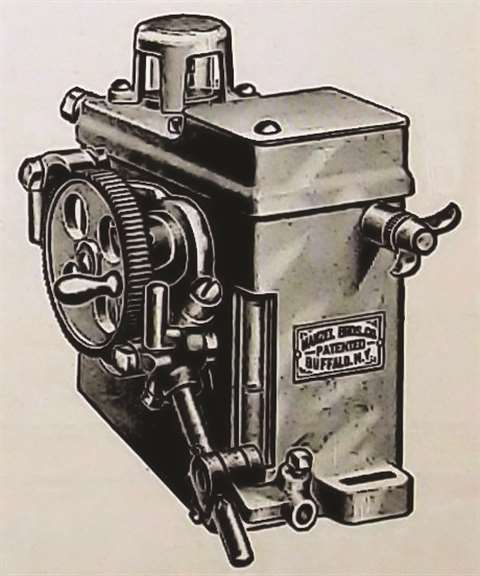 Two other forced-feed lubricators were patented in 1904. One by Henry Winkenwerder of the Milwaukee Metal Working Co. was manufactured by the Richardson-Phenix Co. of Milwaukee. Richardson-Phenix lubricators were prominently advertised in the early 1900s with one or two chambers for different lubricants and one to twenty feeds for pressures up to several thousand psig.
The other 1904 patent was by John F. McCanna, whose Chicago company manufactured it for a short time before being acquired by the McCord Manufacturing Co. McCord, of Detroit, produced forced-feed lubricators for locomotives, as well as early automobiles.
By 1915, very few were used for automobiles, however the use of McCord lubricators was rapidly growing for gas engines, steam engines and air compressors of all kinds and types.
Early McCord lubricators were available with one to fourteen feeds, including a special double compartment model for steam engines and air and ammonia compressors.
Adoph and Charles Manzel of Buffalo had several patents for oil pumps and forced-feed lubricators between 1905 and 1927. A 1908 Manzel Brothers Co. ad showed a mechanical lubricator with one to six feeds for traction engines.
A 1910 flyer said Manzel had the largest plant in the U.S. devoted entirely to the manufacture of forced-feed oil pumps.
Adolph's 1912 patent became the basis for Manzel's forced-feed lubricator products for decades. A 1914 ad offered free 30-day trials and claimed 30 to 60% savings of lubricating oil.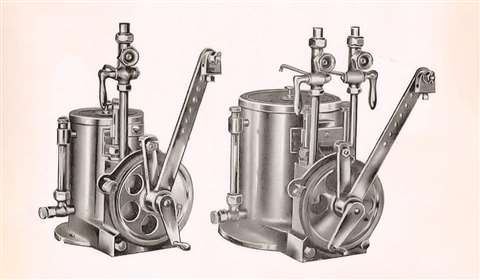 Graco Manzel lubricator systems remain available today. Interestingly, another current-day forced-feed lubrication manufacturer began distributing Manzel lubricators c.1922.
Sloan Brothers carved a niche as an integrator of complete lubrication systems, pioneering the application of divider block technology to air and gas compressors. After competitors followed suit, Sloan began manufacturing its own lubrication components in the 1970s.
Greene, Tweed and Co. originated in 1863 in Manhattan and was an early manufacturer of piston rod packing for reciprocating machinery.
The company also manufactured a number of other products that it licensed from inventors. This included the Rochester automatic lubricator, which was in use on all types of steam engines, pumps and air and ammonia compressors by 1914. This lubricator used an internal clutch drive and was claimed to be "noiseless."
Force-feed lubricator technology has continued to evolve over the past century, with today's reliable lubricators including sophisticated monitoring and protection instrumentation.
NEWSLETTER
Delivered directly to your inbox, CompressorTech² News features the pick of the breaking news stories, product launches, show reports and more from KHL's world-class editorial team.