Compression Training Schools Are Ready For Rebound
By Patrick Crow29 August 2017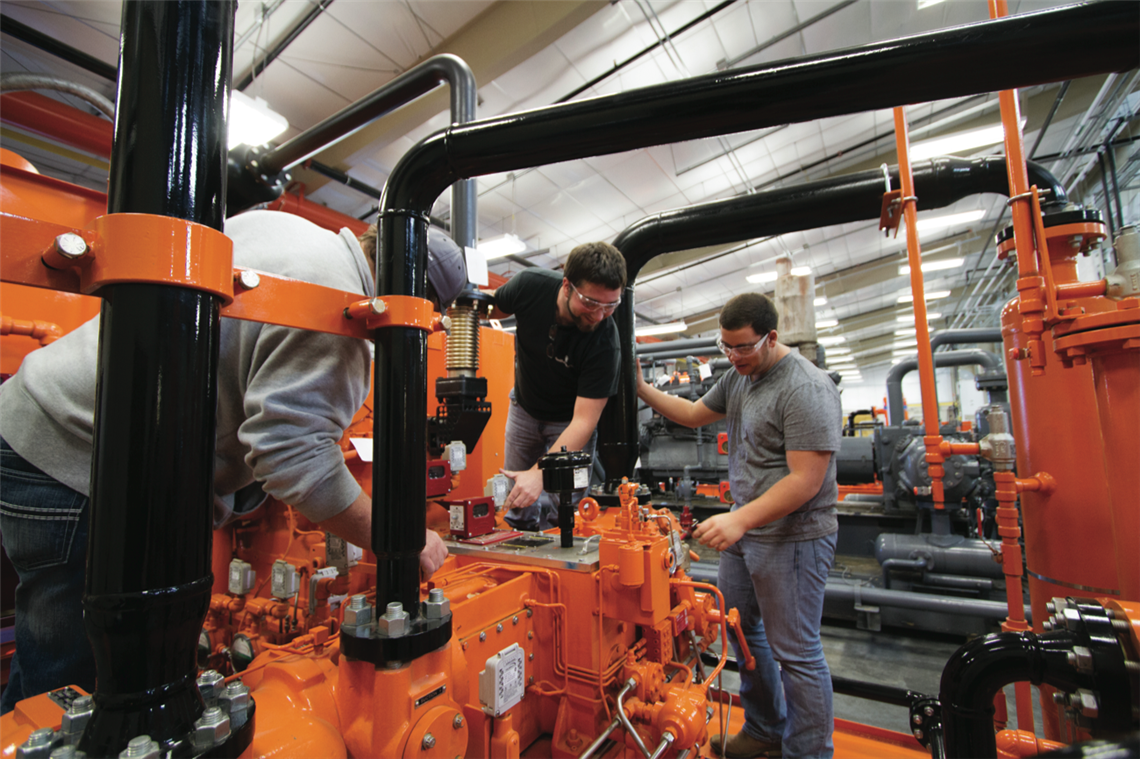 This article was originally published in the July issue of COMPRESSORtech2. We only publish a fraction of our magazine content online, so for more great content, get every issue in your inbox/mailbox and access to our digital archives with a free subscription.
Regional college compressor operator and maintenance training programs ride the same boom-and-bust cycle that the gas industry does as a whole, but with a time delay.
Indications are that the gas industry is recovering from the latest slump and can expect slow, steady growth in the next 10 years. Not surprising to anyone who has been following the industry, production should grow most in the Marcellus and Utica Shale regions, followed by gas plays in the Permian Basin, the Eagle Ford shale of Texas and field developments in south central Oklahoma.
In the past two years, demand for entry-level gas compression technicians and maintenance technicians has leveled out. Operating companies mostly stopped offering internships to compression students, sending them a discouraging signal about their eventual employment prospects.
But Roy Achemire, who has retired as dean of the Oklahoma State University Institute of Technology's energy school, said things may appear worse than they are.
"The gas transmission industry loses people all the time through attrition and always needs new bodies," Achemire said. "It still needs to move gas and maintain its compressor stations."
Achemire added that the gas industry's field workforce is dominated by 55- to 65-year-olds who are on the verge of retirement. "When this exodus of senior citizens occurs, a lot of pent-up demand will hit pretty quickly."
Then too, the gas industry is changing and expanding. New technologies, revisions in regulations and enhanced safety practices are expanding the training needs for the existing workforce.
Gas Compressor Association
Since 1992, the Gas Compressor Association (GCA) has supported college programs that train new mechanics and operators. The association has provided direct financial assistance, and its member companies have donated equipment, instructional support and guidance.
With funds generated by its annual exposition and conference, The GCA has disbursed more than US$400,000 to its college partners. It also invites personnel from the training schools to attend the annual trade show and interact with compression industry professionals.
On its website, the GCA lists its six partner colleges and the equipment donations that educators need to further their hands-on instruction.
The association's current college partners are Lackawanna College of New Milford, Pennsylvania; OSU's Institute of Technology at Okmulgee, Oklahoma; Panola College in Carthage, Texas; San Juan College at Farmington, New Mexico; Western Wyoming Community College in Rock Springs, Wyoming; and Zane State College in Cambridge, Ohio.
A GCA goal has been to help the colleges develop more standardized compression and pipeline technology curriculums. The consortium hopes to encourage a common curriculum among the partner colleges based on best industry practices and input from the midstream and upstream gas industry sectors.
Oklahoma State University Institute of Technology
This vocational training school at Okmulgee, Oklahoma, has the nation's longest established and largest gas compression program.
Oklahoma State's Natural Gas Compression program has capacity for 160 students. Enrollment peaked at 140 a few years ago.
This past semester, it graduated 20 students, all of whom went to waiting jobs. Eight undergraduate students remained and will be joined by at least 40 new students in the fall semester. Enrollment is expected to exceed 60 in early 2018.
From engines and compressors to programmable logic controls, the Oklahoma State University Institute of Technology (OSUIT) curriculum blends hands-on experience and classroom instruction.
Students earn an Associate of Applied Science (AAS) degree that requires 73 credit hours. Also required is a semester-long internship, which may be fulfilled when students enter full-time jobs. Known as the capstone, it incorporates the requirements for industry experience after completion of the curriculum. Due to a dearth of industry job opportunities, OSUIT dropped the requirement for an internship midway through its program, but retained all technical classes.
Currently, OSUIT is initiating blended courses that will teach theory online yet give students the opportunity for hands-on instruction in labs on the Okmulgee campus. Instructors also have begun a systematic review of courses to confirm that all meet OSUIT's "Quality Matters" standards.
In addition to its two-year Natural Gas Compression program, OSUIT's School of Energy Technologies offers Pipeline Integrity and Power Plant Technology programs. The two-year Pipeline Integrity program trains students to install, operate, maintain, repair and manage the integrity and security of pipelines. Major areas of study include safety, assessing pipeline damage and risk, corrosion control, design and integrity management.
OSUIT claims to have the most advanced and most complete compression training laboratory in the nation. Several years ago, the university added a 27,000 sq.ft. (2230 m2) training center with five classrooms and 17 equipment bays. The center has three operating compressor skids with modern equipment donated by compression providers and suppliers.
A major change for the School of Energy Technologies is Achemire's recent retirement. He joined the school in 1991 as a gas compression instructor and has overseen the program since 1996.
Achemire's replacement has not been selected. OSUIT has been reevaluating its program alignment due to an educational funding crisis in Oklahoma. The state legislature was expected to cut appropriations 6% for 25 public colleges and universities, a reduction that would be spread across all operations and programs.
Panola College
The energy program at Panola College at Carthage, Texas, is broad but has a compression subset. Its objective is to prepare students for oil and gas careers, either as lease operators or members of production teams.
The Petroleum Technology Program curriculum includes four semesters of work, fall and spring, at the main campus at Carthage or at the Shelby Regional Training Center at Center, Texas.
The college developed its initial curriculum 10 years ago in cooperation with oil and gas company professionals. Upon completion of the two-year program, students receive a Certificate of Completion and/or an AAS degree.
At the completion of the Certification II level, qualified students may have the opportunity to participate in a summer internship with an oil and gas producing company, pipeline, gas processing plant, or compressor rental fleet.
The two-year AAS in Petroleum Technology includes introductory courses in engines, compressors, controls and processing. A new AAS in Electrical and Instrumentation Technology has been added. Several classes are offered online, complemented by hands-on labs at the Carthage and Center campuses.
Panola's program is designed so that at the end of every semester, students receive a certificate verifying their completion of necessary requirements. Students then may choose to enter the workforce or continue earning additional certifications or a degree.
Natalie Oswalt, dean of professional and technical programs, said the college recently reached an agreement with Stephen F. Austin University in Nacogdoches,
Texas. Now Panola graduates can apply their two-year AAS degrees toward a four-year Bachelor of Applied Sciences degree at Stephen F. Austin.
Panola bestows certificates each semester. Since 2009, about 1050 certificates or associate degrees have been awarded.
Oswalt said the downturn in the energy business has shrunk the School of Energy's total enrollment to about 185 students, compared with 256 in the fall of 2015.
"We hope enrollment will increase this fall," Oswalt said. "We are forming new partnerships with industry, and hopefully we will see the industry to continue turn around."
Panola has plans to construct an energy technology building to house its programs at the Carthage campus. Last spring, it completed an "outdoor classroom," an open air-structure for heavy equipment instruction at its Center campus.
Dr. Joe Shannon, long-time professor and vice president of instruction Panola, has resigned to accept a position at Stephen F. Austin University.
Western Wyoming Community College
Gas compression has always held a niche within the industrial training program at Western Wyoming Community College at Rock Springs.
The institution has about 100 students in three different energy-related programs that offer both two-year AAS degrees and one-year certificates. Electrical and Instrumentation Technology, which serves the mining industry as well as oil and gas, is the largest program. Oil and Gas Production Technology ranked second.
The Natural Gas Compression Technology program graduated two students at the end of the spring semester and had six continuing students. That's down from 16 students at the same time a year ago.
Joe Uriarte, assistant professor of compression technology, said although demand for compression professionals in the Rocky Mountain region has been slow, things seem to be picking up.
"There are still some job opportunities, though, and we're seeing the service companies coming around," Uriarte said. "Rock Springs also is in a unique situation. Around here, compression firms have a lot of local competition, including two coal mines, a power plant, a fertilizer plant and several other large industrial employers. Those factory jobs usually get filled before the compressor mechanics jobs."
Uriarte said another handicap for the gas compression program is that potential students often don't know much about the industry subsector or the opportunities it offers. The southwestern Wyoming community college launched its Natural Gas Compression Technology program in 2007-08. Students are taught to troubleshoot, repair and maintain equipment through a combination of lectures and hands-on training.
The anchor of the instructional program is a Caterpillar G3306/GE-Gemini H302 three-stage compressor package installed to run on nitrogen in a closed loop.
Uriarte said the small scope of the compression program has limited the resources that the community college can allocate for it. He is seeking more support and donations from compressor firms, especially a small-frame Ariel compressor for maintenance training purposes.
Seward County Community College
In far southwestern Kansas, the Seward County Community College Area Technical School conducts a Natural Gas Compression Technology program on its campus at Liberal.
The school is designed to prepare students to become entry-level compressor maintenance technicians. Regional gas production, transportation and service companies helped Seward County Community College develop the program to best fit their needs for new employees.
Both one-year certificates and two-year AAS degrees are offered. The program accommodates up to 15 students at a time, with new classes beginning each semester.
Students also participate in an internship at the end of their program of study to prepare them for the workforce and give them hands-on industry experience.
Trainees are taught precision measurement, workplace skills, engine theory, basic electricity and circuits, metal fabrication, basic welding, compressor and engine repair, compressor theory, compressor mounting and align, and preventative maintenance of engines and compressors.
For practical experience, students can work on machines ranging from small, three-cylinder engines to large, 12-cylinder engines, plus both reciprocating and screw compressors.
The college is planning to construct a building that would accommodate operating engine and compressor packages. Those packages would connect to closed-loop pipelines to provide students real-world experiences with natural gas engines and compressors. The packages would be designed to allow for errors to be programmed into them so that students can troubleshoot operational problems.
San Juan College
In the Four Corners region, the School of Energy at San Juan College at Farmington, New Mexico, has taken a hybrid approach to gas compression training.
More than a year ago — largely due to the gas industry downturn — the college discontinued its gas program as a stand-alone course of instruction and combined compression education into its lease operators program.
"We hold quarterly meetings with oil and gas representatives to get their advice, and that's what they wanted," said Kenneth Johnson, assistant professor and coordinator of petroleum technology.
Johnson said a contributing factor was that local internships and jobs were scarce and students were reluctant to relocate to gas compression jobs out of the Four Corners region. The Energy Lease Operator program provides the basic knowledge and skills of oil and gas production processes and equipment operations. The program also involves professional on-the-job training with local firms.
For practical training, the college has a developed a complete well site including a pumping unit, separator, compressor skid, dehydration unit and meter run.
San Juan College offers two-year AAS degrees and one-year certificates. The core energy curriculum, which includes a natural gas compression course, can be completed online. It has partnered with New Mexico Highlands University to offer a bachelor's degree in Oil and Gas Management.
Under the leadership of Dean Barbara Wickman, enrollment in the School of Energy has held steady the past five years. Nineteen students graduated this spring, compared to 14 last year. Two-thirds immediately walk into jobs, either local or elsewhere.
A recent highlight for the school was that Exterran has donated a G3408 and two G3406 Caterpillar engines. Students will rebuild them with the assistance of a local Caterpillar dealer, Wagner Equipment Co. The college approved US$90,000 for the rebuild kits.
Zane State College
Zanesville, Ohio-based Zane State College is a relative newcomer to compression training. Its program was established because of the college's proximity to the growing Utica Shale activity in the western Appalachian Basin. Zane State College also operates a full-service campus in Cambridge, Ohio.
The college's Oil & Gas Engineering Technology program provides instruction in the sciences underlying oil and gas exploration, development and distribution, completion, production, natural gas compression, distribution and related field services. A particular focus is placed on the application of the best available technology used to exploit the Marcellus and Utica shales.
Zane State College offers a two-year AAS degree and also a certificate in compressor station operation.
Students who are pursuing an AAS degree are required to complete an internship or a capstone project. Strong industry partnerships to this piece of education. All current Zane State students received interviews for summer intern positions.
Assistant Professor Paul Paslay said Zane State's compressor program had no graduates last spring, but the seven enrolled students will continue in the fall, with four of them due to graduate in December. He predicted total enrollment would double to about 15 in the fall semester, about half the peak of a few years ago.
Paisley said companies interviewed all of seven of Zane's students for summer internships and two were selected for positions.
Zane State completed construction of a building that will be available for the fall semester. Half of the space will used for hands-on training with compressors and other oil and gas equipment. The rest will be used for heavy equipment repair training. Zane State College also incorporates hands-on learning by utilizing their outdoor land lab.
"This building will provide our students a lot more space to work on compressors," Paslay said. Sullair has donated a cutaway screw compressor to Zane State, and Dominion Transmission recently gifted a pair of large air compressors that it formerly had used in gas applications. The new building will also house a compressor donated by the Ariel Corporation.
Westmoreland County Community College
Southeast of Pittsburgh in Mount Pleasant, Pennsylvania, Westmoreland County Community College operates another training program to meet Appalachian job demand.
The college offers a one-semester Petroleum and Industrial Process Operations Technology certificate program designed to prepare students for entry-level positions in the midstream and downstream industry segments and a Pipeline Mechanic certificate.
It also has a Pipeline Mechanic certificate program designed to prepare students for entry-level positions in natural gas, pipeline operations, compression, refining, power generation, and various plant processes.
The college offers a two-year Petroleum Technology AAS degree. It has partnered with several energy companies, such as Dominion Transmission, to ensure that students are trained to meet industry needs for compressor technicians.
The educational programs are based at the college's Advanced Technology Center at the Regional Industrial Development Corp. – Westmoreland facility at Mount Pleasant.
Lackawanna College
Catercornered across the state in far northeastern Pennsylvania, Lackawanna College has developed an educational program to meet the Marcellus gas infrastructure's needs.
The two-year AAS degree program in Petroleum and Natural Gas Industrial Mechanics trains students for positions focused mainly on the delivery and distribution of petroleum and natural gas. They may become compression station technicians, pipeline technicians or midstream operations technicians. Courses teach them to monitor, maintain and troubleshoot compressors, engines or prime movers, pipelines and dehydration facilities.
The first-year course covers compression, engines, electronics, pneumatics and hydraulics. After a planned summer internship, students receive increased hands-on-time in the laboratory during compression and gas engine classes.
The New Milford, Pennsylvania, college said its goal is to prepare graduates to be effective employees from the first day. According to the college, 70% of its graduates are hired by major exploration and production, midstream and pipeline companies that return to campus each year to hire interns and graduates.
The college's School of Petroleum and Natural Gas also offers two-year programs in Petroleum and Natural Gas Measurement, Petroleum and Natural Gas Technology, and Petroleum and Natural Gas Business Administration.
A number of exploration/production and midstream companies have contributed to the college's program. They include Cabot Oil & Gas Corp., Chesapeake Energy, EXCO Resources, Baker Hughes, Williams, DTE Energy, Exterran, TEAM Oil Tools, Linde Corp., Ariel Corp. and Mid-Con Energy Partners.
Southern Alberta Institute of Technology
In Calgary, the Southern Alberta Institute of Technology's school of Manufacturing and Automaton offers an apprenticeship program for natural gas compressor technicians.
The two- to four-year program teaches students to assemble, install, commission, maintain, repair and overhaul natural gas compression and related equipment.
The coursework includes reading and interpreting diagrams or schematic drawings to determine work procedures, and using a variety of electrical, mechanical and specialty diagnostic test equipment.
Students also complete reciprocating and rotating machinery analysis to determine equipment condition, prediction of failure, corrective and preventative measures, and equipment performance. The program involves on-the-job training as well as formal instruction.
The institute also operates several gas industry instructional programs at its MacPhail School of Energy, which it describes as Canada's first energy school.
"Our labs are equipped with over US$40 million in specialized systems and sophisticated technology, and are a vital component of our energy-related programming," it said. "The centers prepare students for hands-on technical careers and help the industry train employees for today's dynamic, global marketplace."
NEWSLETTER
Delivered directly to your inbox, CompressorTech² News features the pick of the breaking news stories, product launches, show reports and more from KHL's world-class editorial team.