Cat certified commissioners reduce downtime of workhorse engine
By Keefe Borden17 June 2021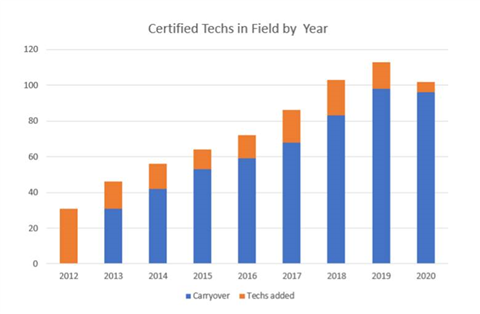 In an industry where technology is continually evolving and the reliability of a long-term asset is essential, proper training is vital. To that end, Caterpillar has established the G3600 Certified Commissioning Program, which is vital for any operator who commissions one of the gas compression industry's longest-running gas compression workhorses.
The 225-hour training program is designed to give technicians the knowledge and skills to properly commission the G3600 series. Completing all of those hours can take months and even up to a year, depending on the knowledge gaps of a given candidate.
After certification, these technicians have continuous reassessments and must be recertified every three years to ensure they are up to date on the company's latest processes, engine software and iron updates (anytime Caterpillar updates the product with new physical features.)
"We want to make sure the best people available commission that product so that when the customer receives one, they don't have to worry about it," said Michelle Merkelis, commissioning coordinator at Caterpillar Oil & Gas.
Once onsite, the Cat® G3600 certified commissioning technician will verify engine installation, mounting, alignment, engine emissions, and operation. They will activate remote monitoring and provide a detailed report – up to 300 pages in some cases – verifying engine set up and installation.
That report serves as a baseline for future inquiries for the life of the engine. Caterpillar has proven it can reduce downtime while warranty repairs are underway by using a Caterpillar certified commissioner.
The commissioning process calls for extensive record keeping from the beginning of the process. These records enable technicians to trace an engine back to its "original state" and help support future maintenance and problem diagnosis. Caterpillar has noted cases when a G3600 series engine has been operating for 20 years when a maintenance issue arose and a technician needed to consult records from when the machine was initially set up.
The Certified Commissioning Program is designed to ensure the G3600 engines deliver the best performance from startup, a process which will reduce downtime for warranty repairs, result in fewer installation issues and related repairs and gives the operator a more reliable engine over the life of the investment.
A Cat G3600 certified commissioning technician will have the skills needed to verify engine installation, to mount and align the engine, set up the engine emissions system, and activate remote monitoring.
Certified commissioners provide startup, ensure the engine has an updated digital platform, and help confirm that any service letters are addressed. They verify that installation is completed correctly. If for any reason a package is not correctly installed, they can explain why and help provide a fix for the packager.
They do basic trouble shooting and write up a detailed report for the dealer, customer, and Caterpillar's records. If an incident occurs in the future, they have detailed records of where the package was at its startup. Commissioners can also provide basic operator training.
The Certified Commissioning Program is available online and at Caterpillar training sites around the world, including Australia, Spain, and North America. Certified technicians are located around the world, including China, India, Russia, and South America, but the bulk of the certified technicians are in North America.
To qualify for the certification program, technicians must have field experience. To get an understanding of any gaps in their knowledge, Caterpillar sends an online assessment to all candidates. It then tailors an individualized program to best complement the technician's own knowledge of gas engines, gas compression, or any other aspect of the commissioning process.
Caterpillar's Certified Commissioning Program is primarily intended for its dealers, but it will make the program accessible to technicians from its customers, which include end users as well as packagers, in specific circumstances. In many cases, outside of certification, Caterpillar will tailor the training to the specific needs of a given customer to make sure they are fully knowledgeable on the product after commissioning.
Certified G3600 commissioners are highly sought after in the gas compression industry, and the certification is especially important as it's not transferrable if a technician leaves their company or program.
Caterpillar runs a training facility in Miami Lakes, Florida that includes the Larson Station, a unit which couples a G3606 engine with a 4-throw single stage reciprocating compressor. The facility gives technicians the opportunity to put hands on a unit, just as they would in the field. The setup allows them to practice and learn without many of the distractions that occur when an emergency or other situation occurs in the field.
Because of the global crisis caused by COVID-19, the in-person training programs were suspended last year and the platform was moved entirely online. As the world opens, the revised program will be a hybrid model, with some training online and other training at one of its in-person training centers.
"In-person training is crucial. It is very hard to beat the experience gained from in-person training. Technicians want to touch the machine and get their hands on it," said Konnie Puth, Caterpillar Oil & Gas training coordinator.
The program officially started in 2012, but Caterpillar's tracking of field data and reporting began in 2014 as it trained technicians. About 65% of the units commissioned from 2014 through 2020 were through Caterpillar certified technicians.
About 90 technicians are currently certified. Caterpillar has more than 220 dealers worldwide. Currently, 19 dealers and 12 customer/packager companies have certified commissioners. Caterpillar also has six commissioning engineers ready to be called upon to support anyone with tough jobs or who can't otherwise meet the customer-required timeline.
NEWSLETTER
Delivered directly to your inbox, CompressorTech² News features the pick of the breaking news stories, product launches, show reports and more from KHL's world-class editorial team.