Carbon capture comes of age
By Keefe Borden13 July 2022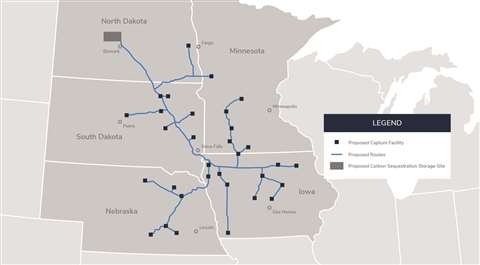 Carbon capture, pipelines, and sequestration are an established series of technologies that has drawn an influx of investors recently as companies seek ways to lighten their carbon footprint. The technology has been used in the oil and gas industry since the 1970s, but recent concerns about the need to address climate change (CO2 is a greenhouse gas), has placed renewed focus on carbon capture and underground storage (CCUS.)
The U.S. government, meanwhile, recently announced $3.5 billion in funding for carbon capture projects. Even without that incentive, multiple industrial companies have announced a range of projects recently.
One company that plans to grow from this renewed interest is Summit Carbon Solutions. The company, based in Ames, Iowa, has proposed a $4.5 billion carbon capture, pipeline, and sequestration project which would move carbon dioxide (CO2) produced from ethanol producers in the Midwest into a porous rock formation over a mile deep in North Dakota. Once in operation, it would be the largest facility of its kind in the world with the ability to capture and store up to 12 million metric tons of CO2 annually.
The project will include CO2 capture and compression facilities at ethanol plants and potentially other industry sources, associated pipelines and pump stations in Iowa, Nebraska, South Dakota, Minnesota, and North Dakota, and Class VI sequestration wells in North Dakota. The CO2 will be aggregated and transported to North Dakota via high strength carbon steel pipeline, where it will be safely and permanently sequestered in extensively researched subsurface geologic formations.
The project has commitments from 32 partner ethanol facilities capable of delivering more than 9 million metric tons per annum (mtpa) of CO2, with initial pipeline capacity of 12.0 mtpa, and expansion capabilities to handle up to 20.0 mtpa. Summit Carbon Solutions was launched in 2020. It is on track to achieve its target of being operational in late 2024.
The company is in the process of ordering compression, pipeline, and other equipment necessary for the project. It is also working to obtain the needed permits to build and operate the facility. The company hopes to start construction of the carbon capture facilities and the pipeline by the summer of 2023, said J.C. Surber, director of capture facilities at Summit.
Summit has found a long list of investors interested in participating in the project. Earlier this year, it raised more than $600 million from Continental Resources Tiger Infrastructure Partners, John Deere and some of its ethanol partners. It raised an additional $400 million, including $300 million from TPG Rise Climate, the dedicated climate investing strategy of TPG's global impact investing platform TPG Rise. Taken together, the project has more than $1 billion in equity capital.
As the company secures the needed construction permits, its simultaneously working to obtain additional debt financing to complete the project, said Chris Hill, senior project advisor. "We've had a lot of up-front investment from great partners who believe in the project," he said.
Regulatory approvals
Summit is working on a long list of regulatory approvals it needs from the local, state, and federal levels that are required for a project of this size. To cite just one example, the pipeline needs authorization from the U.S. Corps of Engineers to cross any waterbodies or wetlands. Summit is in pre-application discussions with the corps and plans to submit a request for approval in 3Q22. It is also working with a similar application with the U.S. Fish and Wildlife Service.
In January, Summit submitted a petition to the Iowa Utilities Board for a permit to route the pipeline through the state. A month later it submitted a similar application with the South Dakota Public Utility Commission for a proposed route through the state. It is also in discussions with regulators in North Dakota, Minnesota, and Nebraska to route the pipeline through those states and associated counties.
Summit will need a Class VI injection permit for the injection at the storage sites. The siting and evaluation process started last year, and the company plans to initiate the permitting next year.
Earlier this year, Summit announced plans to buy 52 CO2 reciprocating compression packages for $113.5 million from Xebec Adsorption, formerly UE Compression. The supply agreement came after a competitive bidding process that showed UE Compression offered the best overall value to the project, Surber said.
Xebec will pair Ariel Compressors with an electric motor that includes a variable frequency drive on a skid. The packages will have motor capacities ranging from approximately 2150 hp and 3350 hp, with the ability to process approximately 9 MMSCFD and 13 MMSCFD of CO2 respectively.
CO2 is heavier than methane, but uses essentially the same equipment to compress and transport it. Summit plans to upgrade some of the materials to handle some of the moisture that may be present in the gas stream prior to dehydration. After consulting with Trimeric Corporation, an engineering consulting company based in Buda, Texas, the company will use gas compressors to pressurize the gas until it reaches a supercritical state or dense phase, a gaseous-liquid state that forms around 1076 psi, and system maximum operating pressure (2,183 psi).
Once it is at that pressure and in that state, it will be injected into interstate pipelines and then pumped to a sequestration facility in North Dakota. The pipeline system will range from 4 to 24 inches. Studies have shown that moving C02 that distance can be more efficient through dense-phase pumping than compressors.
In general, ethanol production emits about half of the carbon normally produced by a similar amount of gasoline, although many ethanol producers hope to eventually become carbon neutral or even carbon negative in their production process, Hill said.
"We're excited about helping ethanol producers decarbonize further," he said.
Once the project is up and running, ethanol from these plants could further slash their net carbon production to around 50%. "This is an excellent first step toward carbon neutrality."
Summit's carbon capture project is one example of a growing list of carbon capture projects worldwide that present opportunities for companies that make gas compression equipment, along with an increasing interest in hydrogen infrastructure.
"Carbon and hydrogen projects are going to keep coming at us," he said. "Companies in the compression industry have a huge opportunity."
Tallgrass CO2 sequester project
Other companies have announced similar projects in the U.S. Midwest. Tallgrass Energy plans to capture carbon dioxide CO2 from a corn processing plant in Columbus, Nebraska owned by food processing giant ADM and transport it to an underground storage hub in Eastern Wyoming, the two companies announced.
By utilizing a converted natural gas pipeline for CO2 transportation, Tallgrass minimizes the need for new pipeline infrastructure. Tallgrass plans to convert its Trailblazer natural gas pipeline to a CO2 pipeline and use the approximately 400-mile line as a backbone of a regional CO2 transportation system. The pipeline, which runs through Wyoming, Colorado, and Nebraska, will be capable of transporting more than 10 million tons of CO2 per year for permanent sequestration, Tallgrass said.
The pipeline is ideally situated to transport CO2 from ADM's plant and other commercial and industrial sources to a sequestration hub in eastern Wyoming. In preparation for this initiative, Tallgrass recently announced plans to develop a commercial-scale CO2 sequestration hub in eastern Wyoming expected to be in service in 2024.
"We're able to repurpose existing infrastructure to create significant CO2 transportation capacity without impacting natural gas service in that region," said Kyle Quackenbush, segment president at Tallgrass.
Tallgrass said its CO2 transportation will enable customers to meet decarbonization goals and to minimize impact on landowners. "Our CO2 pipeline will be capable of transporting significant additional CO2 volumes to accommodate the capture, transportation, and sequestration of many other emissions sources in the region," he said.
"Earlier this year, we announced an agreement that would allow us to sequester carbon from two of our biggest processing facilities in the U.S., and now we're looking forward to working with Tallgrass to continue our work towards meeting our decarbonization goals," said Chris Cuddy, president of ADM's carbohydrate solutions business.
Earlier this year, Tallgrass announced it received a grant from the Wyoming Energy Authority to fund the development of a commercial-scale CO2 sequestration hub in the Denver-Julesburg (DJ) Basin in eastern Wyoming. The grant is in addition to the company's proposed direct investment in the Eastern Wyoming Sequestration Hub project.
U.S. Gulf Coast project
Linde and BP have announced plans to develop a major carbon capture and storage project on the U.S. Gulf Coast that will enable low carbon hydrogen production at Linde's existing facilities.
The development will also support the storage of carbon dioxide (CO2) captured from other industrial facilities – paving the way for large-scale decarbonization of the Texas Gulf Coast industrial corridor, bp announced.
Once finished, the project will capture and store CO2 from Linde's hydrogen production facilities in the greater Houston area – and potentially from its other Texas facilities – to produce low carbon hydrogen for the region. The low carbon hydrogen will be sold to customers along Linde's hydrogen pipeline network under long-term contracts to enable production of low carbon chemicals and fuels.
As part of the project, BP will appraise, develop and permit the geological storage sites for permanent sequestration of the CO2. The company's trading and shipping business aims to bring custom low carbon solutions to the project, including renewable power and certified natural gas, along with commodity trading and price risk management expertise.
Linde said it will use its proprietary technology to capture and compress the CO2 from its hydrogen production facilities for the project. Together with its extensive infrastructure of hydrogen production facilities and its storage cavern connected through its pipeline network across the Texas Gulf Coast, this project will enable Linde to supply cost-effective, reliable low carbon hydrogen and, together with bp, provide carbon capture and storage solutions.
"The energy expertise in Texas and strong supply chains have been generations in the making. This new low carbon energy project will help us leverage those strengths for the next chapter of the energy transition," said Dave Lawler, chairman and president of bp America. "In particular, it can help decarbonize hard-to-abate industries for the greatest potential impact on emissions while protecting jobs. bp is proud to support this project as we continue delivering on our own strategy and net zero ambition."
BP said it is also evaluating large scale CCS and hydrogen projects for industrial clusters in the US and already is in action on Teesside, the industrial heart of the United Kingdom.
The overall development, expected to be operational as early as 2026, will also enable capture and storage of CO2 from other large industrial facilities in the region and could ultimately store up to 15 million metric tons per year across multiple onshore geologic storage sites – the equivalent of taking approximately three million cars off the road each year.
Barnett Shale
BKV Corporation (BKV) and EnLink Midstream plan to develop a carbon capture and sequestration project in the Barnett Shale region of North Texas.
"It is critical that companies in the industry work together to bring actionable change and move large-scale carbon reduction projects forward," said BKV CEO Chris Kalnin.
Under their agreement, BKV will continue to produce natural gas containing carbon dioxide from its Barnett Shale area operations, and EnLink will transport this natural gas via its modified pipeline and facility infrastructure to the EnLink natural gas processing plant in Bridgeport, Texas.
At the Bridgeport plant, the carbon dioxide waste stream will be captured, compressed, and then disposed of through permanent sequestration via BKV's nearby injection well.
As part of its sustainability efforts, BKV recently formed dCarbon Ventures, a dedicated business unit focused on driving CCS innovations and project development. Vice President of dCarbon Ventures, Lauren Read, said, the technology is an important component of climate solutions. "We plan to be injecting carbon dioxide by the end of 2023, at which point it is expected to be one of the first permanent commercial sequestration projects to come online in the United States."
BKV is a privately held natural gas exploration and production company based in Denver, Colorado. EnLink Midstream is based in Dallas, Texas.
TotalEnergies to develop CO2 project
TotalEnergies has signed a preliminary agreement with Sempra Infrastructure, Mitsui & Co and Mitsubishi Corporation to develop the Hackberry Carbon Sequestration (HCS) project at Cameron LNG in Southwest Louisiana.
The project is designed to capture CO2 from Cameron LNG with an acid gas removal unit before transporting it by pipeline about 10 kilometers away where it will be stored in a saline aquifer using an injection well with a capacity of up to 2 million tons of CO2 per year.
In August 2021, the HCS project filed an application with the U.S. Environmental Protection Agency (EPA) for the construction permit of such an injection well – the first application to be accepted by the EPA in Louisiana, TotalEnergies said.
"This project is expected to be among the first North America carbon capture facilities designed to receive and store CO2 from multiple sources, and our goal is for this facility to set the gold standard for safe and permanent CO2 storage," said Justin Bird, CEO of Sempra Infrastructure.
Development of the Hackberry Carbon Sequestration project remains subject to definitive agreements, obtaining the necessary permits, and all partners reaching a final investment decision.
Dutch North Sea
Carbon capture is not unique to the U.S. Neptune Energy, XTO Netherlands, Rosewood Exploration and EBN Capital have agreed to develop a large offshore carbon capture and storage project in the Dutch North Sea.
The companies intend to take the L10 carbon capture and storage development to the concept select stage in 2022 and to have the project FEED-ready by the end of the year, followed by the submission of a storage license application. Meanwhile, the companies are having exploratory discussions with industrial emitters from various sectors ahead of the upcoming round for applications for funding from Dutch authorities.
The partners recently started a feasibility study into the possibility of injecting CO2 into the depleted gas fields around the Neptune-operated L10-A, L10-B and L10-E areas. If the project is developed, it will be one of the largest CCS facilities in the Dutch North Sea and could meet more than 50% of the CO2 reduction being targeted by the Dutch industrial sector, Neptune Energy said.
Neptune Energy's Managing Director in the Netherlands, Lex de Groot, said: "CCS is crucial for achieving the Dutch climate goals for 2030. This cooperation agreement is a significant step in the development of the Neptune-operated L10 project which supports our strategy to go beyond net zero and store more carbon than is emitted from our operations, scope 1, and sold products, scope 3, by 2030."
After the feasibility study, the partners jointly develop one of the largest CCS facilities I n the North Sea and plan to reuse their existing infrastructure in the region.
This stage of the L10 carbon capture and storage project has the potential to store 4-5 million tonnes of CO2 annually for industrial customers within depleted gas fields around the Neptune-operated L10-A, B and E areas. It represents the first stage in the potential development of the greater L10 area as a large-volume CO2 storage reservoir, the companies announced.
Energie Beheer Nederland (EBN) is a Dutch state-owned energy company. Neptune Energy is an independent global oil and gas company based in the UK. Rosewood Exploration is an independent energy company with assets in the North Sea. XTO is a division of ExxonMobil.
NEWSLETTER
Delivered directly to your inbox, CompressorTech² News features the pick of the breaking news stories, product launches, show reports and more from KHL's world-class editorial team.