Carbon capture as a service
An E&P company uses industry knowledge to jump into decarbonization
How does an exploration & production company get into a low-carbon business? For Talos Energy, it starts with geology, according to Robin Fielder, the company's EVP of low carbon strategy and chief sustainability officer.
Talos is leveraging its decades of experience as an upstream operator along the U.S. Gulf Coast to build a portfolio of carbon capture and sequestration projects focused on decarbonization of industrial regions and specific facilities, Fielder said.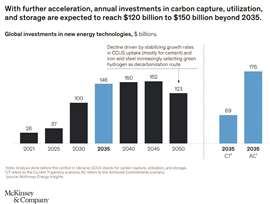 "When you think about the rock we're talking about, it's conventional rock," said Fielder, who spoke at OTC about the company's carbon capture strategies. "It's got porosity, he's got permeability, we can model it…the data that's all in our wheelhouse."
Then there's the operational side. The company, founded in 2012, operates in the U.S. Gulf of Mexico and shallow water offshore Mexico. Its operations in the U.S. Gulf of Mexico are primarily focused in deepwater, with key operational areas in the Green Canyon and Mississippi Canyon areas. Talos also maintains operations on the U.S. Gulf of Mexico Shelf. 
Talos expects to grow and advance its existing project portfolio with strategic business development activities, the advancement of engineering and design work and preparation for filing multiple Class VI permit applications, including drilling multiple stratigraphic evaluation wells.
"Carbon capture "isn't just refineries, it's power generation, its steel, it's cement, it's ammonia that becomes fertilizer for our food supply," Fielder said. "So it's all the things that we touch every day."
Then there's transportation of the CO2; gathering and compression. Maybe there's a need to process the gas.
"But again, it's pretty straightforward," Fielder said. "That's what midstreamers do day in and day out."
Staying ahead of the curve
The company saw that environmental, social and governance investments and lower-carbon demands were increasing, and saw CCS as a way to make the company more relevant in the changing environment, Fielder said.
A few years ago, the company set up internal ESG committees, one of which focused on the energy transition, she said.
"We didn't want it to be something that happens to us, we want to be able to be competitive," she said. "To me, it all fits into kind of that story of sustainability. And to me sustainability is building the company and a portfolio that can adjust to changing demand over time, but also attract additional investors and attract additional talent."
The company sees CCS as a service to large industrial customers—helping the end users of Talos Energy's products to decarbonize.
"So you can think about that as addressing Scope 3 (emissions), not necessarily doing CCS on our own projects, but we can help move that needle on a much larger scale," Fielder said.
The company tied executive bonuses and compensation because its important to the company and to investors, she said.
"We're really putting our money where our mouth is," she said.
Keeping abreast of global trends
Setting decarbonization goals is important, but also part of keeping in front of regulations. Fielder mentioned the U.S. Security and Exchange Commission's (SEC) climate disclosure proposal and how that might affect the industry.
"We're waiting to hear back from SEC on how a number of those provisions will work, including the mandated reporting," she said.
But regulation is just part of the push. Investors and other groups are pushing companies to do more to lower their carbon footprint.
"There are a lot of motivators on why people might want to decarbonize," she said. "If you look across the globe, we've got 70-plus countries that have set Net Zero targets by 2050. And if we're ever going to meet any kind of carbon neutrality, you have to have CCS in there."
The company's first four announced CCS projects will account for more than 25 million tons per annum at peak injection. Currently, the global sequestration amounts to about 40 million tons per annum.
Earlier this year, Talos and its partner, Chevron, announced an expansion of the Bayou Bend carbon capture and sequestration project located along the Texas Gulf Coast through the acquisition of nearly 100,000 acres onshore in Chambers and Jefferson Counties, Texas. The increased acreage positions Bayou Bend to be one of the largest carbon storage projects in the United States.
Combined with the previously announced approximately 40,000 acres offshore Beaumont and Port Arthur, Texas, the expanded Bayou Bend project now encompasses nearly 140,000 acres of pore space for permanent CO2 sequestration. The total acreage holds a gross storage capacity of more than one billion metric tons, positioning Bayou Bend to be a leading carbon transportation and storage solution for industrial emitters located in the Houston Ship Channel and Beaumont / Port Arthur region, one of the largest industrial corridors in the country.
"So (CCS) is beyond just addressing our emissions, this is really moving the needle on sustainability," Fielder said. "And again, participating through the energy transition, transformation, evolution, whatever word you'd like to use, we want to make sure we can do both. Again, we're unapologetic for being an oil and gas company…and we're the ones who are going to help design the solutions to help some of our partners decarbonize."
CCS hub projects
Bayou bend ccs
Industrial region: houston ship channel and beaumont / port arthur, texas
Regional co2 emissions: ~80 mtpa
Project site: ~140,000 gross acres onshore, offshore
Est. Gross storage capacity: 1,000+ mm mt co2
River bend ccs
Industrial region: new orleans / baton rouge, louisiana industrial region
Regional co2 emissions: ~80 mtpa
Project site: 110,00 gross acres(1) onshore
Est. Gross storage capacity: 620+ mm mt co2 
Ccs point source projects
Freeport LNG
Industrial region: brazoria county, texas
Regional co2 emissions: ~20 mtpa
Project site: ~500 gross acres onshore (1) 
Est. Gross storage capacity: ~25 mm mt co2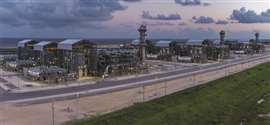 Coastal bend ccs
Industrial region: corpus christi, texas
Regional co2 emissions: ~20 mtpa
Project site: 13,000 gross acres onshore
Est. Gross storage capacity: 50-100+ mm mt co2
NEWSLETTER
Delivered directly to your inbox, CompressorTech² News features the pick of the breaking news stories, product launches, show reports and more from KHL's world-class editorial team.