AXH Air-Coolers Completes Major Expansion
By CT2 Staff30 January 2017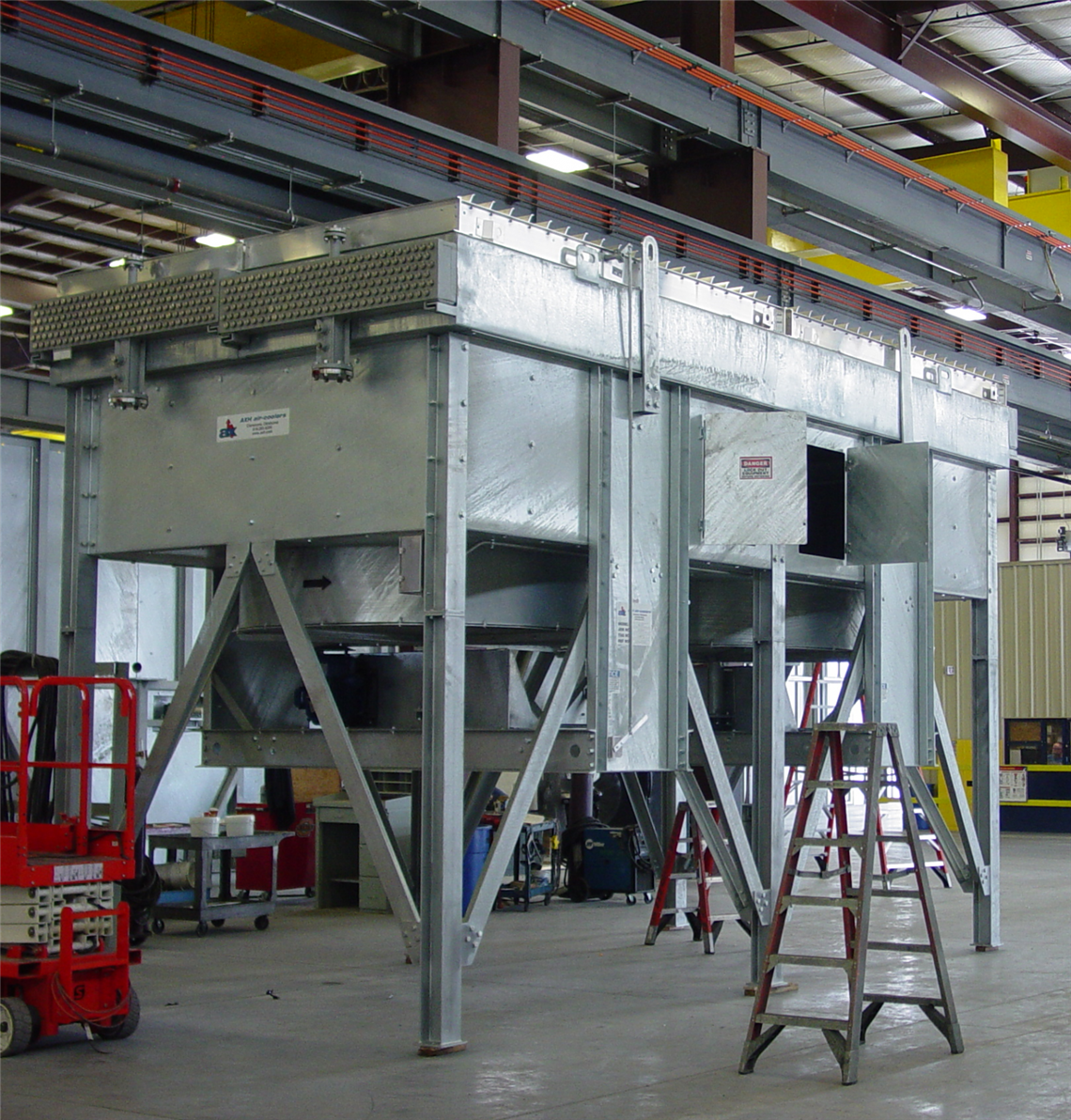 By Norm Shade
This article was originally published in the January-February issue of COMPRESSORtech2. Subscribe for free to receive every issue in your mailbox or your inbox.
During the gas compression industry downturn of the past two years, AXH Air-Coolers has been busy positioning itself for an anticipated recovery in 2017 and beyond.
"AXH Air-Coolers represents more than 50 years of experience and leadership in the air-cooled heat exchanger industry," said Ken Jones, president. "We encompass the entire spectrum of air-coolers from initial sales, thermal design and application through mechanical engineering, design drafting, project management and manufacturing to aftermarket support."
Jones and his partners started the company in 2001 as Air-X-Hemphill, changing the name to AXH Air-Coolers at the beginning of 2005 and moving operations to a 139,000 sq.ft. (12,914 m2) facility in Claremore, Oklahoma, adjacent to the famous Route 66. A growth average of 22% per year over its first 15 years has resulted in numerous facility expansions. The company now features what it describes as the largest facility complex in the air-cooler industry, with a combined total of 556,500 sq.ft. (51,702 m2) in six plants, located on 67 acres (27 ha).
"AXH has designed and manufactured tens of thousands of air-coolers for the natural gas compression and process industries," Jones said. "We have an extensive list of customers including packagers, OEMs, engineering firms and end users worldwide. The size and value of the average cooler has steadily increased since 2009. We expanded into air-coolers for the process and power generation industries over the past decade, which are somewhat counter-cyclic to gas compression."
AXH's most recent expansion, its largest ever, was set to begin in late 2014 when the gas compression industry went into a major downturn.
"We made a conscious decision to finish the expansion started in 2014, despite the downturn, so we'd be ready for the next upturn," said Jim Lynch, vice president and general manager. "It's one of the advantages of being private — we added equipment and personnel, plus plant and office space. We retained key personnel and added several strategic skill sets. We did the same thing during the lesser downturn in 2009 and were able to gain market share quickly when the market recovered in 2010."
During 2015 and 2016, AXH facilities grew by 177,000 sq.ft. (16,444 m2) with the addition of Plants 4, 5 and 6.
The large, original Plant 1, which has been expanded five times since 2005, houses the offices and manufacturing of cooler headers. A 105 ft. (32 m) HD plasma table with three independent CNC bridges, two 22 ft. (6.7 m) press brakes and a bead blast line are used to process steel plates into components to be welded into cooler structural frames and headers. All weld preparations for headers are machined, rather than flame cut, using five CNC bridge mills and a five-axis CNC pipe beveller that can handle up to 20 in. (508 mm) diameter pipe. There are 89 individual ASME code welding stations with MIG, TIG and flux core processes for carbon steel and 304/316 stainless-steel materials. In addition, there are seven dual and quad header submerged arc machines, plus two robotic pipe-to-flange welding cells. "We are constantly looking at and trying new technology and methods," Lynch said.
After welding, headers are moved into a 20 ft. x 70 ft. (6 m x 21 m) vault area for radiographic testing. Next, sections are assembled and hydrostatically tested. AXH pressure vessel certifications include ASME U and R, National Board R, and Peoples Republic of China. Structural fabrication of cooler frames also occurs in Plant 1, which has multiple cranes with capacities up to 30 tons (27.2 tonnes).
All material is tracked with bar codes throughout the plants. Operators log on and off of work orders as they start and complete operations. Visual order screens in each department allow real time visibility and tracking of component and assembly shop orders.
Plant 2 houses the finning operation with 10 machines having capabilities for tubes up to 66 ft. (20 m) long. AXH produced over 10 million linear ft. (3.05 x 106 m) of finned tubing in 2014, its peak year of production to date. Plant 2 also features a 5 acre (2 ha) area with three 100 kW VFD drives that is used for acoustic testing of coolers. Additional overflow and growth capacity exists in Plant 3.
Plants 3 and 4 are dedicated to final assembly, run testing and inspection. Plant 4, with multiple 10, 20 and 30 tons (10.2, 20.3 and 30.5 tonnes) cranes, has three parallel drive-through bays with a 36 ft. (11 m) crane hook height that can handle the largest coolers.
Plant 5 includes a louver manufacturing operation and a fully automated 1000 gpm (265 L/min) stainless steel oil flushing system that is capable of flushing three coolers simultaneously to meet API 614 and modified API, ultra clean turbine OEM specs. Plants 1, 3 and 4 have a total of five paint booths. The two newest in Plant 4, are 30 ft. x 75 ft. (9 m x 23 m) and 34 ft. x 75 ft. (10 m x 23 m) paint rooms with down-draft booths and open tops that are accessible to overhead cranes. Plant 6 serves as a centrally located warehouse for purchased components and spare parts.
"We needed to add louver manufacturing to increase capacity beyond what our traditional supplier could provide," Jones said. "In the process, we decided to take the best features of various designs and improve on them. We validated the resulting product improvements in our testing facility for up to 70,000 cycles, and our new louver designs have been in field service for well over a year."
AXH Air-Coolers has 18 outside sales engineer representatives. The representatives include Air-X-limited in Calgary, Alberta, Canada; EADS-Pendleton in Tulsa, Oklahoma; and Westland Engineering in Buffalo, New York and the Long Beach, California area. AXH cooler orders are engineered and processed by a staff of six project engineers and 12 design drafters. Thermal design rating is unique to the application, flexible and adaptable to the customer's requirements. AXH's software includes thermal-structural analysis, Inventor 3-D modeling, AutoCAD and HTRI/ACX.
The company offers an extensive line of air-cooled heat exchangers that are available in a wide range of sizes, types and models to fit many application requirements in the natural gas compression, process and power generation industries. AXH models ZF, HF and HI are horizontal air-coolers available in both forced and induced draft types. Models EF, ES, FF, VI, VVF and VVI are vertical air-coolers available with forced or induced draft. Fan sizes range from 1.5 to 18 ft. (0.5 to 5.5 m) in diameter and tube lengths range from 2 to 66 ft. (0.6 to 20.0 m).
Standard coolers are designed to withstand 120 mph (193 kph) winds and seismic zone 1. AXH air-coolers include ASME code slab and box headers and AXH patented obround headers. All sections include a floating header design, which allows at least one header to move independently with expansion and contraction of the tubes while maintaining proper alignment. Double-grooved tube sheets are standard and used on all process applications and ASME code headers for a superior tube joint seal. Single-grooved tube sheets are used on non-code headers. Formed aluminum, interlocking channel-tube supports support each tube directly on the tube, rather than on the fins, maintaining positive tube spacing and alignment to prevent sag.
High-grade, split-housing, dual-taper roller bearings are standard on fan shafts and idlers, offering much longer life expectancy than the spherical or ball bearings that are commonly used in the industry. AXH's own aluminum louvers incorporate a number of subtle improvements over typical industry louvers, the company said. All fan guards are galvanized. Woven, vinyl-coated, polyester, bug screen panels, which provide more than twice the fan inlet area, are attached with either magnets or Velcro with positive studs at the corner of each panel. As standard procedure, all electric motor drive coolers are tested to confirm both fan load and vibration.
Every cooler is either galvanized or receives both prime and finish coats of high-abrasion-resistant machinery enamel. A variety of optional primers, finishes and paint systems, as well as galvanizing, are available to withstand extreme operating conditions ranging from desert and tropical to offshore and arctic environments.
NEWSLETTER
Delivered directly to your inbox, CompressorTech² News features the pick of the breaking news stories, product launches, show reports and more from KHL's world-class editorial team.