Sundyne sees increase in orders for PPI diaphragm compressors
By Keefe Borden15 July 2021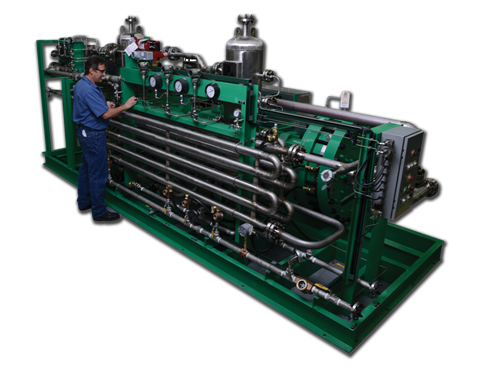 Sundyne has seen a significant increase in orders for its PPI line of diaphragm compressors as the energy industry shows an increasing interest in hydrogen and the company said it is gearing up to meet that new demand.
The company, which is traditionally known for its centrifugal compressors, is now aggressively targeting hydrogen applications, as its PPI line of diaphragm compressors is designed for hydrogen.
"As every industry investigates ways to reduce its carbon footprint, hydrogen is rapidly becoming a favorable alternative, because it can be used to supply nearly every energy sector, and it's also a common raw material for the energy-intensive process industries," said Josephine Truitt, Sundyne's value stream leader for the PPI line of diaphragm compressors. "Today, we're seeing tremendous demand for our PPI compressors, because their strengths fit perfectly with the requirements that hydrogen processors face today."
Because of the intense interest in hydrogen, Sundyne has invested heavily in its PPI line of compressors. Hydrogen has applications in multiple industries. In power industries, it can be stored, making it an attractive complement for balancing fluctuating and intermittent sources of renewable energy. For transportation, fuel cell technology makes industrial vehicles and long-haul buses emission-free.
Refineries are investigating how chemically-transformed hydrogen can be used to produce alternative fuels. Construction and industrial markets see hydrogen as a potential alternative to heat commercial buildings, Sundyne said. The chemical industry has a long history of processing hydrogen to make products and producing hydrogen as a byproduct of other activities.
Sundyne's PPI line of diaphragm compressors are designed to handle hydrogen for multiple reasons. PPI diaphragm compressors are designed to meet the high pressures required for mobile applications.
The compressors can be installed on a skid and used to move hydrogen from an electrolyzer and store it. From there, the compressor increases pressure from 20 bar to 500 bar, the level that most fuel cells require today.
The PPI compressors feature triple diaphragm sets, which ensure that the process gas is isolated from the compressor's hydraulic oil. This provides for absolute process purity and prevents compressor oils from mixing with hydrogen. Fuel cells need a pure hydrogen feed and any other oil would damage the fuel cell.
Every process-contacting part in a PPI compressor is made from corrosion-resistant alloys, making them ideal for processing hydrogen and other applications that involve hazardous gases.
The static seals in PPI compressors are designed to ensure zero leakage of process gas to the atmosphere, and PPI's Leak Detection System is designed to immediately detect diaphragm or seal failure.  All PPI compressors can meet API 618 standards.
Sundyne said it collaborates with customers to manufacture customized PPI systems that are optimized for the gas pressure, molecular weight, heat, corrosion and velocity of each customer's application. Sundyne utilizes solids modeling technology and FEA analysis to ensure that all working components are designed and tested to minimize wear, improve sealing and reduce corrosion.
"For more than 20 years, Sundyne's compressors have played an important role in the production, transportation and distribution of hydrogen around the globe," Truitt said.
Because of the intense interest in hydrogen in Europe, Sundyne recently joined the France Hydrogen Association, a consortium of companies and organizations representing all aspects of the hydrogen value chain.
The organization is trying to structure a high-performance, competitive hydrogen industry in France and is actively discussing challenges faced by the industry. It is also working to promote the benefits of hydrogen applications and develop a regulatory framework to support the deployment of hydrogen technologies.
"Sundyne's technology experts bring a helpful voice to this discussion because pumps and compressors play an important role in the hydrogen solutions we need for a successful energy transition," said Stéphanie Paysant, communications director of France Hydrogène. "We're looking forward to collaborating with Sundyne to reinforce the hydrogen industrial value chain."
NEWSLETTER
Delivered directly to your inbox, CompressorTech² News features the pick of the breaking news stories, product launches, show reports and more from KHL's world-class editorial team.