Sauer 6000 series designed to be versatile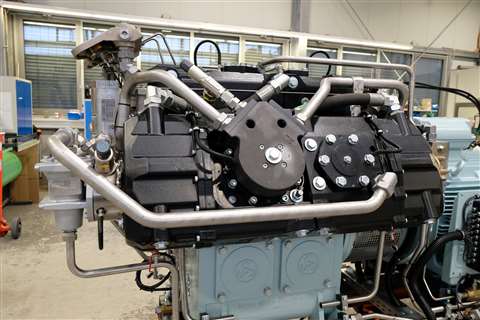 In 2006, Sauer Compressors launched its 6000 series compressors, a high-pressure compressor design that allowed for broad customization. The company has continued to develop the system, most recently with the integration of a magnetic coupling between the compressor and the electric motor, which enables hermetic gas tightness. The design has also been modified for better accessibility and maintainability of the solenoid valve.
One important innovation is the integration of a magnetic coupling between the compressor and the electric motor, which enables hermetic gastightness. This further improved sealing is particularly relevant for valuable and hazardous gases and is unique on the market. Unlike mechanical seals, the solution is absolutely maintenance- and wear-free, so that regular inspections are no longer necessary at this point.
In the 6000 series, the basic design has been modified for better accessibility and maintainability of the solenoid valves and standardized for all models. The air filters have a higher flow capacity, and a special feature protects against compressor operation without a filter insert. The cooling circuit has also been optimized. Non-return valves at the cooling water outlet prevent reflux. Factory-installed compensators for the cooling water inlet and outlet have made the previous hoses superfluous and reduced the overall footprint. Drain valves on all cylinders ease the cooling water outlet. Zinc anodes have also been added. The materials of the cooler inserts are specially adapted to each gas type supposed to be compressed.
The high-pressure compressors have a shaft power of up to 230 kW and are based on a flexible modular system. Despite the high volume flows, the classic plunger piston machines are very compact and therefore versatile. Lately, a magnetic coupling enables hermetic gas tightness.
Sauer Compressors's market niche is to develop high-pressure compressors in the upper performance range of plunger piston technology that could also be customized. Chief Sales Officer Dirk Slottke describes it as "the most demanding in the company's history so far". Finally, 2006 saw the launch of the SAUER 6000 compressor series, which enabled the company to make the leap from 87 kW to 230 kW shaft power in the high-pressure range. Even before the launch, there had been many customer enquiries, and to date several hundreds of these compressors, which are unique on the market, have been delivered to the industry. Among the first users are, for example, manufacturers of jet engines, pumped storage power plants, large research institutes and OEMs of plants for biomethane injection into gas grids.
High performance for a wide range of gases
The high-pressure compressors of the 6000 series are designed for suction pressures of up to 20 barg and reach discharge pressures of up to 500 barg with a shaft power of up to 230 kW. The volume flow range is between 200 and 1250 m³/h, depending on the configuration. The direct-drive water-cooled compressors are suitable for a wide range of gases such as air, nitrogen, helium, natural gas, biomethane or hydrogen. Pre-compressed gas can also be accommodated. Thanks to the gastight crankcase, leakage rates are minimal. The compressors, which are extremely compact for this performance range, require only a small footprint and, thanks to resilient mounts for lowest vibration, require neither a special foundation nor a bedplate, making them easy and cost-saving to install.
The 6000 series high-pressure compressors from Sauer Compressors are based on a sophisticated modular system and can be customized for a wide range of applications. Standardized crankcases with four or six cylinders can be combined with seven different compression stages, with piston diameters ranging from 22 mm to 195 mm. This opens up an immense number of possibilities for configuration. "Especially in the gas sector, customized solutions are currently in demand, just think of the numerous hydrogen projects in the industry," Dirk Slottke said.
Because certain models of the series are particularly in demand, eleven standard types have now been defined. Increased versatility means the option of subsequently exchanging the stages and thus adapting the compressor to new requirements. For example, a 100 barg compressor can be turned into a 500 barg compressor by replacing just two stages, with virtually no change in operating characteristics and maintenance parts.
"Recently, we replaced two stages on a compressor for a customer in the process industry, because an application required more suction pressure and less discharge pressure. We often receive requests like this, because process parameters change," said Dirk Slottke. Despite the great versatility, all models are composed of 90 percent proven standard parts.
In-built interstage water cooler
A special technical feature of the SAUER 6000 series is the in-built water-cooling system, which directly cools the cylinders and the compressor valves. The powerful as well as maintenance-friendly system even allows the use under very challenging operating conditions. The maximum water inlet temperature in the standard case may be up to 40 °C and the ambient temperature may reach 55 °C. External cooling and additional piping are not required.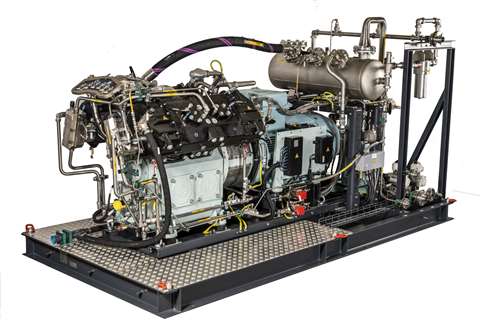 Uniquely developed separators in the condensate system by Sauer Compressors achieve an efficiency of 80 to 100 percent– a previously unattained value. The separators and stages each have their own drainage. For easier access, the condensate system is located on the side of the motor. The oil lubrication system has a main-flow oil filter with an oil pump and optimised sealing.
"With the Sauer 6000 series, we are offering the most modern and flexible compressor concept in this performance class, and development is still continuing," Dirk Slottke concludes.
Sauer Compressors is a medium-sized German group of companies with 14 international subsidiaries. The company looks back on more than 135 years of history and over 85 years of experience in compressed air and gas technology. These days, the focus is on the development, manufacture and sale of oil-lubricated and oil-free medium- and high-pressure compressors for applications in commercial shipping, industry, petro industry and the defence sector. The four product lines Sauer, Haug, Girodin, and EK focus on specific fields of application.
The Sauer line comprises oil-lubricated high-pressure compressors for a wide variety of applications, while HAUG stands for oil-free and hermetically gas-tight compressors. The GIRODIN and EK lines offer special compressors for the naval market. The modern reciprocating compressors for compressing air as well as a variety of gases reach pressures of 20 to 500 barg. In addition to standard products, customised solutions are offered for every type of application for individual customers, OEMs and globally active companies.
NEWSLETTER
Delivered directly to your inbox, CompressorTech² News features the pick of the breaking news stories, product launches, show reports and more from KHL's world-class editorial team.