SHOW GUIDE: Tower Cranes North America conference
As virtual event success continues to grow across the industry, the Tower Cranes North America Conference, or TCNA as it is commonly known, is no exception. Transitioning from an in-person event, KHL's second TCNA will be held online, on October 22.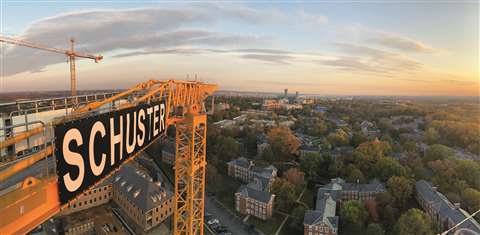 The 2020 TCNA will spotlight some of the industry's leading tower crane companies.
The event is organized by KHL and its magazines American Cranes & Transport (ACT) and International Cranes and Specialized Transport, with SC&RA as the event partner. This year's TCNA will address key issues facing tower crane owners and users in North America, including risk mitigation, safety, crane inspections, crane rental business cycles and construction activity forecasts. Presentations will range from 15-30 minutes, and attendees will have the opportunity for Q&A with the speakers following the conclusion of each session.
The 2020 TCNA also is endorsed by four headline sponsors: Comansa, Jaso Tower Cranes, Potain by Manitowoc and Terex. The supporting sponsors are Morrow, Pintsch Bubenzer, Quartz, RaycoWylie, Wolffkran and Zoomlion.
To register for free, visit: www.khl-tcna.com/register.html
Headline sponsors
COMANSA is a leading manufacturer of flat top and luffing jib tower cranes. All cranes are built with the latest technology that is grounded in safe, reliable operation. Comansa cranes are some of the simplest cranes to erect and dismantle because there is no tower top or pendant lines to assemble and all connections are pin connected. Comansa's North American branch offers sales, engineering support, service and parts to the U.S. and Canada from its locations in Charlotte, Dallas and Seattle. https://northamerica.comansa.com/en
JASO TOWER CRANES is one of the leading manufacturers of tower cranes in the world. Jaso is based in Spain and is part of Jaso Group, which comprises the production of industrial cranes, material/personnel hoists, mast climbing working platforms and windmill service lifts. In its 45-year history, Jaso shaped the company to adapt to market needs and trends. In 2014, Jaso developed its first hydraulic luffing jib crane that quickly became a best seller, the company said. In 2016, Jaso Smartlink was unveiled – a cloud-based system that allows full monitoring of the crane's performance providing a thorough and intuitive report. In 2017, Jaso manufactured its flagship, the J780PA, a 75-ton capacity luffing jib tower crane. In 2019, the biggest 64-ton capacity low top crane J1400 crane was delivered. www.jaso.com/tower/en-us/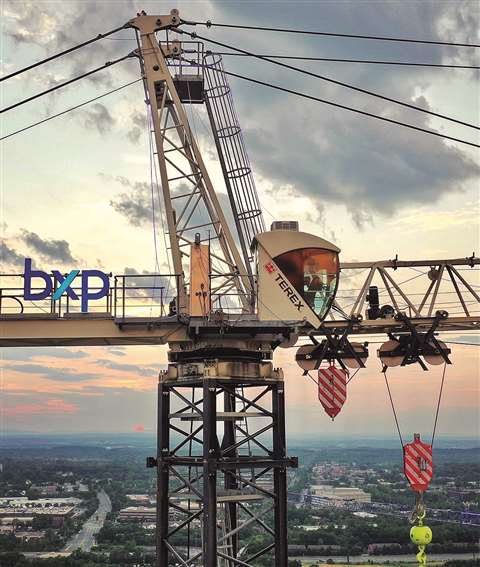 POTAIN tower cranes are known around the world for their lifting power, reliability and innovative designs. Potain builds more than 60 types of tower cranes to fit a wide variety of jobsites: high capacity top slewing cranes on infrastructure jobs, luffing jib cranes that construct "super tall" skyscrapers, topless cranes reshaping urban environments and Hup self-erecting cranes transforming residential construction. Known for their ease of use, efficient transport and quick erection times, there are many reasons why Potain tower cranes dot skylines across the globe, the company said. www.manitowoc.com
TEREX CORPORATION is a global manufacturer of lifting and material processing products and services delivering lifecycle solutions that maximize customer return on investment. Major Terex brands include Terex, Genie and Powerscreen. Terex solutions serve a broad range of industries, including construction, infrastructure, manufacturing, shipping, transportation, refining, energy, utilities, quarrying and mining. Terex Cranes, part of the Terex Corporation Material Processing segment, includes rough terrain cranes and tower cranes businesses with its legacy brands Peiner, Bendini and Comedil. The broad product range includes rough terrain cranes, self-erecting, flat top, luffing Jib and hammerhead tower cranes. From its two manufacturing plants, Terex Cranes delivers top level cranes both to small local jobsites and to the most prestigious construction sites in the world. www.terex.com.
Supporting sponsors
ENG CRANES is an Italian company with over 35 years of experience in the tower crane industry. ENG Cranes has expanded with its EDKH and ETH series that feature a powerful derrick range with a slewing radius of 2.1 meters and 360 degrees rotation that led the company to develop the tower crane version of it. The ETH is the same crane that can be used as a powerful hydraulic luffer with a maximum capacity up to 30 tons. Users essentially have two cranes in one. The same concept is applied to ENG's EDL series, which is a brand new line of hydraulic luffers with a maximum capacity that goes up to 12 tons, only 4.10 meters of slewing radius and the possibility to be used either as a luffer or turn it into a flat top tower crane. www.engcranes.com
MORROW is the exclusive distributor of Liebherr tower cranes in North America. The company provides leading solutions for tower crane applications including professional engineering services, factory trained service specialists, turn-key applications and a spare parts inventory strategically located to service customers on a local scale. Morrow began operations in 1968 with one tower crane, working out of a small construction trailer, and has grown over the past 50-plus years to become an industry leader. Morrow's mission has not changed, and its focus is still to provide customers with a partnership that helps make them successful and builds long-standing relationships. www.morrow.com
PINTSCH BUBENZER is focused on the design, production and service of high-quality braking systems for both static and dynamic applications which involve the precise control of small to very large amounts of kinetic energy. The challenge is to control that energy in the most efficient, cost-efficient way. In the sectors of port, overhead cranes, tower cranes, movable structures, shipbuilding and offshore engineering, utilization of wind, the steel industry and mining, Pintsch Bubenzer is a world leader in braking system design and manufacturing. www.pintschbubenzer.com
QUARTZ is an all-in-one remote site-sensing, security and productivity platform for construction sites. Using a combination of advanced crane cameras and ground-mounted cameras, Quartz's system streams 4K, low latency live feeds anywhere in the world, providing 360-degree visibility into everything that happens on a construction site. Users can see both live and historical data remotely, without ever having to step foot on site or in an office. Quartz also delivers key insights on site security, deliveries and crane utilization via its product dashboard. www.quartz.co
Serving the global market since 1933, RAYCOWYLIE manufactures a complete range of crane monitoring instrumentation. To enhance its popular i4500 series, RaycoWylie unveiled a new telematics solution. The RAYCOnnect transmits all essential data via cellular service to a remote computer, tablet or cell phone. This includes GPS location, hours, system diagnostics, preset notifications and more. RaycoWylie has worked extensively with tower crane specialists to develop a flexible and versatile system. From simple to complex, its systems offer extensive features such as zoning (3D work area limitation) and anti-collision, suited for all types of tower cranes. www.raycowylie.com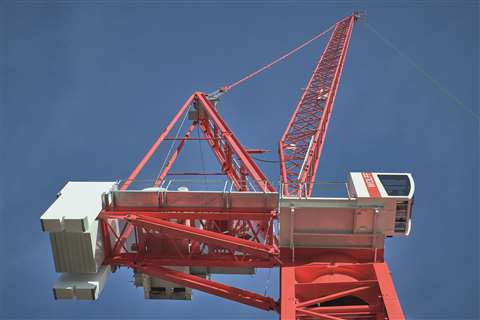 WOLFFKRAN stands for more than 100 years of competence in the design and construction of tower cranes made in Germany. Founded in 1854, the company soon specialized in the production of lifting equipment and developed the world's first fast-assembly top-slewing tower crane in 1913. Wolffkran also operates its own rental fleet comprising some 700 Wolff tower cranes and offers an extensive range of services from technical planning, to on- site crane logistics and assemblies, crane maintenance and training. Wolff tower cranes are manufactured in Heilbronn and Luckau in Germany and are used for building landmark projects around the world. www.wolffkran.com
Founded in 1992, ZOOMLION GROUP has engaged in developing and manufacturing major high-tech equipment in the areas of the construction machinery industry and agricultural industry. The Zoomlion tower crane business unit is dedicated to tower crane and construction hoist design, development, manufacturing, sales and service support. In 2011, Zoomlion acquired the complete flat-top technology of JOST from Germany; seven years after, Zoomlion acquired Wilbert from Germany. In 2019, the turnover of Zoomlion tower crane BU reached $1.5 billion. Along with the transaction and fusion of the technology, Zoomlion aims to step over from Chinese leading tower crane manufacturer to global leading player. www.zoomlion-na.com
NEWSLETTER
Delivered directly to your inbox, CompressorTech² News features the pick of the breaking news stories, product launches, show reports and more from KHL's world-class editorial team.