CECO sees opportunities as compression market evolves
By Keefe Borden09 August 2022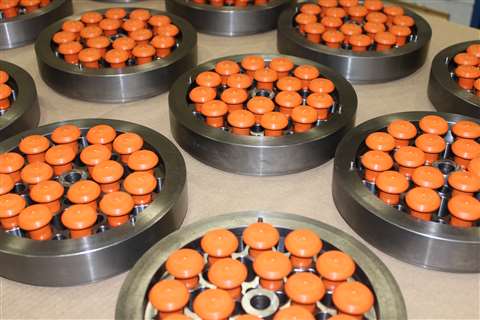 The ability to develop new products and services that meet customer needs has served Compressor Engineering Corporation (CECO) well for more than half a century. Ernest G. Hotze started the company in June 1964 when he saw a need for readily available high quality reciprocating compressor parts for slow-speed integral engine-compressors, the workhorse of the then nascent US interstate pipeline industry.
From humble beginnings in the family's garage, with the assistance of six of his sons as helpers, CECO gained market recognition as a quality provider of channel valves. So much so that CECO was forced to move out of the garage at the family's home when the company's inventory exceeded the space of his wife's closet as told by Richard Hotze, the sixth son of Ernest Hotze and current CEO.
In 1978, the company moved into its current headquarters in southwest Houston and has steadily grown since then. In 1984, it added a 30,000 ft2 manufacturing facility at the Houston site to accommodate additional demand. Repair facilities in Odessa, Texas were expanded and Walker, Louisiana were added in 2007. Fast forward 58 years and the company is still controlled by the founder's family and its management does not foresee getting external investors in the near future.
Richard Hotze enjoys what he does and has no plans to retire soon. "We see a lot of opportunity to continue my father's passion for quality replacement component parts and engineered solutions for reciprocating compressors," he said.
CECO continues to be an independent manufacturer of replacement components and engineered solutions for reciprocating gas compressors. "Where recips are used, we can play," Hotze said. The company has grown over the years and morphed several times as the oil and gas industry expanded and contracted. CECO also serves the industrial air market and petrochemical industry and provides mission critical components to the U.S. Navy.
More Than a Valve Company
Omar Jimenez, Vice President of Sales and Marketing, said the company is known for its poppet-style compressor valves, but it does have a broader portfolio of products and services for the gas compression industry. "CECO poppet valves can be found in the majority of legacy slow-speed integral engine-compressors, but we are much more than a valve company. In addition to compressor valves, we design and manufacture capacity control solutions, provide replacement polymer wear components, and supply legacy 2-stroke engine parts among other things." The company's traditional products include eMAX poppet valves, durMAX actuators, and TruBalance fuel gas modulators all of which can be found on many of the legacy 2-stroke integrals in gas transmission service today.
The older integrals were the foundation upon which the company was built and remain an integral part of its business today. CECO's polymer products too have been a staple in the industry and as users expand the use of high-speed separables the company is well positioned to grow its presence.
"Our polymer products in particular are well suited to support customers as they pursue lower emissions initiatives and focus on reducing OPEX to drive profitability", Jimenez states. "For example, our LEP Low Emissions Packing, X540 Low Lube Polymer, and ePV Packing Vent Monitor are ideal for owners and operators looking to reduce fugitive emissions, reduce lube oil consumption, and quantify their packing case leak rates as part of their ESG initiatives", he said. As end users have shown growing interest in lowering emissions, the interest in these products has surged, the company said. "We didn't think it would ever take off, but it finally did," Hotze said. "We're seeing a turn in the industry and the sales are responding."
Services to Complement Its Products
While known for its compressor valves and continuing to make a name for itself with its polymer wear parts CECO also provides services to its customers. Repair services, field service, and pipeline integrity headline the service offerings.
The company previously had repair facilities in New Orleans and Baton Rouge, but Hurricane Katrina left products and services stranded for months. Management decided to build a new facility outside of Baton Rouge in Walker, LA, where it houses both its repair and pipeline service businesses. CECO also has a major repair facility in Odessa, Texas, in the heart of the Permian Basin and the epicenter of a large amount of gas compression equipment. Both facilities are equipped to perform repairs on integral and separable compressors from the crosshead out. The scope of equipment repaired includes smaller items such as valves, packing and wiper cases plus piston & rod assemblies to more extensive repair of larger items such as cylinders and connecting rods. Additionally, CECO is capable of repairing engine equipment too with the expertise to handle power cylinders, heads, connecting rods as well as smaller ancillary equipment.
Josh Bobincheck, vice president of operations, said the company's Houston manufacturing facilities primarily supports two product lines: the polymer business and engineered equipment. The polymer shop is a quick turn production facility with the ability to produce items on short notice.
"Due to our extensive inventory and ready workforce we are able to manufacture polymer products such as rings, riders and packing quickly and efficiently in order to meet the time sensitive demands of our customers," he said. The manufacturing shop is well equipped to produce a wide variety of parts, including valves, packing cases, unloading equipment, and pistons at its Houston facility. Because, "Every job is a bit different," the company's manufacturing and repair shops work in cooperation with its engineering group to make custom equipment addressing customer needs. Production of engineered equipment and polymers produced in Houston is then incorporated into repairs at the satellite locations or delivered directly to customers.
CECO Pipeline Services (CPSC), a wholly owned subsidiary of CECO, provides pipeline integrity services, facility maintenance support, and mechanical field services. Many of the digs are recoats, where the CPSC team locates, excavates, blasts and recoats the pipe before it is buried again. The pipeline team also services compressor stations. The pipeline services division includes a mechanical field services teams that works on both compressors and the engines that run them. The teams disassemble and reassemble compressors and engines, restoring them to proper operating condition. "It's more than just changing compressor valves," Hotze said.
Looking Ahead
CECO's outlook remains positive despite recent headwinds due to COVID-19 and other macroeconomic factors. Increased LNG export capacity in the U.S., the continued transition to cleaner burning natural gas for power burn, and the Hydrogen Economy all point to the need to keep assets running. "We're very optimistic about the reciprocating gas compression industry, which is what we service. And it doesn't matter if it's hydrogen, or anything else. If it's a gas, we can support the compressor used to compress it," says Hotze.
NEWSLETTER
Delivered directly to your inbox, CompressorTech² News features the pick of the breaking news stories, product launches, show reports and more from KHL's world-class editorial team.